This Video Of Chris Evans Reuniting With His Dog Will Make You So Happy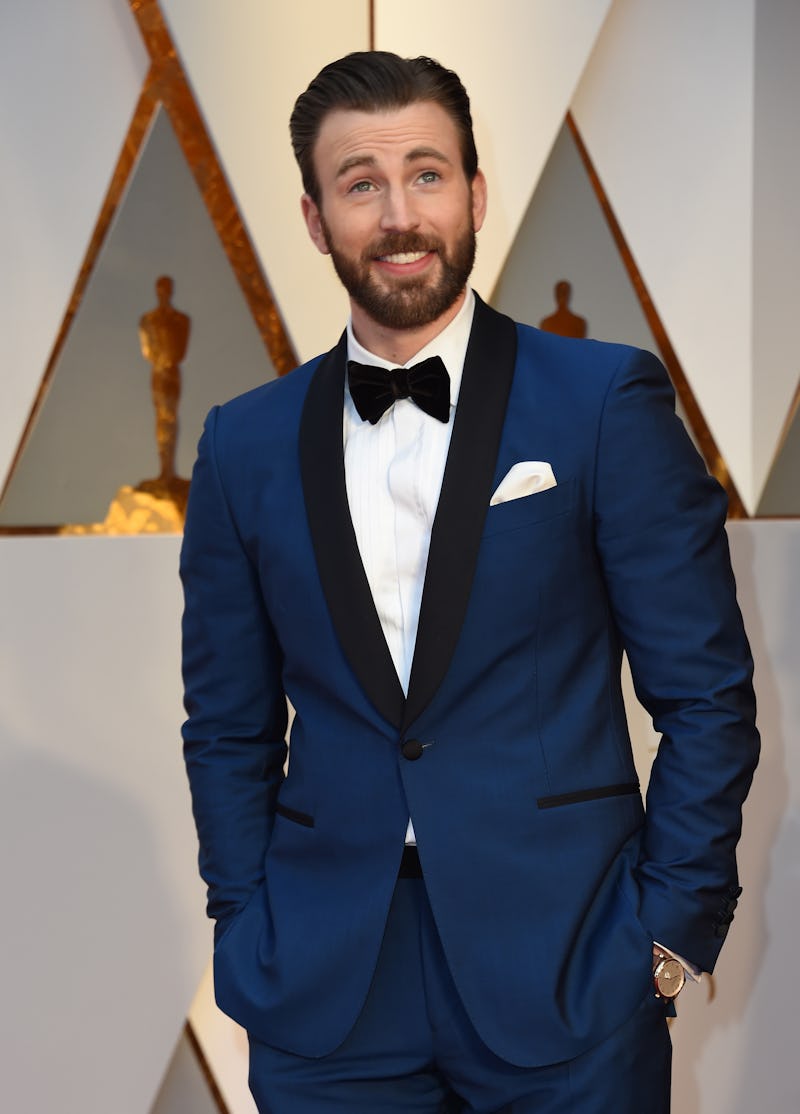 VALERIE MACON/AFP/Getty Images
If you weren't a dog person before, Chris Evans reuniting with his dog after being away on a shoot might change your mind. On Sunday, Sept. 2, the star returned home from a 10-week long shoot, and posted a video of his pup Dodger greeting him online. It's impossible not to smile watching the short vid, in which Evans gets tackled on the ground by his excited dog. The actor, who is usually based in Los Angeles, had been out of town filming a new project. Evans is pretty active on social media and has a dedicated following, but his cute reunion with Dodger was an instant favorite. The post has already been retweeted almost 50,000 times, and it was only posted 4 hours ago. The video is certain to cheer up anyone with the Sunday blues, and fans want to spread the joy.
It's not clear what project the star was working on, though Avengers 4 reportedly began filming last month. It's been a busy year for Evans; he's already starred in Frank Adler's Gifted and appeared as Captain America in Spider-Man: Homecoming. The star also has several projects slated for 2018, including the The Red Sea Diving Resort and Avengers: Infinity War. Between movie premieres, filming, and doing press cycles, it's unlikely that he gets a lot of quality time with his dog. Of course, that just makes this particular homecoming all the more sweet.
The caption for the video read "After 10 long weeks..." and fans should prepare to feel many emotions before watching. Dodger can be seen licking his dad's face, and generally refusing to let him stand up. Obviously, after so much time abroad, this pup isn't going to let Evans get away anytime soon. It's a pretty adorable scene, and it's likely to make even the most cynical fans (or cat people) happy.
In recent months, Evans has become increasingly outspoken on Twitter. He often uses the platform to weigh in on political and social issues, including the tragic events in Charlottesville or the hurricane in Houston, Texas. In addition to offering ways for fans to help those impacted, he has repeatedly spoken out against the Trump administration. Evans clearly takes his responsibilities as Captain America seriously, and fans can find plenty of insight into how to resist on his timeline.
However, sometimes in between the more serious commentary, Evans will post lighter content. This tweet wasn't the first time he's shared a Dodger-related post. In August, he shared a hilarious video of his dog playing with a bone, only to lose it under the couch. The caption read, "The dangers of playing with your food. One more week. Also yes, I was watching Kindergarten Cop." It's hard to decide which is funnier, the dog's antics or the star's choice of television in the background. The tweet was a sign that the star missed his dog a whole lot, and anticipated their reunion.
It's a tough world out there right now, and Evans, with his politically conscious posting, knows this. It's important to stay informed, but sometimes you just have to indulge in some adorable, dog-related content. Luckily, Evans and Dodger have today covered.