Chris Evans & Tom Holland Are Teaming Up For A Film That's SO Unlike 'Avengers'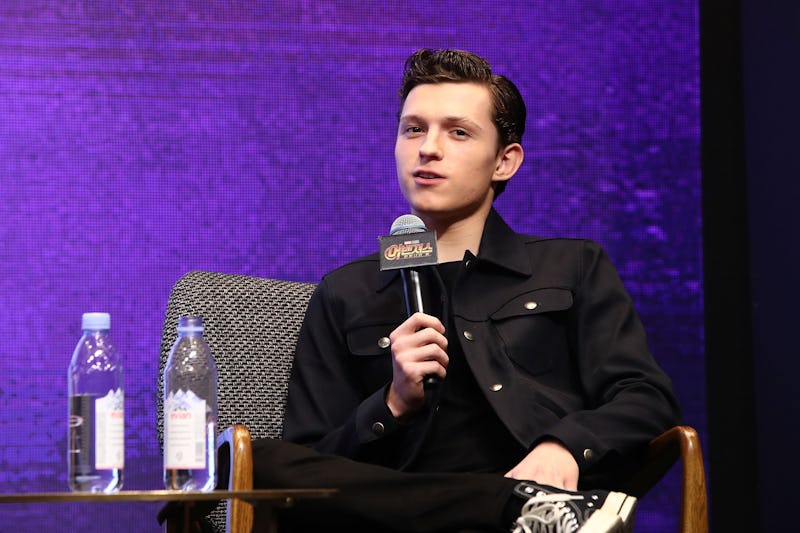 Chung Sung-Jun/Getty Images Entertainment/Getty Images
I never thought we'd see the day that Edward Cullen, Spiderman, Alice in Wonderland, and Captain America are joining forces, but it's arrived and it is glorious. It's just been revealed that Robert Pattinson, Tom Holland, Mia Wasikowska, and Chris Evans have all been signed for an indie movie called The Devil All the Time, which is a far cry from the summer blockbusters they've been a part of. So, what is Tom Holland and Chris Evans' movie The Devil All the Time about? There's no colourful spandex or explosions involved, let me tell you that.
If you couldn't guess from the title, the film's going to have a pretty religious bent. According to Deadline, the film will be set in a "forgotten backwoods" of Ohio in which a man named Willard Russell turns to god to save his dying wife but takes it too far and "succumbs to sacrifice." (Desperate times call for desperate measures?)
Described as a "storm of faith, violence, and redemption" set over two decades, it's an adaptation of a bloody novel by Donald Ray Pollock and it'll be produced by Jake Gyllenhaal's studios Ninestories Productions. The details at this point in time are a little sketchy as it was literally just confirmed.
One thing we do know is that Tom Holland will be continuing his good boy streak as Willard's son Arvin, a teen "growing from a kid bullied at school into a man who knows when to take action". Even though he may not be web-slinging and dropping sick one liners in this film, it sounds like it's right up Holland's alley as it's an arc that's at the heart of his Marvel character Peter Parker.
As for Chris Evans? He couldn't be further away from Captain America. He'll be playing "a corrupt local sheriff" and I can't wait to see how it plays out. It'll be a nice shake up to his image as the all American sweetheart if he pulls it off.
The man's already managed a chameleon-like shift from that white bread hot lead in way too many romantic comedies to the quintessential superhero. Given that he's confirmed his contract with Marvel is up after the next Avengers film, this is a real opportunity for him to show the world he's got range and I'm rooting for him. Here's hoping he actually gets to share more screen time with Tom Holland, since they were literally two ships passing in the night in the last Avengers.
It hasn't been officially revealed what roles Robert Pattinson and Mia Wasikowska will be paying. However, Pattinson's comments about his role to Esquire have me pretty convinced that he's playing Roy Laferty; a preacher who isn't your typical man of the cloth. In an interview with Esquire last year, he described the film as "dark" and gushed over his villainous new role.
He said, "You literally cannot get darker... This character is an evangelical preacher in the South in the Fifties, but he's gleefully bad and kind of funny and charismatic too. I know, it's irresistible."
Apparently, Pattinson wanted the role so bad that he actually cold-called the film's director Antonio Campos to talk about starring in it. Since playing a glittery vampire in Twilight, he's totally down to shed his bad boy image and is embracing the role wholeheartedly. It sounds like it's a pretty twisted part and he's got high hopes for it.
He continued, "There's this line in [The Devil All The Time] — and sometimes that's all you need. And it's like, 'Ooh... that's scary to say'. Because it'll go down in posterity and I'll be the one saying it."
The film certainly doesn't seem like light-hearted fare and also features "a serial killer couple", which might be the direction Wasikowska's role takes her. Sadly, it looks like it could be a little while before we get to see it as the film will only start shooting next February.
Forget Avengers: Infinity War, I'm calling it. This is going to be the most ambitious crossover of all time.