NBC Is Bringing Chris Hardwick Back To Host Shows After The Allegations Against Him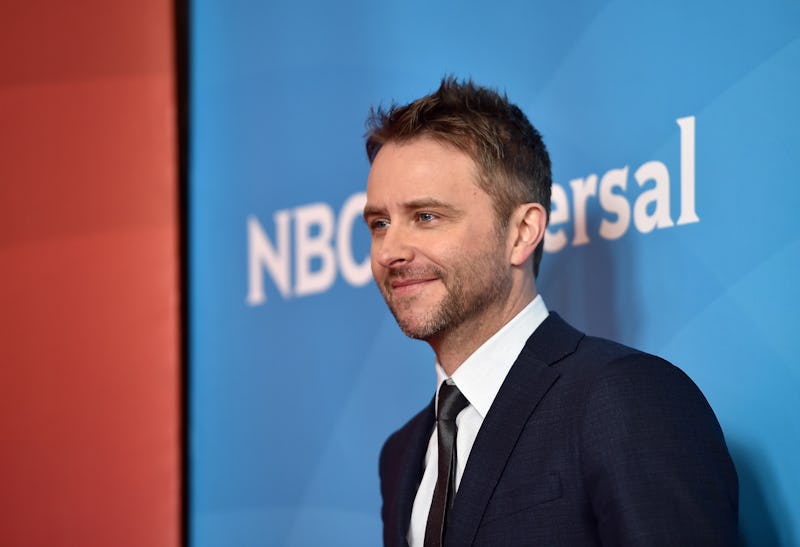 Alberto E. Rodriguez/Getty Images Entertainment/Getty Images
Following an "assessment" of the allegations against him, Chris Hardwick will return to NBC, the network confirmed on Tuesday, July 31. The comedian had been under "assessment" by the network in the wake of a June 14 Medium essay published by his ex-girlfriend Chloe Dykstra that alleged mental and sexual abuses by an ex-boyfriend who fit the Nerdist founder's description. Dykstra never named Hardwick in the essay, nor did she confirm or deny his identity when her story began gaining traction online. Hardwick denied Dykstra's claims, insisting that while their three-year relationship had on occasion dissolved into arguments or even shouting matches, "at no time did I sexually assault her."
During this "assessment," Hardwick stepped away from his duties at NBC, both as host of the game show The Wall, and as a guest judge on America's Got Talent. But as of this week, the 46-year-old has been reinstated. The Wall will shoot its third season this fall, with Hardwick returning as the host, and an episode of America's Got Talent that was taped before the controversy will air on Aug. 7. Bustle reached out to both Hardwick and NBC, but had not received responses at time of publication. NBC has yet to comment on the reinstatement, but Hardwick's other home network, AMC, has gone on the record about their conclusions.
At AMC, Hardwick was pulled from his hosting duties on Talking Dead and Talking with Chris Hardwick in June, as the network conducted their own investigation. And when that inquiry wrapped last week, with Hardwick's return to both shows, AMC stated:
"Following a comprehensive assessment by AMC, working with Ivy Kagan Bierman of the firm Loeb & Loeb, who has considerable experience in this area, Chris Hardwick will return to AMC as the host of Talking Dead and Talking with Chris Hardwick. We take these matters very seriously and given the information available to us after a very careful review, including interviews with numerous individuals, we believe returning Chris to work is the appropriate step."
While AMC cite's interviews with "numerous individuals," it's important to note that Dykstra was not one of them.
The actor and model has stated on the record that she "chose not to participate in the investigation," explaining that she "said what she wanted to say on the matter." She also emphasized her desire to move on with her life in a July 26 statement shared to Twitter that stated, in part:
"I have been adamant since I came forward with my essay that I never set out to ruin the career of the person I spoke about. I could have provided more details on the matter but chose not to. I have said what I wanted to say on the matter and I wish to move on with my life. I chose not to participate in the investigation against the person I spoke of. For that reason, I do not believe in an eye for an eye, and therefore I have only shared my evidence with those who I felt should see it."
Dykstra concluded, saying that she has chosen to leave her experience behind her. "I originally wrote my essay so I could move on with my life, and now I intend to do so," the 29-year-old wrote in the caption of the screenshotted statement, adding, "Thank you, again, to those who have supported me during this."
It still remains to be seen whether the shows Hardwick is involved in will enjoy their previous viewership, but on paper at least, things are returning to normal for the comedian. One can only hope that the same thing is true for Dykstra, as well, and that with the investigation concluded, any and all trauma remains in the past.
If you or someone you know has been sexually assaulted, call the National Sexual Assault Telephone Hotline at 800-656-HOPE (4673) or visit online.rainn.org.