Chris Hemsworth Surprised A Hitchhiker With The Ultimate Ride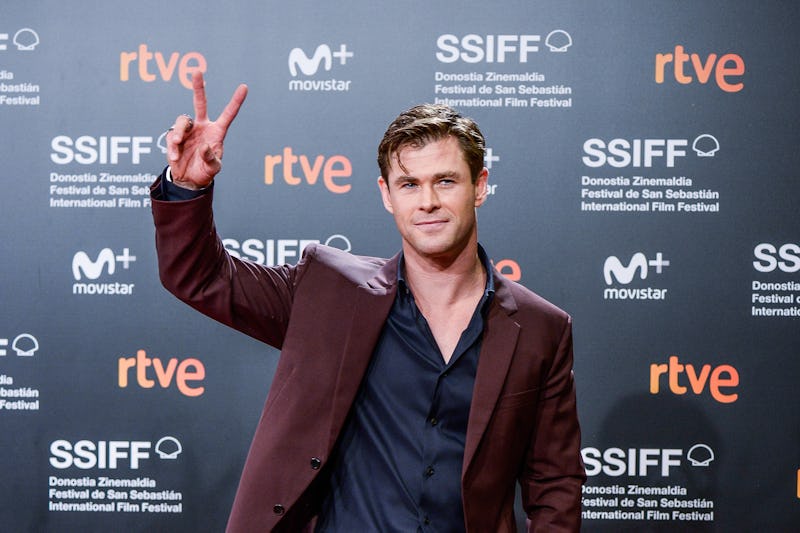 Carlos Alvarez/Getty Images Entertainment/Getty Images
Chris Hemsworth was a real-life superhero for one lucky musician over the weekend. When the actor and his friend, Luke Zocchi, headed out for a surfing trip, they ended up finding a fellowbeach-goer in need of a lift along the way. Chris Hemsworth picked up a hitchhiker in Australia. And while that might sound super dangerous, it turned out the guy was pretty well-known in his own right.
Hemsworth shared a video recounting the endeavor on Instagram over the weekend. The Thor actor wrote,
"Picked up a hitchhiker wasn't a serial killer which we were stoked about and just happened to be a kick ass musician Scott Hildebrand"
As the actor explains, this was way more than just him and Zocchi giving Hildebrand a car ride. The musician actually got to ride with them in a private helicopter — which, safe to say, is way more than he bargained for when he set out to go hitchhiking.
Hildebrand, a musician with more than 8,000 Instagram followers himself, shared Hemsworth's video on his own Instagram page, too. "So grateful for this crazy experience and the opportunity to share my music with so many beautiful people," the musician wrote in his caption. "Chris is such an awesome dude!"
Hemsworth's video shows himself and Zocchi driving up to Hildebrand, who's standing on the side of the road with a backpack and a guitar. The musician tells them that he was visiting Australia from Mexico, and the trio start talking about surfing. The two of them quickly give Hildebrand the nickname "Scotty Boy," and Hildebrand can't stop laughing and smiling when they tell him they'll be taking a chopper to Byron Bay.
"The experience was so cool and unexpected," the musician said to E! News. "They're so nice and I couldn't believe it was happening." It's not clear exactly what Hildebrand was doing hitchhiking in the first place, but he definitely has a pretty great story about his trip to Australia now.
Whatever the case was surrounding Hildebrand's excursion, he's not the first star to try his hand at hitchhiking. In 2016, Shia LaBeouf hitchhiked across the United States as part of an art project. Jared Leto also hitchhiked through the country earlier this year. In a conversation with Ryan Seacrest in April, the actor and musician said that "you meet a lot of interesting people and a lot of really kind people" through hitchhiking. Plus, in 2013, Dave Matthews famously had to hitchhike to his own concert. The practice can still be dangerous, but it's more common than you'd think — even among big-name people.
Still, it's usually not a good idea to let strangers into your car, let alone into your private helicopter. But in this weekend's case, Hildebrand was completely harmless, and he, Hemsworth, and Zocchi seemed to have a great time on their unexpected adventure. If you ever find yourself traveling through Australia and decide to hitchhike across the continent, who knows — you just might hitch a ride with Thor himself.