Chris Pine Has Thoughts On The "Problematic" Fuss About His 'Outlaw King' Nude Scene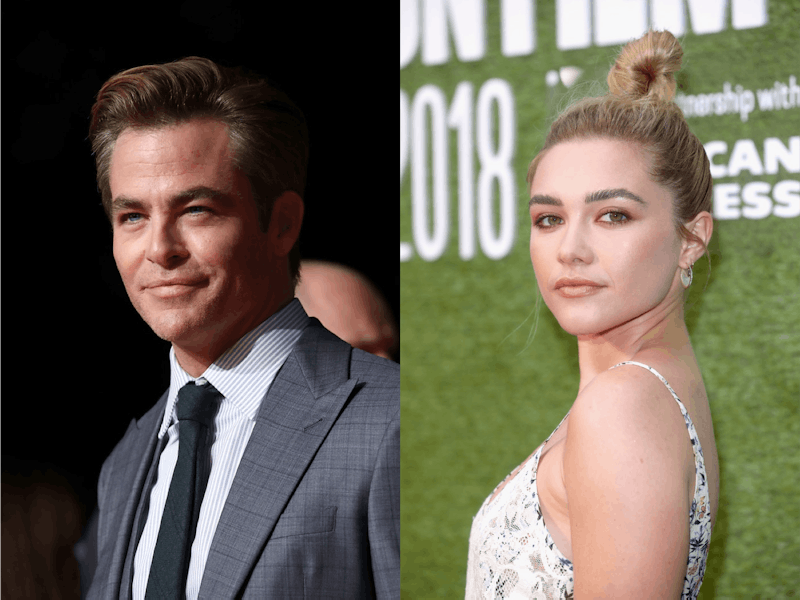 John Phillips/Tim P. Whitby/Getty Images Entertainment/Getty Images
In the absence of any other information about Netflix's upcoming film Outlaw King, you're probably aware of one fact: it features full-frontal nudity from lead Chris Pine. And that's a problem, says Pine, who plays Scottish warrior Robert the Bruce in the biopic. Speaking to the Daily Mirror, he criticised the differing societal responses to sex and violence; what's more, he questioned why his nude scene has made headlines, while his co-star Florence Pugh's nudity has barely inspired comment. Do the divergent reactions to Chris Pine and Florence Pugh's nudity in Outlaw King indicate that female actors are expected to appear nude, while male actors aren't? That's what Chris Pine thinks — and there's data to back him up.
"People are giggling about my penis as if we're schoolchildren," said Pine, in the wake of multiple fervent reviews of the nude scene. "There are movies with people sawing their heads off and you can show that to a 13-year-old in my country and it's not a problem," he said. "You show two people having sex and your mother's got to hide you from it."
"And if you distil that down, there's something about showing intimacy which is verboten, but showing violence which is thumbs up."
He went on to address the hypocrisy concerning Pugh's nude scenes in the film (Pugh plays Elizabeth de Burgh, Robert the Bruce's second wife.) "Florence shows her entire body in this film and no one is talking about that," he told the paper. "Is Florence expected to do that because she is a woman and I'm not expected to do that because I'm a man?"
And Pine has a point. A 2016 report found that women are almost three times more likely than men to appear fully or partially nude in Hollywood films, according to the Guardian. The Report on the Status of Women and Girls in California, produced by Mount Saint Mary's University, found that in the top 100 films at the 2014 U.S. box office, 26% of female characters displayed some level of nudity — while only 9% of male characters did.
The trend extends to television, too. Take the TV show that's been scrutinised for its nudity perhaps more than any other: Game of Thrones. Speaking to James Corden on The Late Late Show in 2016, Emilia Clarke — who plays Daenerys Targaryen — called out the disparity between male and female nude scenes. "I feel like there's a little bit of inequality between the amount of nudity that happens with women — this woman in particular — and what happens with the other guys," she said. "I just think that that should be even. Free the P!"
Clarke's criticism is borne out by the numbers: a 2017 Broadly study revealed that of 144 instances of nudity across the show's seven seasons, 83.7% belonged to female characters. The show has, however, reached something more of a balance: in the seventh and penultimate series, only six naked people were shown, divided equally by gender. That even split might also be influenced by the show's overall decrease in nudity, however: in the first season, there were a colossal 33 instances.
Insecure creator and star Issa Rae has also called out the imbalance in female and male nudity on-screen, saying on The View that she aimed to "even the playing field" with her show. "There's a lot of female nudity on television," she said. At last month's Mipcom conference in Cannes, where she was named Personality of the Year, Rae said she wanted to show "dark people having sex and being desirable," adding, "We're telling the show through the female lens, the female gaze, which is pretty rare." She said, "There's this male gaze we've always been subjected to, and this is an opportunity to reverse that."
Pine's comments add to a long line of critique concerning the discrepancy between male and female nude scenes. The question remains: will there come a day when a naked man on-screen is just as commonplace as a naked woman?