Chrissy Metz's Emmys Dress Was Full Of Glamour & Pearls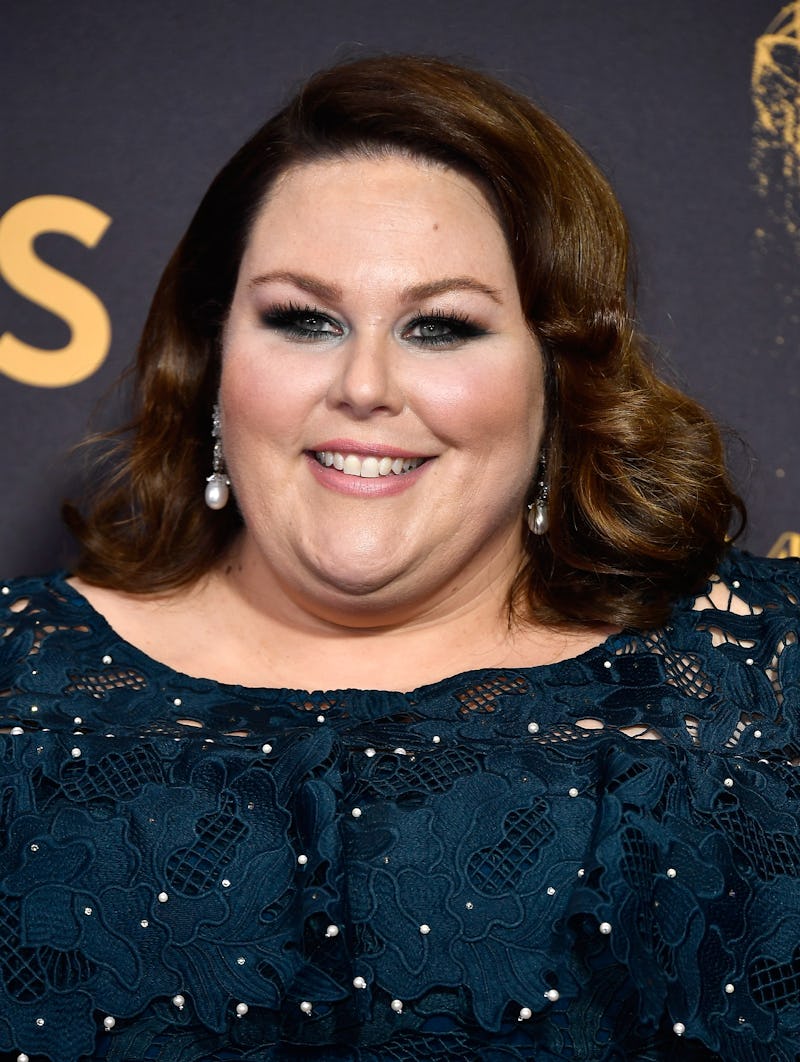 Frazer Harrison/Getty Images Entertainment/Getty Images
This Is Us star Chrissy Metz is riding high as the sky. The star was nominated for her very first Emmy for Best Supporting Actress in a Drama Series, thanks to her unforgettable work on the previously mentioned hit series. As she dressed to compete for the coveted golden Emmys statue, Chrissy Metz's 2017 Emmys outfit was a total red carpet win. She wore a custom lacy, midnight blue Lela Rose dress and proclaimed that she "felt like a princess" during her interview with E! before the awards ceremony began.
Well, there's a reason Metz experienced that particular feeling. That's because she looked like royalty. She utterly owned it with her deep teal frock, skipping jewelry to show off the pearls embedded in the top of her dress. Those white gems were a subtle and sweet touch, and certainly all the star needed to accessorize.
The top of the dress had a cape-like ruffle, which was a frilly and feminine touch. The gown also had a floor-sweeping length, giving it a regal quality. Add some scattered pearls at the bottom and you have a beyond gorgeous look.
Metz opted for smoldering, smoky statement eye makeup, while her brown locks were deeply side-parted and worn in thick, Old Hollywood waves. The classic makeup and hair went flawlessly with her gown.
The presentation was seamless, and Metz's 2017 Emmys gown was a jewel-toned dream. I wouldn't blame her if she never, ever wanted to take it off. Take a look for yourself.
Let's all collect our dropped jaws from the floor. Even if Metz didn't tell us that the dress was made expressly for her, you'd already think that. It just looks too perfect on her.
Metz made fashion headlines earlier this year when she opted not to wear either the red or teal custom Christian Siriano gowns that the designer and former Project Runway winner created for her for the 2017 Golden Globes.
The reason we know these details is because Metz did a lot of press about her two Siriano dress choices — one a classic, lacy number and the other a drapey, flowing piece — leading up to the ceremony and ultimately nixed 'em both.
Instead, Metz went with a deep purple velvet gown with silver detail around the waist. The frock was designed by newcomer Nathan Paul, also a former Project Runway contestant. Metz even proclaimed that she switched gears because she loved the color. It's all a matter of comfort and liking what you wear, especially when all eyes are on you, so Metz exercised her rightful option.
Her Golden Globes fashion fanfare certainly had fashion lovers curious about what type of outfit Metz would select for the Emmys and she did not disappoint whatesoever.
Going with a deep, rich, and smart color choice with sweet and unexpected details is always a win. Metz is killing the fashion game, one award show at a time.
Plus-size women have historically had a difficult time finding red carpet looks for their full figures. It's no secret that many designers have ignored or straight-up refused to dress curvy women, resulting in an underserved celeb market.
But while sizeism is unfortunately still an issue in fashion, the industry continues to make strides towards further inclusivity. Metz is proof that there are designers out there who want to create beautiful looks for plus-size stars. She had her choice of Golden Globes gowns, and had a high-profile designer like Siriano working specifically for her. For the Emmys, another noted designer made a memorable and charming dress for her.
Plus-size women are enjoying further representation in fashion and one can only hope this trend continues — on the red carpet and off.