Chrissy Teigen Asked For Bananas On Twitter & It Became A Beautiful Saga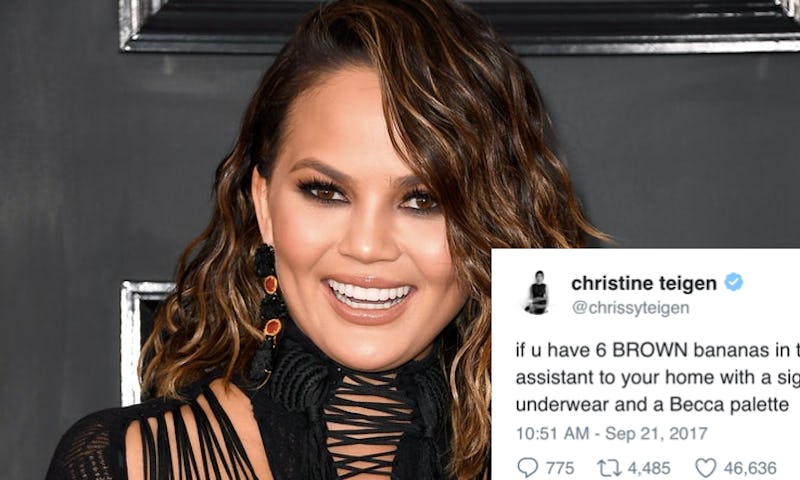 Getty Images/Bustle
In our current world full of depressing news items like extreme weather, the possibility of nuclear war, and presidential tweets, here's some much happier, non-Apocalyptic news: Chrissy Teigen asked fans for bananas to help her make banana bread. That's right, America's hilarious sweetheart was in the kitchen trying to make a classic baked good, but found herself a few ingredients short. In her time of need she turned to her loyal fan base for help and asked her 7.5 million Twitter followers for help finding bananas.
There were a few rules, though: Teigen herself was not going to pick up the bananas (instead her "assistant" would make the trip), she needed six bananas, the bananas needed to be ripe (she was making banana bread after all), and the banana-possessor had to be in the Los Angeles area. Being the just and fair human that she is, Teigen offered the individual who helped her out a signed copy of her cookbook Cravings, a Becca palette, and something that money couldn't buy: a pair of John Legend's underwear.
Hundreds of fans responded to Teigen's request but only a select few who met all of the criteria received responses, and only a single person was chosen to donate her bananas to the cause. For those of you who don't follow celebrities' cooking and shopping habits as religiously as some of us do, here's a play-by-play of Thursday afternoon's events.
When she first put out the message asking for bananas, fans thought they would help by offering up tricks to brown bananas but Teigen was not having it:
In an effort to not get spammed with random photos of bananas, Teigen implemented a visual stipulation for submissions:
The responses came pouring in and fans were teaming up to help get Teigen her bananas. This example of strangers coming together to achieve a common goal gives hope for a better and brighter future:
However, rather than making her "assistant" drive to multiple different residences to gather up the bananas, a knight in shining armor swooped in with five bananas and a location too convenient to pass up:
After less than 30 minutes of this whirlwind saga, the goal was achieved- the bananas were identified and Teigen's assistant was on her way to collect them. As a way to cushion the blow to followers who offered up bananas only to have them rejected, Teigen offered up a piece of the finished product to thank them for their efforts:
I may not have as many Twitter followers as Teigen, but I will keep this method of grocery shopping in mind the next time I want to make guacamole, but my avocados aren't ripe enough yet.
Pictured below is the trade deal between the two parties and Teigen actually followed through with all of the items she promised — peep the pair of underwear being handed over.
Also, I think it is important to note that Teigen's "assistant" was actually just her mom.
The only thing better than this whole banana search were fans tweets about the banana search:
Also, one of the Property Brothers decided to chime in with something about chocolate chip cookies and then Nestle Toll House also decided to throw their hat into the ring, as well.
Grocery stores all across Los Angeles better stock up on bananas from now on because, based on the comments on Teigen's tweets, some fans will probably keep a pile of brown bananas in the kitchen permanently just in case this situation ever presents itself again.
2017 is weird, man.
UPDATE: The story continued into Thursday evening when Teigen realized she needed more bananas and her mom went out to retrieve them from another Twitter follower. In the end, banana bread was made. As Teigen put it, "this is no longer my banana bread. this is *our* banana bread."