Chrissy Teigen Celebrates Luna's First B-Day In The Cutest Way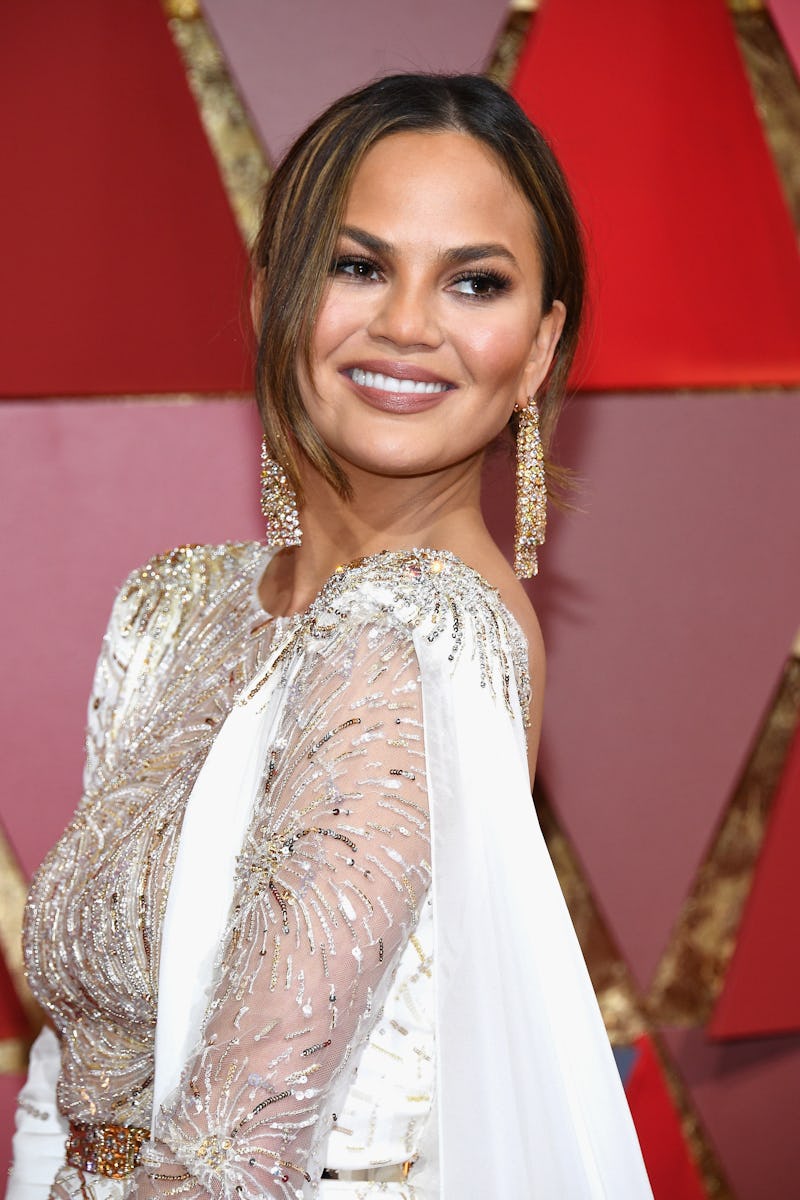 Kevork Djansezian/Getty Images Entertainment/Getty Images
April 14, 2017 is a very special day, even though you may not know it. It is a certain celebrity baby's birthday, aka the cutest famous baby to have ever been born. On this day one year ago, Luna Simone Stephens made her way into the world. I bet neither she nor her parents thought she would become so famous — for her cuteness. Well, her mom is loving every minute of her daughter's special day. On Instagram, Chrissy Teigen is celebrating Luna's first birthday in the most perfect way.
First of all, Teigen, John Legend, and Luna participated in a photoshoot that will steal your breath away due to it's flawlessness. Seriously, the photos are that beautiful. The black and white pictures, which you can check out here, show the three sitting on the ground like the sweet family they are. Luna is on Legend's lap and has the biggest grin in several of the photos. As you'll see, both Legend and Teigen are absolutely beyond blissful as a unit — and to have Luna in their lives.
Now, prepare yourselves to become even more emotional. Here is the message Teigen wrote alongside the gallery of images:
Happy first birthday Lu!!!! My lovebug. You are all the best parts of the both of us and I cannot believe how much has happened in [your] first 12 months of life. We love you to the luna and back. Thank you @Yopeteryang for taking these awesome photos and the lip sync battle team for such a nice surprise!!! [three heart emojis]
Anyone else love how she said they love Luna "to the luna and back"? So witty, Chrissy Teigen.
Like her daughter, Teigen's mom, Vilailuck Teigen shared a sweet Instagram collage wishing her granddaughter a happy birthday. Her caption, like Teigen's, is perfection. "Happy Birthday Luna! Wake up it's party time."
I have a feeling Friday is going to be filled with all kinds of Luna goodness for her special day. If you don't already, be sure to follow Teigen (chrissyteigen) and her mom (pepperthai2) on Snapchat. They both have been sharing snaps of the big party celebration. FYI, Legend and Teigen are decorating Luna's cake together. Yeah, they are the greatest parents ever.
With that, let's send Luna all of the happiest birthday wishes!