The Latest Reason Chrissy Teigen Is Dragging John Legend Will Make You Go, "Same."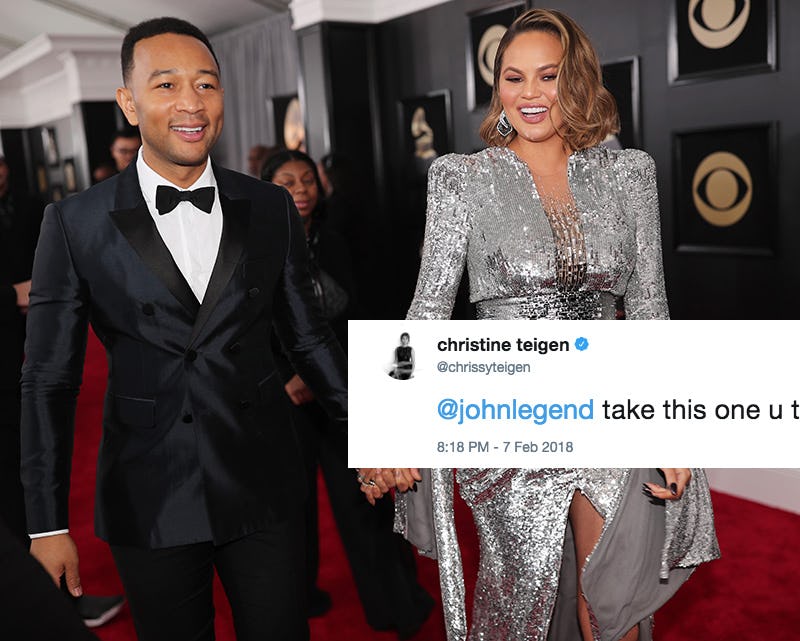 Getty Images/Bustle
Chrissy Teigen and John Legend's relationship is a love story for the ages, but that doesn't mean their marriage is completely perfect. This week, Teigen dragged Legend for taking the phone chargers from their house all the time. And, as usual, fans are praising her honesty, especially since it's such a relatable problem. Like any couple, Teigen and Legend have disagreements over small things now and then. But unlike most people, the 32-year-old often documents her annoyances with her husband on social media, to hilarious effect. Teigen's tweets about the phone chargers are no different, especially the followup tweet with a solution she proposed to her husband.
First, Teigen tweeted on Wednesday, "yes @johnlegend I buy and leave all the phone chargers all around the house just so you can unplug them all and take them to work with you. all of them! I love that you love chargers! they're all for you! I just love you that's why I buy them. because you love them!" If that weren't brutal enough, she followed it up with a photo of a unicorn-shaped power bank, writing "I'm buying this" — and then telling her husband, "take this one u thief," tagging Legend in the followup tweet.
Plenty of people who have the same phone as their partner or roommate will relate to Teigen's tweet. Theoretically, if Apple gives you a new charger cord when you upgrade your phone, then you should have at least a few backups around the house. But if you bring them to the office, or lose one on vacation, or even just forget which bag you left them in, it's not hard to see how chargers can go the way of bobby pins, never to be seen again. (Plus, if you only have one or two reusable power banks between you, they're even more of a hot commodity.)
Teigen's tweet garnered plenty of responses. The struggle to find phone chargers around the house is just too real for so many of us; some people tagged their own partners, accusing them of being charger-stealers, too. Even other celebrities, like Ruby Rose, weighed in on the topic.
And, of course, some fans had jokes of their own.
This isn't the first time Teigen has dragged her husband — lovingly — on social media. On her most recent birthday, Legend posted a photo of his wife, along with a sweet caption praising her. But Teigen still had a hilarious response.
"Happy birthday to my wonderful wife @chrissyteigen! I'm so happy you were born! You bring so much light to my life and to the lives of everyone who knows you. I love you so much! Happy Birthday!!!," Legend captioned the photo. Instead of leaving an equally gushy comment on the post, though, Teigen wrote, "How about a hi-res," criticizing the quality of the photo he decided to use.
At the end of the day, the couple are clearly still in love, and their relationship is obviously strong enough to withstand a little ribbing here and there. If anything, their social media posts are a reminder to the rest of us not to take everything so seriously.
Whether you're a model and cookbook author with millions of Twitter followers or just an average person in a relationship with a partner or a platonic relationship with a roommate, there are some struggles that are just too relatable. Fans are loving Teigen's honesty for calling her husband out in Wednesday's tweet. And even though Teigen was just being her usual funny self on Twitter, hopefully Legend brought home a few more spare phone chargers after seeing her tweet thread.