You Need To Read Chrissy Teigen & John Legend's Birthday Message To Trump Immediately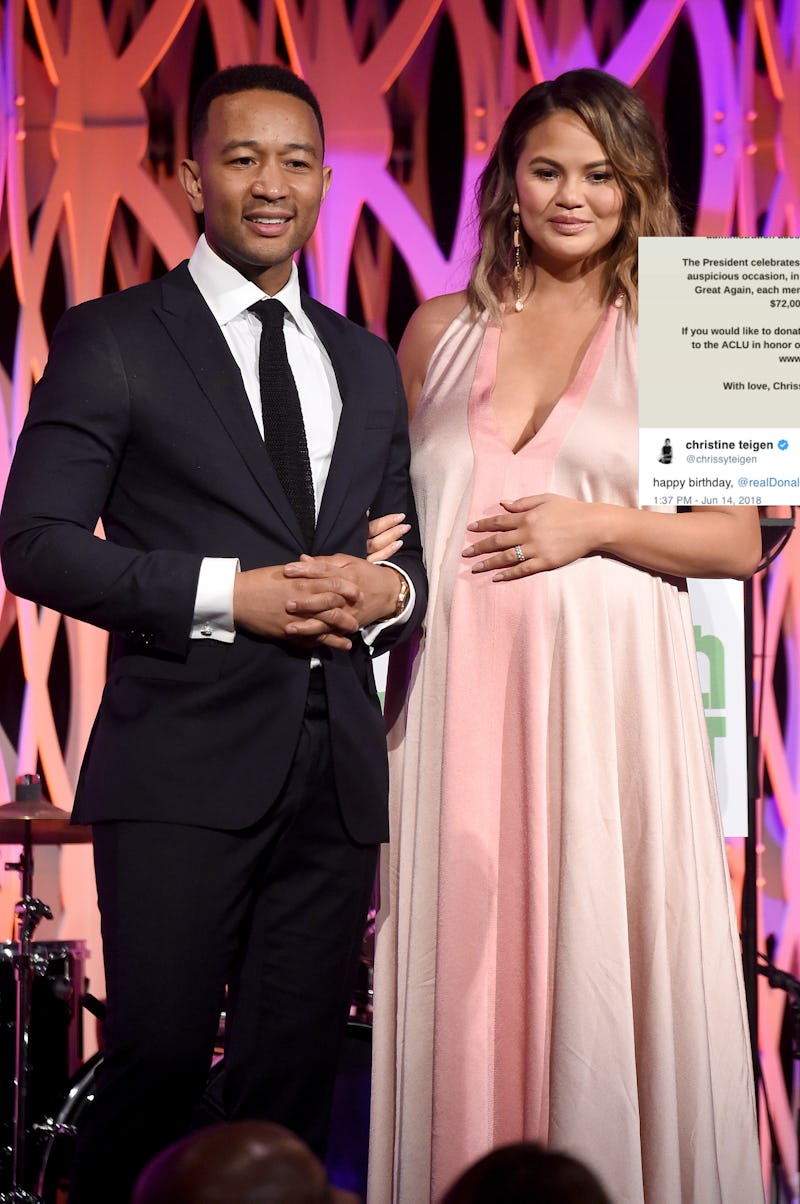 Jamie McCarthy/Getty Images Entertainment/Getty Images; Chrissy Teigen/Twitter
Instead of posting a message celebrating the President's birthday, Chrissy Teigen shifted the spotlight in a powerful way. On Thursday, June 14, Teigen and John Legend shared a birthday message for Trump that supported immigrants, while also encouraging people to donate to the ACLU — something her and Legend's family did as well. She noted that each member of their family donated $72,000 to the organization, in honor of Trump turning 72.
In the note signed "With love, Chrissy, John, Luna and Miles," Teigen wrote:
"John and I are outraged to see and hear the horror stories of immigrant families seeking asylum and refuge in America being ripped apart due to the inhumane policies of the Trump administration. These actions are cruel, anti-family and go against everything we believe this country should represent. The ACLU is committed to defending the rights and humanity of these vulnerable families."
But that's not all the ACLU does, as Teigen noted: "In addition to fighting for immigrants' rights, they're advocating for reproductive rights, voting rights, criminal justice reform, LGBT rights, 1st amendment rights and holding the Trump administration accountable whenever possible." In short, the ACLU does good work, and they represent the rights of pretty much everyone.
The next part of Teigen's message took a decidedly more tongue-in-cheek tone — which is a tone that she really excels at communicating — as she revealed the gifts that she and her family had gotten Trump for his birthday.
"The President celebrates his 72nd birthday today," Teigen wrote. "On this auspicious occasion, in order to Make Trump's Birthday Great Again, each member of our family has donated $72,000 to the ACLU." So, seeing as how there are four members of Teigen and Legend's immediate family, that means that the total sum of their "gifts" for Trump comes in at a cool $288,000. Happy birthday, indeed.
Of course, it's not like Teigen assumed that all of her followers would be able to make such an incredibly generous donation, so instead she suggested a few alternative — yet, still relevant — donation amounts, and directed fans to a special link on the ACLU's website.
"If you would like to donate $7.20, $72, or whatever you like to the ACLU in honor of this blessed day," Teigen wrote in the message, "please go to www.aclu.org/72." It's worth noting, though, that while the link does call attention to Trump's 72nd birthday, the text on the actual donation page doesn't specify that your contribution must be geared toward any particular purpose. Essentially, even if you got there via Teigen's link, you can donate any amount, for any reason of your choosing.
At the time of publication, Teigen's message had received more than 11,000 retweets and nearly 42,000 "likes." People aren't just interacting with the tweet, though — it looks like it's legitimately motivating people to donate, which is pretty cool.
The comments under Teigen's tweet are filled with fans sharing screenshots of their contributions, links to other worthwhile charitable organizations/events, and praise for Teigen's family for using their wide-reaching celebrity platform to do good things.
One fan made a particularly important point, when another commenter lamented that they could "only" donate $7.20. "Its not only!," @jenniferking70 replied. "Its 7.20 that is going to help children and their families. Do not belittle your charitable gift. The alternative is 0.00. You did good!" So supportive! So true!
The whole thing is pretty damn inspirational, especially since Teigen and Legend chose one of the most all-inclusive organizations out there. There are plenty of other non-profits worth donating to, but by directing their fans to a non-profit that's so universally representative, they were able to maximize their impact in a seriously significant way.