Chrissy Teigen & John Legend's 'Jesus Christ Superstar' Behind-The-Scenes Photos Are SO Cute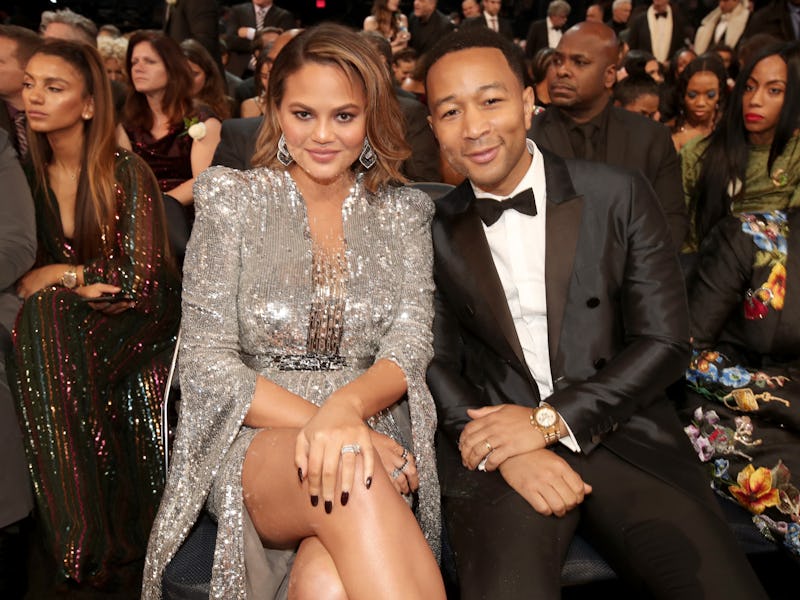 Christopher Polk/Getty Images Entertainment/Getty Images
There's a new live-for-TV musical on the way, but fans are already getting some behind-the-scenes sneak-peeks. Chrissy Teigen and John Legend's Jesus Christ Superstar photos — which they've been periodically sharing during Legend's rehearsals for the show — don't give much away. They do, however, cement Teigen and daughter Luna's status as Legend's biggest fans.
On March 26, Teigen tweeted a photo of Luna and Legend sitting on the stage of the Superstar set. The lights are low and Luna and Legend are covered in shadows, but the whole thing still makes for a pretty sweet scene. Luna is pointing up at something above the rafters, and Legend appears to be pretty entertained with whatever his daughter is seeing.
Legend is preparing to play Jesus Christ for NBC's production of Jesus Christ Superstar Live In Concert, which will air on Easter Sunday, April 1. It also stars Sara Bareilles as Mary Magdalene, Alice Cooper as King Herod, and Brandon Victor Dixon, who performed in Hamilton, as Judas.
Teigen and her daughter have long-been side-stage fixtures whenever Legend performs, and even though Legend is the star of this particular show, most of the famous couple's on-set snaps so far have put the spotlight on little Luna. Not that anyone is complaining, of course. She's beyond adorable.
Legend shared an on-set photo of his own from March 26 as well, captioning the cute pic, "Luna's on set!" Legend's photo is a bit more well-lit, and show's him giving Luna a sweet smooch on the forehead while he stands on the stage. Legend is decked-out in head-to-toe black, but it's unclear whether he's wearing part of his costume, or just dressed in his street-clothes while they rehearse. Luna's all bundled up in a cream-colored coat, and can be seen clutching her snack: a Ziplock bag filled with Cheerios.
NBC gave fans an official "First Look" at the Superstar remake on March 21. The video showed some of the stars rehearsing in their costumes, and also included commentary about the production from a few members of the cast.
"What an incredible honor to be cast as 'Jesus,' but also to be a part of this production," Legend says in the clip. Fans then get a quick glimpse of the in-action rehearsals, followed by some kind words from Cooper about his Grammy-winning co-star. "John is the perfect cast for 'Jesus,'" Cooper says of Legend, "because he has this ethereal quality to him." Can't disagree with you there, Alice. The man is truly a treasure.
When Entertainment Tonight shared the "First Look" in a tweet on March 24, however, Teigen zeroed in on something else. The tweet from ET included a freeze-frame photo of some of the cast mid-scene, and showed Legend offering bread to a woman kneeling beside him. "Ummm who's this chick he's giving bread to?" Teigen joked in her response. She also followed up with another tweet wondering if people are sure they know who Alice Cooper is.
Teigen's clearly been having fun while watching her husband during rehearsals, though. "Heading to Jesus Christ Superstar rehearsals!" she tweeted on Monday, March 26. "Jesus flies today. I gotta see this." In another tweet later that day, Teigen wrote, "John said there would be leopards today. But it's lepers. I uh, am not good with the Bible." Lepers are a pretty rare sight these days, so... still a win?
Whether the show ends up including leopards, lepers, or a little bit of both, Legend can rest assured that both Teigen and Luna will love it. Jesus Christ Superstar Live in Concert airs on Sunday, April 1 at 8 p.m. ET/PT on NBC.