Here's Why Chrissy Teigen Says Baby Miles Is "Getting Fitted For A Little Helmet"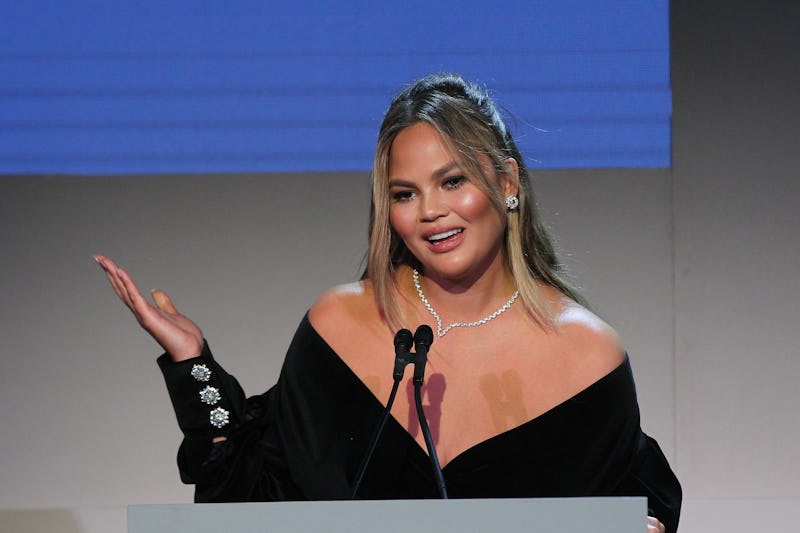 Bennett Raglin/Getty Images Entertainment/Getty Images
On Monday evening, model, chef, and Twitter extraordinaire Chrissy Teigen revealed baby Miles is wearing a helmet these days. Teigen has been praised for her total authenticity and honesty about being a mother to Luna and Miles, so it probably surprised no one that she'd share the news about her son's "misshapen head." But Teigen was quick to reassure everyone on social media that his helmet was a total normal fix, and that Miles was a "happy bug" regardless of his new headgear.
Teigen first tweeted, "baby miles getting fitted for a little helmet today for his adorable slightly misshapen head. so if you see pictures, don't feel bad for him because he's just fixing his flat and honestly he's probably gonna be even cuter with it somehow"
She added in a subsequent tweet, "I have been told it's too late for my head"
Teigen then took to Instagram to share a photo so cute it's physically painful to look at it for too long. She wrote, "My baby bug got his head shaping helmet today! please don't feel bad for him if you see photos. he is a happy bug and we're just fixing his flat!"
Miles could not be reached for comment about his new fancy headwear.
Miles' "misshapen head" is likely the result of a condition called Plagiocephaly, People reports, in which a baby's skull plates flatten and a helmet is needed to correct the shape while the bones are still malleable. The condition, also known as Flat Head Syndrome, is temporary and doesn't cause any pain for the child throughout the corrective process.
Twitter users flocked to Teigen's thread shortly after she posted it, with many of the posting photos of their own children or children they knew with head helmets. Before long, the thread had become a verifiable goldmine of adorable babies wearing tiny helmets. One user wrote, "Is this the official babies with helmets thread?"
Teigen replied, "I HOPE SO it is so great!!!"
Teigen and Legend frequently post pictures of their children to social media and talk publicly about their experiences as a family. Teigen has pointed out in the past that their photos aren't the product of a curated effort; rather, she said, "We just capture moments and if we see a cute photo I post it. It's not too calculated."
However, Teigen's willingness to share her life with her followers doesn't mean she's going to post everything about her children. To People, she said, "The more you hide, the more people are curious and then it becomes a really frustrating thing. So you don't want to be too secretive. But if you show a ton then you open yourself up to a world of criticism for showing too much. It's hard because you want to keep their special moments really special."
Teigen continued, "And it's not like I want to post her meltdowns or anything that's going to embarrass her or get us in trouble — something like if she's sitting by an outlet or [in] a car seat and the strap isn't high enough. That stuff is exhausting to deal with."