Chrissy Teigen Still Wears Maternity Clothing Proving She's STILL The Most Relatable Celeb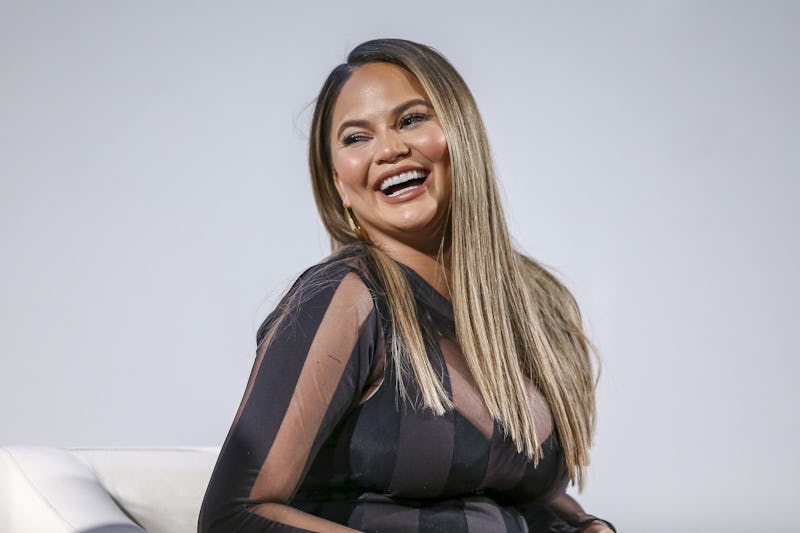 Rich Polk/Getty Images Entertainment/Getty Images
Chrissy Teigen might just be the most relatable celebrity alive. Not only does she create incredible makeup items, but she opens up about every aspect of her life. Even the not so glamorous ones. According to her Instagram, Chrissy Teigen is still wearing her maternity clothes, and she let the world know. She joked about still fitting in the leggings
Since having her second child, Miles, Teigen has launched a makeup collection with BECCA Cosmetics, spoken at the Keep Families Together Rally, and has kept the entire internet entertained then entire time. For her latest relatable Instagram post, Teigen jokingly shared a big thank you to maternity clothing for still being wearable post-pregnancy as well.
"I just want to say that I think it's really cool that maternity pants make it so that you can wear them even a long time after and they still fit really well," Teigen said in the Instagram Stories video.
She made the comment about a pair of high-waisted leggings hat she was wearing with a sports bra. The tone of the video — and the giant pout at the end — make it clear that she meant the video sarcastically. Bustle reached out to Teigen for comment.
Teigen has been completely open and honest about the highs and lows of motherhood since the very beginning. She's shared all about her personal postpartum, told exactly when she "touched up her under eyes" on a photo. and even shared a picture of her doing a post-baby vagina steam. So it only makes sense that she would share about her fashion choices as well.
A lot of celebrities choose not to go into the public eye until they have lost what they feel is the right weight after having a baby. Then there's Teigen. She's shown everything from holding babies in both arms to breastfeeding a baby and a babydoll. She makes the most out of every single outfit and is always there to show the truth — no just the glamorous side — of being a mom.
Although Teigen has rocked a whole lot of fabulous outfits in and out of her pregnancy, there's nothing like a good, realistic #OOTD. Just days after her second pregnancy, the Lip Sync Battle co-host got on Instagram wearing postpartum underwear, and people absolutely loved it. She referred to them as #asianpearunderwear in the post.
Of course, Teigen has worn a handful of incredibly chic outfits as well. She's worn gorgeous maxi dresses and even a pair of high-heeled thigh-high boots. But she's also worn baby wraps and blankets as well. Consider it the ying and yang of fashion that the world doesn't always see in the same feed.
Bottom line: Teigen is yet again the realest celebrity out there. She's always down to keep it real with her fans, and people love her for it. Whether it's high fashion or real life post-pregnancy fashion, you can always count on this celebrity to make you feel like you're not along.