Chrissy Teigen Is Launching A Glowy Body Product Because She Loves Us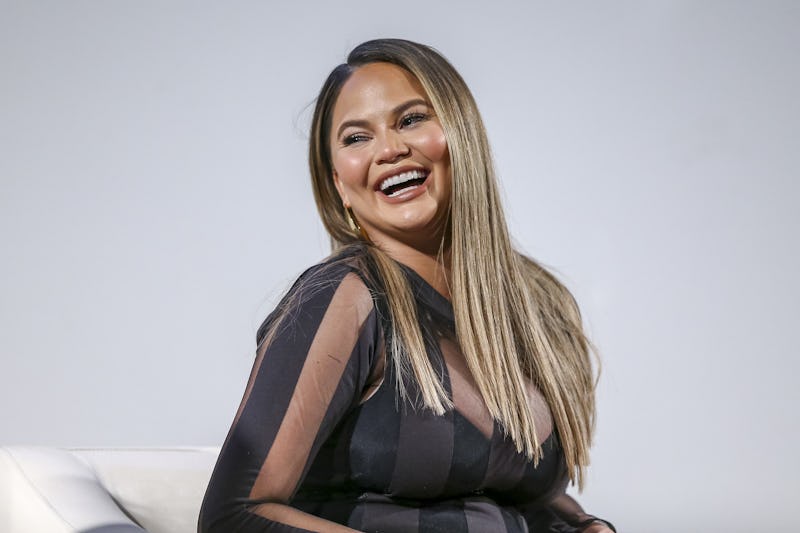 Rich Polk/Getty Images Entertainment/Getty Images
There has been a lot of buzz lately that there's a second Chrissy Teigen x Becca collaboration coming soon, ever since Teigen shared a sneak peek of herself at their headquarters back in April. But the actual details of the new collection — everything from when it will drop to what products the two are even working on — has been left out. The only thing that was hinted at was that something was being worked on, which was enough to get beauty lovers excited.
Back in April, the behind the scenes glimpse was shared in the form of a video, where Teigen was in a beauty chair surrounded by the Becca team, her hair being arranged underneath a gold headband. " "Sneaky peaky!!!! Beautiful day with the @beccacosmetics team!" Teigen wrote in the caption, giving nothing away.
But that didn't mean there weren't clues around that hinted at what was being worked on. According to The Daily Mail, there were paparazzi photos of Teigen on the beach in Malibu with a Becca glam team, taking campaign photos for the upcoming collection. In one of the photos, she was found standing next to a huge lotion bottle that looked like it was filled with a glittery bronze liquid, which made people speculate that the upcoming collection was going to focus on body glow.
Now Teigen has dropped her second teaser, where she went on Instagram Story and posted a cryptic message series. She showed herself holding a few products on the beach, her skin glittering under the sun and the products pixelated like they were naughty pictures.
The post were then followed by a cheeky text photo, where Teigen wrote, "Oops! John might be the only one to see my nudes but I have something even better coming your way. Follow @beccacosmetics to be the first to know the deets!"
Over on Becca's Instagram, the brand posted a video of gold, sparkly liquid, accompanied with the caption, "Something's GLOWING to you soon! Are you ready for it?"
The first photo that Teigen posted looks a lot like the bottle that was captured by paparazzi on her photo shoot in Malibu, and coupled with the sneak peek of the gold shimmer liquid, one can assume it's a body bronzer, body illuminizer, or body glitter of some type.
Seeing the success of Fenty Beauty's Body Lava and people's love for the '90s throwback body glitter aesthetic, this new collaboration could very well be following in those footsteps. And if this is a body glitter line, the second photo that features a rounded, pixelated product could also be similar to the Fenty Beauty Fairy Bomb Glittering Pom Pom, which was a pouf packed with rose gold glitter that you could brush across your collarbone, shoulders, and arms.
As you can imagine, people are already speculating what this upcoming collection is going to feature, and ever since Becca posted the gilded-lotion video people have been trying to guess what to expect.
"Love It !! hoping it's a body lotion," one person wrote. "Setting spray?!" another person wondered, imagining a shimmery layer that would keep our makeup in place all day long. "Omg if this is a glow oil i'm buying it asap!!!!" another follower posted, guessing that it might be an illuminizer.
While there are more questions than answers right now, one can assume that more information will be coming soon. The two collaborators have shared more sneak peeks this week then they ever have, building up the hype. And this is most definitely a summer collection, what with its beach scenes and golden glow aesthetic, so expect to hear more concrete details soon. Hang tight, and get ready to glow.