Chrissy Teigen's Tweet About Going To Luna's School Orientation Is All Too Real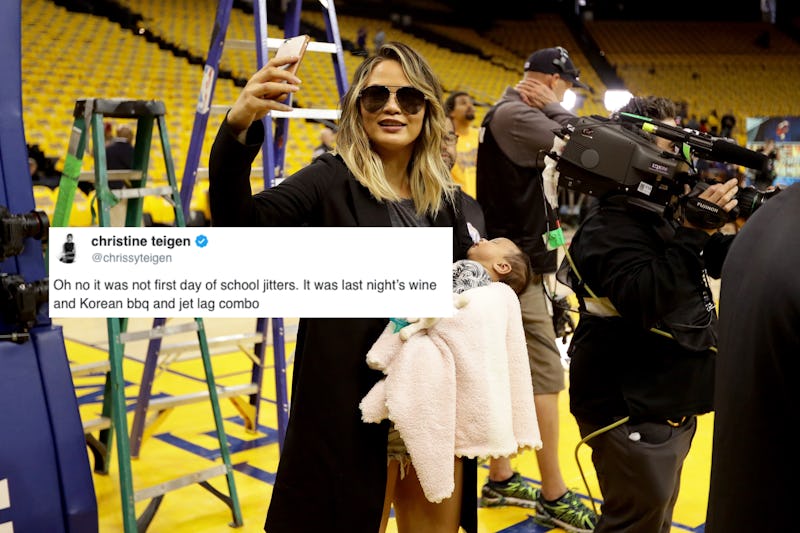 Ezra Shaw/Getty Images Entertainment/Getty Images
On Monday morning, after a whirlwind family trip to Bali that spurned a now-infamous jingle about the "headband of the day," Chrissy Teigen tweeted about Luna's school orientation — and like always, the model, cookbook author, and Twitter extraordinaire did not disappoint. Teigen's experience bringing Luna to orientation basically confirmed that she's just like everyone else. Or rather, it confirmed that everyone wants to be best friends with Teigen, and for good reason: she seems to consistently be one of the most authentic and honest celebrities in the game.
Teigen tweeted, "hello everyone from Luna's school orientation today. im [sic] sorry I projectile puked caffeine upon arrival, couldn't open my eyes and had the noisiest newborn in the room. (not a joke, very sorry, see you tomorrow)."
Teigen then added in a follow-up tweet, "Oh no it was not first day of school jitters. It was last night's wine and Korean bbq and jet lag combo."
Naturally, the Twitterverse was in love with Teigen's narrative. The best part about her tweet wasn't just the humor, though. It was the parents who tweeted back at Teigen to commiserate over similar, hilarious experiences.
One user tweeted back at Teigen, "I always held it together but daughter No. 2 puked on her desk first day of 1st grade and daughter No. 1 swallowed her milk money, choked on the quarter and puked on a kid's shoes in 1st grade, same unfortunate teacher for both. Lucky for her I only had 2 kids."
Another user tweeted in response, "I threw up in my coffee cup at my sons [sic] first Little League practice. I was hungover like never before or since. But I was never asked to do consessions [sic] stand duty."
Still another revealed, "Having a similar morning... woke up to a poop explosion, took me 1.5hrs to finish making a pot of coffee, and my toddler has decided she hates what she eats for breakfast everyday."
Teigen's continued pursuit of being honest about parenthood (even celebrity parenthood) is pretty much always greeted with the same love and appreciation from her fans. In March 2017, Teigen got real about how much help she received in raising baby Luna.
To Entertainment Tonight, Teigen said, "Every time I look at [my daughter] Luna, I wonder, 'How on earth does anybody do this alone?' I have the utmost respect for mothers [and] single mothers."
She then added that she thought it was important to be honest about how much help she gets, adding, "I have my mother who lives with us, I have John, I have a nanny. I'm very outspoken about it, and when I see that I still have a difficult time, I just don't know how anyone else does it."
Teigen was also adamant that her access to "special resources" was directly responsible for how quickly she was able to get back into shape. She said, "I just have so much respect for everybody and I think it's… we're given all the tools to be able to get ourselves together and to be able to leave the house for a little bit and go work out and eat well, and I think that's not something that everyone has access to."
Teigen concluded the interview by saying, "I've never had more appreciation for anyone in my entire life until I became a mom."
The feeling seems to be pretty mutual with many other moms on Twitter, who are grateful for Teigen.