Chrissy Teigen Plays With Her Blackheads After Using Pore Strips Because She Is All Of Us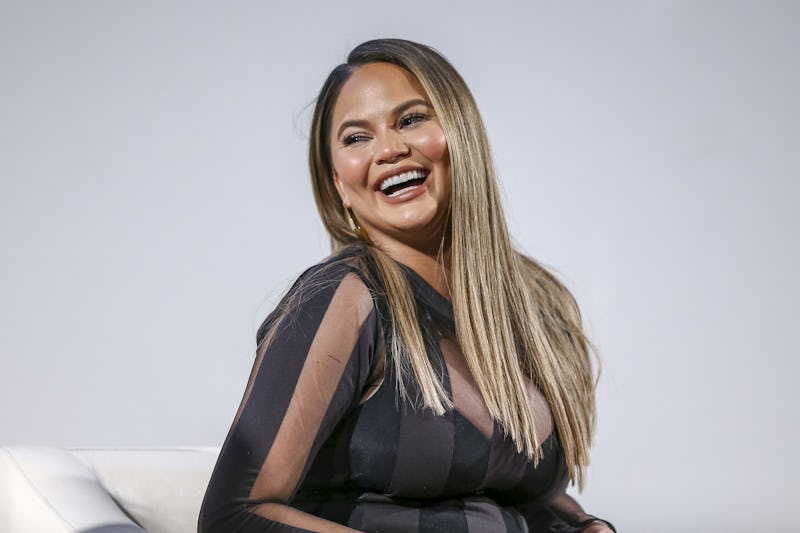 Rich Polk/Getty Images Entertainment/Getty Images
Stars: they're just like us. Except, some are willing to admit more than others. As People.com found, Chrissy Teigen got real about her Biore Poor Strip routine. The social media post is relatable, real, and just plain entertaining. If you're not following Teigen on social media yet, this down-to-Earth beauty advice will make you hit the button.
From launching her own products with BECCA to sharing behind the scenes on social media, Teigen is about the realest it get when it comes to beauty. The mom of two is never afraid to get real and share what's really going on in her life. That includes her love for Biore Nose Strips.
In the non-sponsored post, Teigen is sitting in front of the camera in a blackhead nose and chin strip. She talks about how she really likes to use the products.
"I like to pull these off, slowly, and then tilt them towards the light so I can see each little mountain, each tiny mountain," she says in the video. "And then I like to take my finger and brush the blackheads to the side so I can see their length."
Yes, Teigen is just like you. She plays with her blackhead face strips, too. Because what fun are the strips if you're not going to check and see all the, as Teigen calls them, tiny mountains that came out of your face.
The mini tutorial does not stop there. She goes on to say exactly how she disposes of them. "I take the strip and I fold it into quarters. That concludes my story entitled, 'If Hannibal Lecter Loved Biore Nose Strips.' Thank you," she finishes saying in the creepy, Lecter-like voice.
All of this comes after the series, which Teigen calls "Headband of the Day." She started wearing different headbands during her time on vacation. Her husband John Legend even made a theme song about it. To say that Teigen is the realest is an understatement.
Joining in Teigen's fascination with pore strips is super affordable. You can buy a combo pack, which includes seven nose and seven face strips for under $10. You can even score some Biore products for cheaper than that at Walmart and Target.
There are plenty of other combos to purchase too. There's single nose strips, chin strips, and a combination of both. Because every deserves to have the kind of happiness of looking at all those tiny mountains coming out of the your skin.
The products aren't going anywhere any time soon, either. You can pick up these strips any time you'd like. Any beauty lover, including Teigen, knows that there is nothing more satisfying than pulling the blackheads out of your nose. And, yes, we all look at them after they're done.
Although Teigen didn't show what came out of her nose, it safe to say that she is still the realest. There's a good chance that she was just having way too much fun playing with it to put it on social media.