Chrissy Teigen's Bali Vacation Photos Are So Beautiful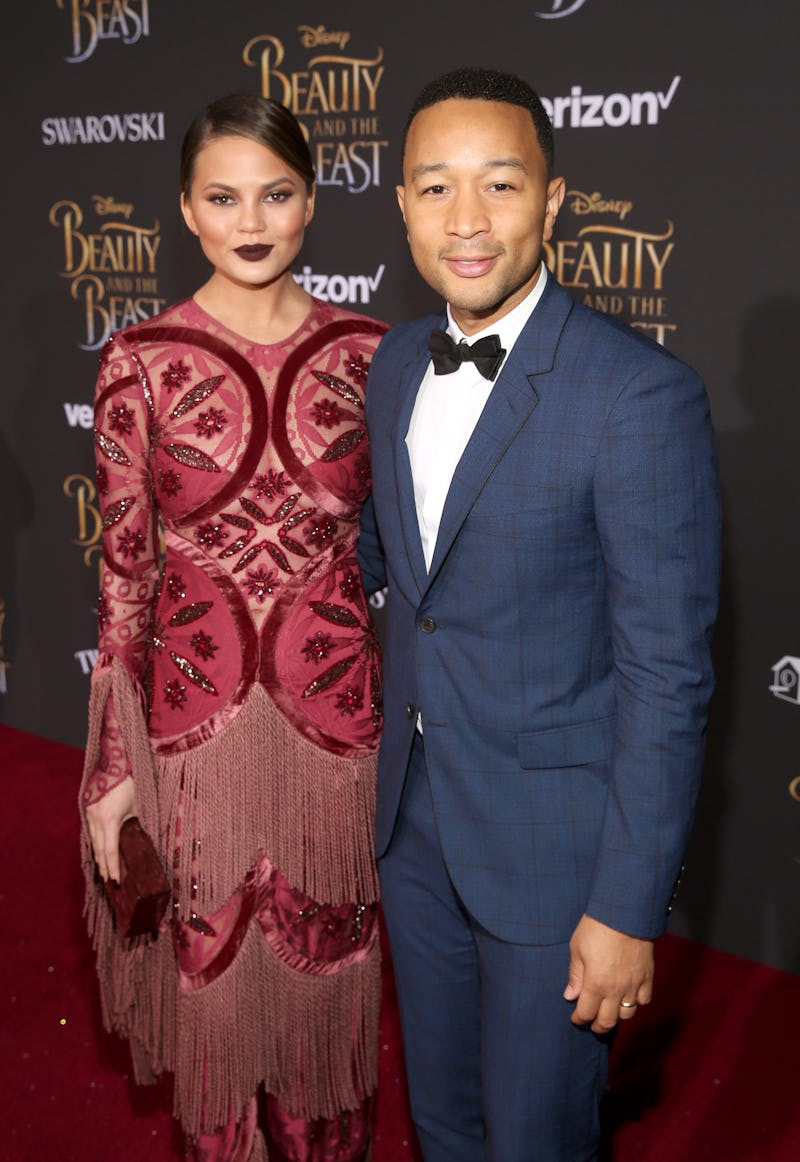 Jesse Grant/Getty Images Entertainment/Getty Images
Chrissy Teigen always knows how to travel in style — and her recent trip to Bali, Indonesia, is no exception. On Instagram, Chrissy Teigen posted photos from Bali on Saturday, showing how she and her family are soaking up the culture for what might just be the most amazing vacation you'll ever see. The 31-year-old model and Lip Sync Battle host shared a few photos of herself, her husband John Legend, and their 1-year-old daughter Luna dressed up in traditional Balinese clothing during their trip, and it shouldn't be a surprise to you that she looks like a goddess.
One stunning photo showed the power couple all decked out in traditional Balinese garb — Teigen wore a gorgeous purple and gold, two-piece gown with a large gold headpiece while Legend was clothed in a suit with the same color scheme and an attached train. The photo was accompanied by a lengthy caption that read:
"We had the most beautiful, wonderful time in Bali. Como Shambhala, my body and mind have never felt so clear. Thank you for getting me to move again (first time since I was 8 months pregnant and Luna is ummmm 15 months old) and giving me some much-needed body and nutrition schooling! And thank you for dressing us in your beautiful, traditional ceremonial costumes! And don't worry, everyone. I still love me some .99 two tacos. Balance! #notbeingpaidtosaythis"
In another photo of herself and Luna, Teigen is wearing a silk gown with the same headdress.
John Legend posted more photos of the family exploring the region on his own Instagram account.
"Bali," he captioned this adorable snap of his wife and daughter looking up at a flower.
Legend posted another sweet photo with himself and Luna enjoying nature.
So adorable!
In this photo, Luna takes a quick dip in the water with her dad.
John Legend is currently on an extended break from his Darkness and Light world tour, which his wife and daughter have spent the entire summer accompanying him on. The tour was supposed to officially wrap on the weekend of June 30 after the singer's performance at Essence Festival, but three performances were postponed until late July mid-tour.
The singer revealed back in February that Chrissy Teigen and baby Luna would be hitting the road with him, and their family adventures documented in between shows has proved that this tour had some fun moments, too.