This Video Of Chrissy Teigen's Daughter Luna Singing A 'Frozen' Song Is Too Cute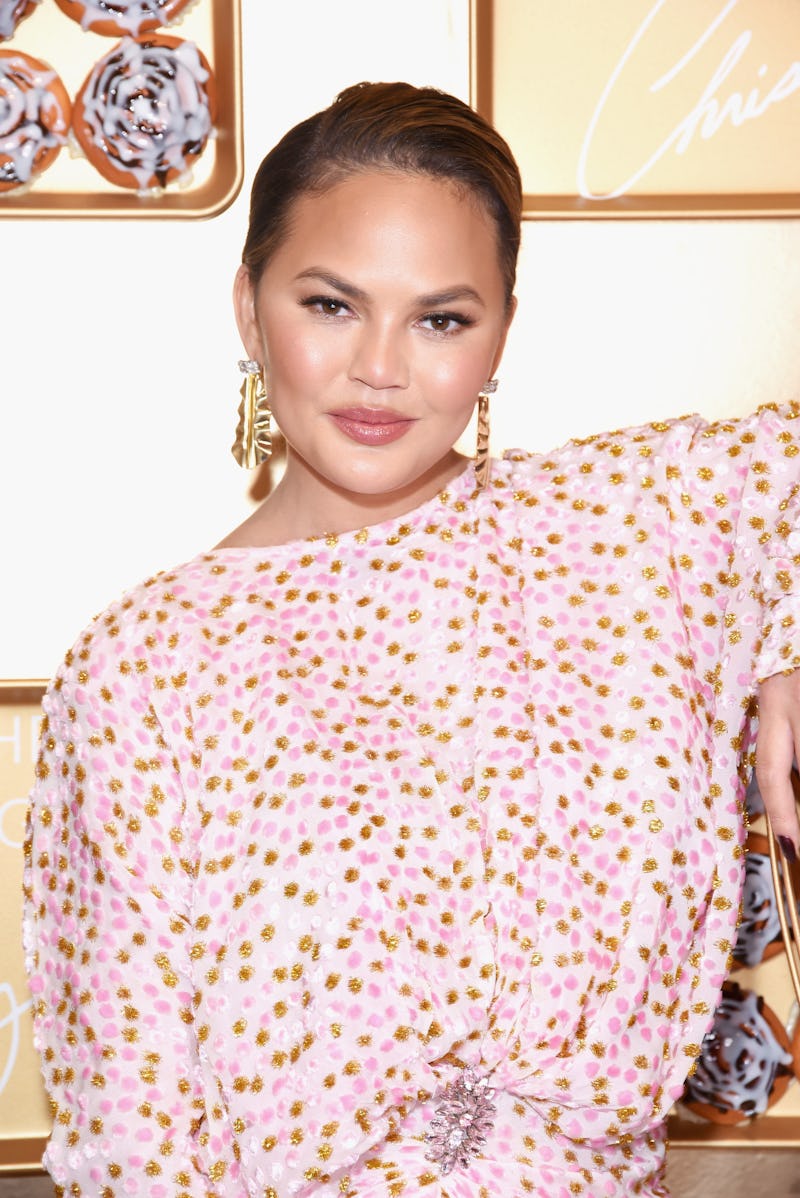 Presley Ann/Getty Images Entertainment/Getty Images
Being that she's the offspring of John Legend, it's hard not to wonder if Luna Stephens has inherited any of her dad's talent. But now, at 2 years old, it seems like she's a pretty good singer — especially when it comes to the soundtrack of a very popular Disney movie. On Sunday, Chrissy Teigen shared a video of Luna singing "Let It Go" from Frozen, and yes, it is every bit as adorable as you'd imagine it would be.
If you have ever been around a child (or, let's face it, many adults) since the movie came out in 2013, chances are you have witnessed the Frozen craze in action — and with "Let It Go" as the anthem, there's also a good chance that you've been around a kid (or, again, an adult) who just won't stop singing it. It appears that not even Teigen is immune, because as she wrote in her Instagam caption, "this song haunts my dreams."
However, there are a lot of parents who can identify with Teigen's struggle... and lucky for her, Luna is super cute while she's singing along to the song, even if the number of times Teigen has had to hear it is probably in the triple digits at least.
Sitting in her carseat, Luna doesn't miss a word of the song, even though at one point, she had to stop and cough, which happens to even the best, most experienced vocalists. By the end of the video, she's also dancing in her seat, which is way too adorable for words.
Even though Teigen is obviously tired of listening to "Let It Go" — and she's definitely not alone in that — this video was definitely worth sharing. Luna was so into it, and judging by the comments, so were a lot of her mom's followers.
And let us not forget Teigen's initial impression of Frozen, two years before her daughter was even born. Back in 2014, she tweeted her feelings after watching the movie for the first time, and it seemed like it left her with a lot of unanswered questions.
"I watched Frozen on the plane yesterday and I won't sleep until I know why this chick had superpowers," she wrote. "Disney movies never explain sh*t."
To be fair, the movie was pretty unclear about that — Elsa was born with her ice powers, but who did she inherit them? Unfortunately, there's never been a definitive answer, but hopefully, one is coming in Frozen 2... and in the meantime, Teigen's kid will probably just keep singing "Let It Go."
There was no shortage of cute Luna content over the weekend from her mom, either. She shared a photo of Luna grinning and playing with markers:
And another one of her in her purple butterfly dress. "OK can you tell I have the day off? I can't stop," Teigen wrote.
Hopefully, we will see more of Luna's talent in the future. There is definitely such a thing as listening to "Let It Go" too many times, but if Luna is the one singing it, it seems like Teigen's fans will be all ears.