Chrissy Teigen Is Finally In A Movie, But She's Already Making Fun Of Her Role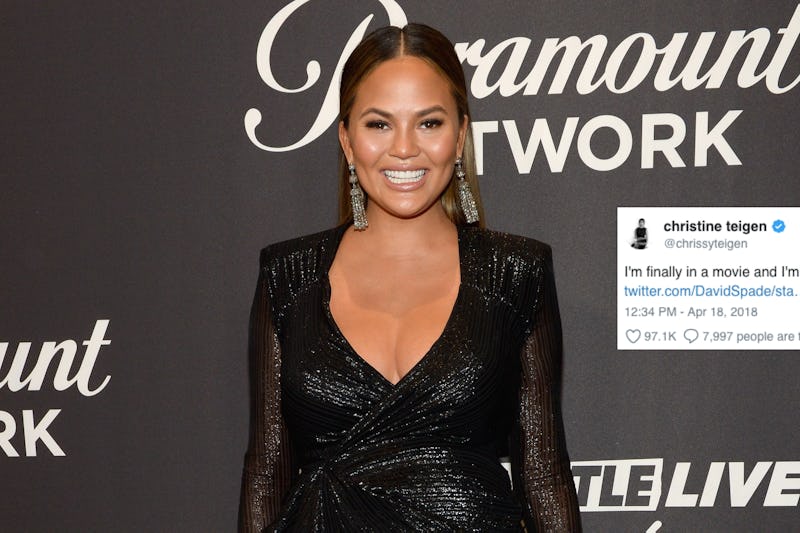 Tara Ziemba/Getty Images Entertainment/Getty Images
This model and Twitter star can now add "voice actor" to her résumé. Chrissy Teigen's first movie role is in Hotel Transylvania 3. She will voice the Invisible Man's girlfriend, and she is already joking about her new role. "I'm finally in a movie and I'm invisible," Teigen tweeted on Wednesday. She added on her message while retweeting David Spade, who shared a photo of himself alongside her.
"These 2 assholes…hey just doing final voice stuff for Hotel Transylvania 3! Invisible man has an invisible girlfriend @chrissyteigen Shes hilarious in it. Opens July 13!," Spade tweeted with several ghost emoji and a Dracula emoji. Spade has voiced the Invisible Man, Griffin (named after Jack Griffin, the titular character in H.G. Wells' book The Invisible Man), during the Hotel Transylvania movies. And it looks like in the third installment, Griffin will have some invisible company.
Griffin did have an invisible girlfriend, Crystal, in Hotel Transylvania 2, too. Of course, his friends don't believe him at first, thinking he's inventing a conveniently invisible girlfriend just to mess with them (and at first, he is). But the Invisible Woman is revealed to be a real character at the end of the movie. And based on a tweet Teigen sent last week, her character in Hotel Transylvania 3 will be Crystal. She shared a photo of a floating sundress and hat (next to the Invisible Man's floating glasses), along with the caption, "This summer, meet my #HotelT3 character. She's Crystal clear."
The news was also reported by Deadline on April 11. Along with the news that Teigen would be joining the cast, the movie will also feature the new additions of Joe Jonas as Kraken, Kathryn Hahn as Ericka Van Helsing, and Jim Gaffigan as Abraham Van Helsing.
If there's anyone who could play the perfect match for Spade's Invisible Man, it's Teigen — the invisible couple will definitely get into some hilarious hijinks together. While this is the Lip Sync Battle co-host's first movie role, it's not her first time demonstrating her comedic abilities on screen. She has already guest-starred on The Mindy Project and Inside Amy Schumer, so she's clearly comfortable translating her comic abilities from her online persona to her on-screen one.
Fans already know from Teigen's Twitter that she has quite the funny bone. Could the Hotel Transylvania 3 news be a clue that she's interested in doing more comedic acting in the future? Teigen has a following devoted enough to draw people into theaters or make them tune into TV shows — and fans would probably be thrilled to see more of her on screen.
If the responses to Teigen's tweet are any indication, fans are excited that she'll be featured in the upcoming movie. Plenty of people tweeted that they were already fans of the Hotel Transylvania franchise — and knowing that she'll be in the next movie makes it even better.
Other people, meanwhile, had a more practical question about the image of Griffin and Crystal. If Crystal is wearing a dress, why isn't there an outfit floating where Griffin's body would be, too?
Hopefully, Teigen will respond to the fans' questions on that one — she probably already has a hilarious response up her sleeve. Either way, her performance in Hotel Transylvania 3 is one to watch for fans of Teigen's quick wit. And they shouldn't be surprised if Teigen starts taking more comedic roles in the future, too, whether that means more TV appearances or more voice acting. Her comic abilities could make hers just the voice Hollywood needs right now.