This Video Of Chrissy Teigen In A Haunted House Will Get You In The Halloween Spirit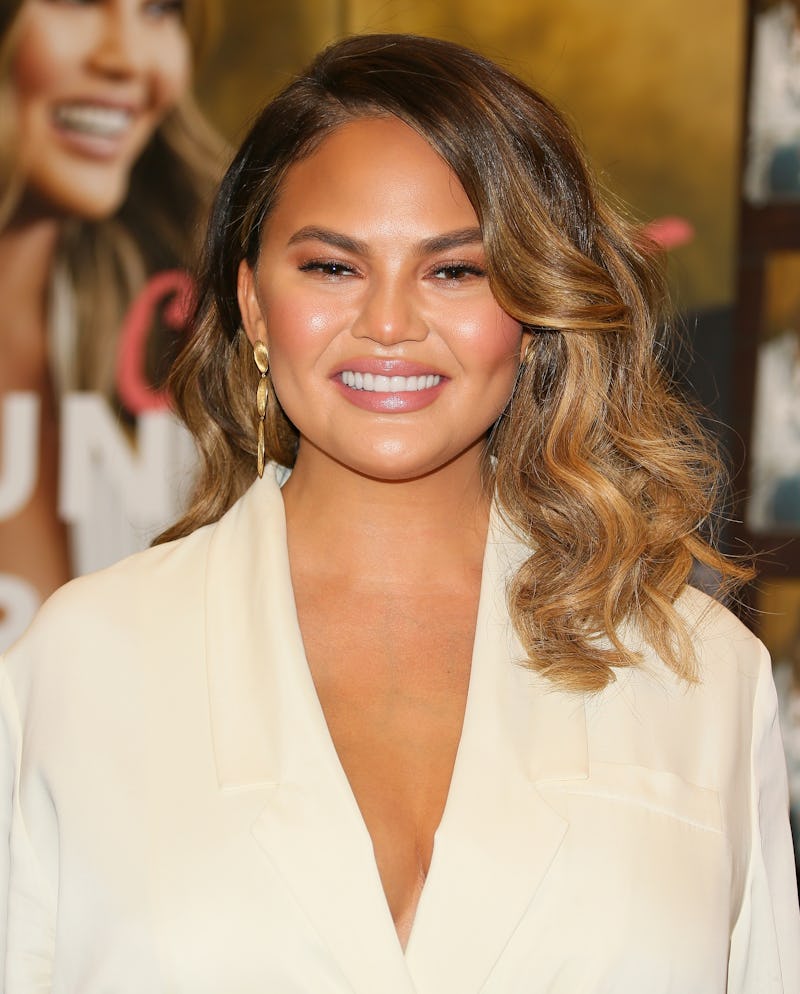 Jean Baptiste Lacroix/Getty Images Entertainment/Getty Images
There are a lot of things to look forward to when Oct. 31 is near: Candy, watching Hocus Pocus, and, of course, the annual tradition where Ellen DeGeneres sends producer Andy Lassner into a haunted house, usually with a celebrity by his side. And this time, it's a certain model-turned-cookbook-author's turn. On Friday's episode of The Ellen DeGeneres Show, Chrissy Teigen braved a haunted house with Lassner, and the results are hilarious.
First of all, it's important to know that this isn't just any haunted house — it's the Purge themed maze at Universal Studios Hollywood, which means it's going to be extra scary. And even though Lassner is always funny in this segment (and maybe even a little braver after doing this over the years), the addition of Teigen is what really sent this year's walkthrough over the top.
At the beginning, Lassner and Teigen are standing outside the Purge maze, and as usual, Lassner is not feeling good about it. And despite Teigen's best efforts at telling him that he can definitely survive five minutes of scares, both of them totally lose it when an actor jumps out at them before they've even gone into the house. Is that allowed?!
From there, it only gets better. There are a lot of really scary parts of this house, and Teigen and Lassner screamed at every single one of them. The mannequins at the beginning were horrifying, but as if that wasn't bad enough, it got even worse when a bloodied figure kept jumping out at them, and Teigen had to try to keep Lassner calm. Oh, and then that part at the end where they both got splashed with some unknown substance? No thanks.
But when they finally made it to the end, Tiegen had to give Lassner props. "I've seen a lot of these, and you usually cower. But you really took an alpha male role."
Teigen has been tweeting about her haunted house experience all week, which she called "truly an honor after watching Ellen force him to do this year after year." She even said Lassner was a "national treasure," and when a fan asked her if she peed her pants, she gave a very honest response.
"No but I went to Hot N Juicy before and that was a mistake," Teigen tweeted, referencing a seafood restaurant in LA.
And as for Lassner? Well, when DeGeneres shared a clip of the segment, he tweeted, "Ugh. Here ya go sickos. I hope my humiliation makes your day a little bit better."
For the record, Lassner's humiliation probably did make a lot of people's days better, so maybe it was all worth it in the end.
Seeing DeGeneres torture Lassner like this is just one of those signs that Halloween is coming, like cooler fall weather and decorations and costumes showing up at Target, and this year, he definitely didn't disappoint. Now, we just have to wait 365 days (give or take) for the next installment. Who will DeGeneres' next celebrity victim be?