Chrissy Teigen's Tweets Joking About LeBron James Went Over So Many People's Heads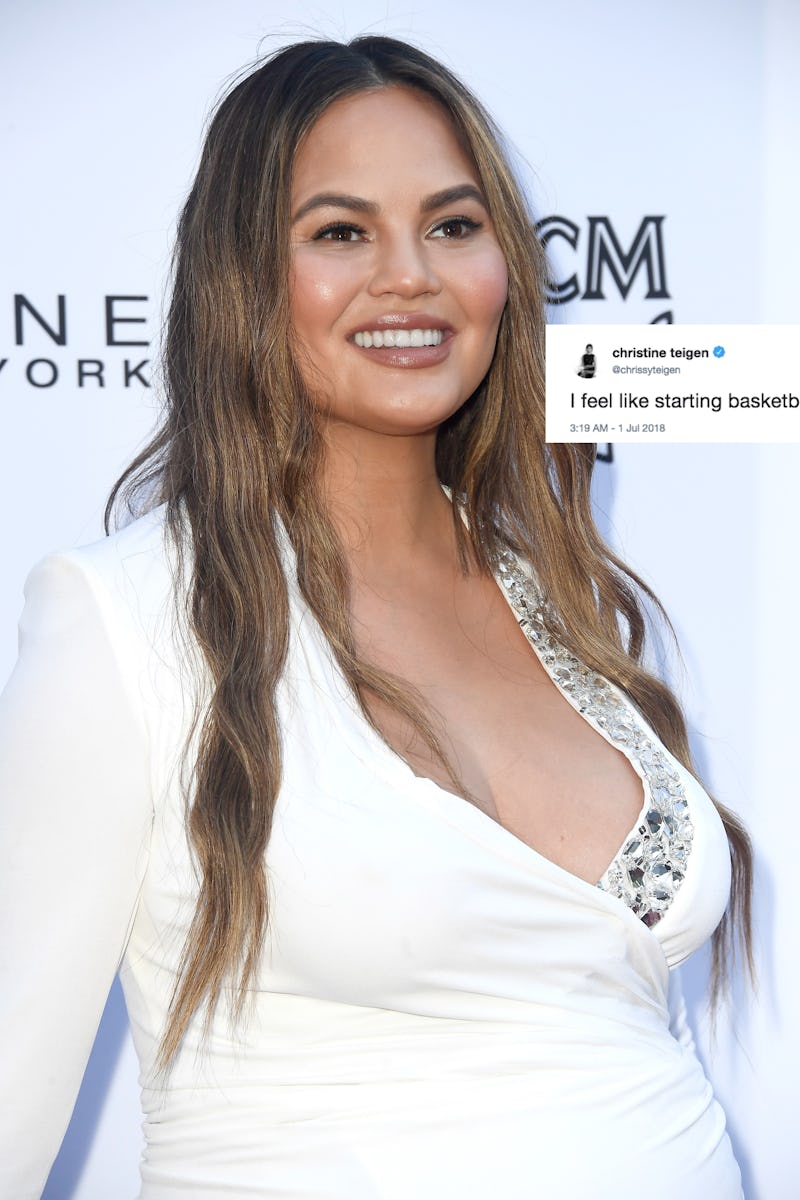 Frazer Harrison/Getty Images Entertainment/Getty Images; Chrissy Teigen/Twitter
On Sunday, it was confirmed LeBron James went with the Los Angeles Lakers by signing a four-year, $154 million contract after leaving the Cleveland Cavaliers. Well, before the news even broke about King James, Chrissy Teigen posted about LeBron James on Twitter and said the talented NBA star would be heading to L.A. soon enough. Her series of tweets made headlines and have also confused some people, who believed Teigen had the ins on James. So, let's set things straight once and for all: Teigen didn't really know who James would sign with — she was totally joking.
It all started in the wee hours of July 1 on Twitter, when the Cravings: Hungry for More author tweeted, "I feel like starting basketball rumors." She then tweeted, "I'm at a small embroidery shop in downtown LA and lebron is here with a blank Lakers jersey? Trying to get a pic." Then, she shared an image featuring the name "LEBRON" with an arrow pointing at a station wagon. "Ok got him leaving the basketball jersey embroidery shop. This is downtown LA," she captioned the photo.
Later that Sunday when the news broke of James' decision, Teigen, of course, commented by responding to ESPN Senior NBA Insider Adrian Wojnarowski's tweet about the announcement, "told youuuu."
After the news of James becoming a Laker went viral, many took to Twitter expressing how they couldn't believe Teigen knew about James and saw him getting his Lakers jersey all squared away with his name. Many social media users also had a hard time wrapping their minds around James being at an embroidery shop and him driving a station wagon. Well, if it's hard to understand it's because it didn't happen. Teigen didn't actually see James, she was just having some fun.
As one person posted on Twitter, "I just love that @chrissyteigen was the one who leaked the @KingJames news. She continues to be everything I've ever wanted to be and more." Another user wrote, "Wow, @chrissyteigen really did break the Lebron to #Lakers story."
Another person tweeted Teigen about James going to an embroidery shop by writing her, "Why would @KingJames have to get his own embroidery done ? Smh He has "people" for that right ?" She hilariously replied, "No I guess they all have to get their own embroidery done. It keeps them grounded."
Someone also didn't believe Teigen was at an embroidery store "at 11p at night," which led to the model delivering the perfect response. She replied, "Yes it's 24 hours."
A different person tweeted her, "listen you're doing too well on this site to blatantly rt & fav chase like this." To that, Teigen replied, "when will u learn I have no life." Even the Daily Mail published an article with the following headline, as screen-grabbed by Teigen: "Chrissy Teigen tweets 'told you' as she spots LeBron James getting his name embroidered on Lakers jersey... 16 hours BEFORE move was announced." The Daily Mail article has since updated its headline, which now reads: "Chrissy Teigen tweets 'told you' after she joked about spotting LeBron James in LA... 16 hours before his moved was announced."
In response to the Daily Mail's original headline, Teigen tweeted, "I'm crying", which just goes to show she couldn't believe the reaction her not-so-serious tweets were receiving.
Before she even started the "rumor," Teigen responded to a person's tweet asking her, "Any takes on NBA Free Agency that began at 12:01am? Lebron and Mario Hezonja still unsigned as of yet..." She answered, "Lebron to LA." She also joked with the same Twitter user, "I am good friends with the president of basketball!"
This was simply Teigen's way of trolling the coverage of James' unknown decision (at the time) and doing what she does best — getting a reaction on Twitter and laughing at it in the process. She tweeted a fake rumor and, of course, a lot of people believed it.
She also welcomed James to the city of angels with the best tweet. She wrote, "@KingJames welcome to LA! Friday is sunset rosé, laser facials on Monday. the rest of the week is running into people you don't like at soho house."
They're going to be besties before you know it.