Chrissy Teigen's Mom Is Officially A U.S. Citizen & Luna Was Part Of The Big Day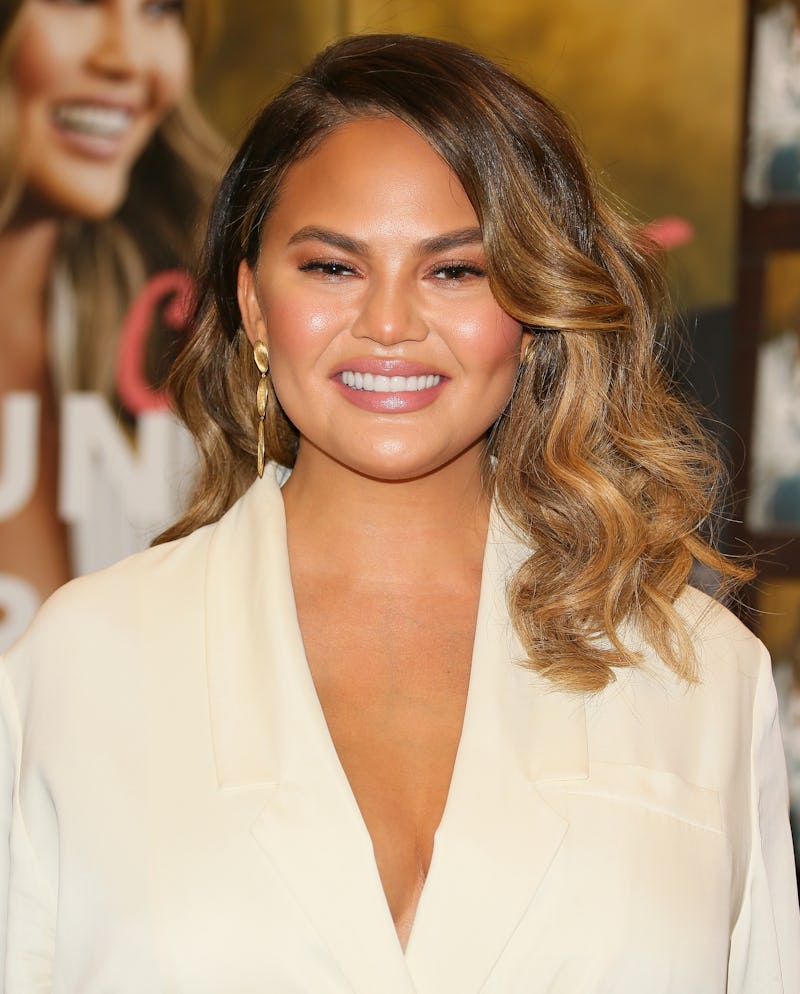 Jean Baptiste Lacroix/Getty Images Entertainment/Getty Images
Tuesday was a very special day in a famous household. Chrissy Teigen's mom, Vilailuck Teigen, became a U.S. citizen on Oct. 23. On Twitter, Chrissy shared a sweet video from the ceremony, and it looks like everyone in the family was excited about it. The video shows her mom holding Luna as the group of new U.S. citizens recites the Pledge of Allegiance. Luna waves the mini flag during the pledge (and, yes, puts it in her mouth, too — she's just a toddler, after all).
"YES MOM!! Congrats @pepperthai2!!," Chrissy wrote in her tweet. Also, John Legend retweeted his wife's video, adding a special note about his mother-in-law's citizenship test: ".@Pepperthai2 became a US citizen today! 100% on her test!" Based on their messages, it looks like the whole clan was there to support Vilailuck's big day.
In the video, it looks like Luna knows the process behind the Pledge of Allegiance, too. She's holding her hand over her heart, even if she doesn't know all of the words just yet. It sounds like her grandma will be a great teacher when Luna's ready to learn the full pledge, though, based on her perfect test score.
Fans responded to Chrissy's tweet with heartfelt messages of their own. Many people congratulated the family, while others shared their own stories of immigration. Some fans noted that they, too, were at the same citizenship ceremony with their own family members. "Omg my mom became a citizen today too! congrats!," one person wrote. "My dad became a citizen today too! My stepmom thought she saw your mom walking down the escalator & I didn't believe her! But wow congrats to them," another person tweeted.
Vilailuck retweeted Chrissy's message, adding a note of her own about the immigration process. When one person responded to Chrissy's tweet, suggesting that the immigration process was less difficult because their family has money, Vilailuck wrote that it still took her 37 years to become a citizen.
Chrissy has talked about her mom's immigration status in the past, too. When someone tweeted at her in January 2017, suggesting that she should "let [immigrants] into her home," rather than donating to organizations like the ACLU, Chrissy had an epic response. "I do. She lives with me. She's my mom," she tweeted.
Chrissy and Legend have long been outspoken about politics, so her mom's citizenship is an especially big deal for them. Now that Vilailuck is officially a citizen, she'll be able to vote in U.S. elections, including the upcoming midterm elections. As one fan who replied to Teigen's tweet pointed out, California allows new citizens to register to vote after the state's voter registration deadline. Whether or not she agrees with her daughter on every issue, the family is probably thrilled that Vilailuck will get to exercise her democratic rights.
Oct. 23 will no doubt be a very special day in the Teigen family's memories for years to come. Chrissy's mom looks like she couldn't be happier to be a citizen, and the whole family appears to be filled with joy, too.