This Chrissy Teigen Story About John Legend's Old Video Will Make You Seriously Cringe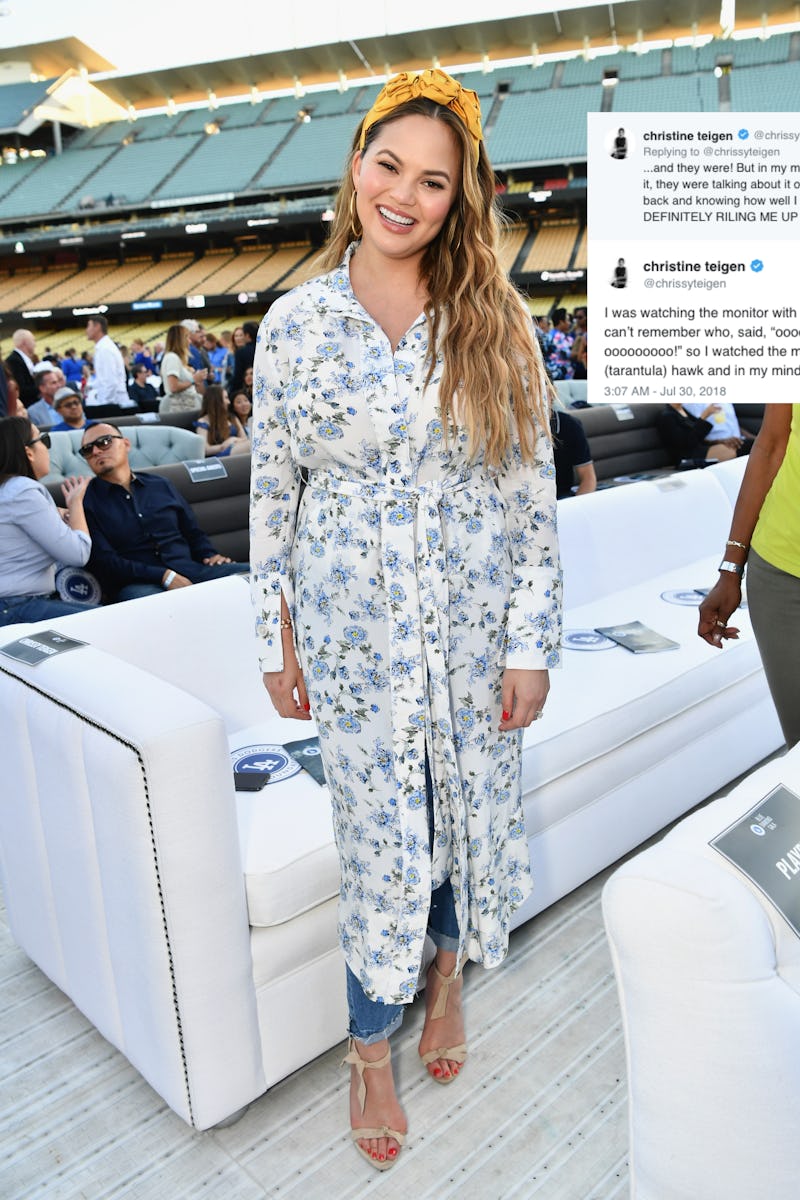 Emma McIntyre/Getty Images Entertainment/Getty Images; Chrissy Teigen/Twitter
Fans appreciate her for being candid on Twitter, and Chrissy Teigen's story about John Legend's "Green Light" video is another funny yet relatable anecdote. The music video, which featured André 3000 of Outkast, celebrated its 10th anniversary on Sunday. In the video, there's a wild party, and both singers are seen dancing on the set with a variety of people. In response to the anniversary, Teigen tweeted a behind-the-scenes moment. She wrote:
"Fun fact, I had a jealously-fueled meltdown visiting this video set and made an assh*le out of myself to a large group of people."
Of course, fans wanted the whole story, and Teigen seemed happy to oblige. "Oh you want to know more, do you? Let me try to remember. 10 years is a long time!" she wrote. "Ok after a brief refresh with john, I have pieced together small bits of information. it began with our friends (john's managers and co-writers and a couple others) talking about how BEAAAAAAUUUUTIFUL some of the women were..."
Apparently, Teigen felt like his team was talking about the women on set to trying to get a rise out of her, and it turns out, they probably were. She continued:
"...and they were! But in my mind they not only were talking about it, they were talking about it on purpose to rile me up. Looking back and knowing how well I know them now, THEY WERE DEFINITELY RILING ME UP AND GETTING A KICK OUT OF IT."
Unfortunately, Teigen had only been dating Legend for about a year when the video was filmed, and didn't realize she was being teased. In her mind, she imagined something was going on with her boyfriend and the women on set. When she saw one of the woman laughing at something Legend said, the grand conversation she built up in her head became too much, and she couldn't handle it anymore. Teigen recalled:
"A few more shoulder touches and laughs with her later, I lost it. Anger turned to sobbing turned to fleeing the set and getting a hotel room. The director (ALAN FERGUSON!) was baffled. Everyone was."
Luckily, this is pretty much where the story ended. Teigen, who was young at the time, got past the jealousy. On Twitter, she added: "Anyhow I wish more happened but no. I was just a jealous, angry 22 year old. I'm better now. BUT DONT TEST ME." She then wrapped up the anecdote, writing: "What a boring story. Happy anniversary, Green Light video!!!"
Sure, it makes sense that Teigen would feel somewhat jealous. In 2007, Teigen and Legend met on the set of the music video for "Stereo." At the time, the cookbook writer and media mogul was modeling, and was cast alongside the singer as his romantic interest. In September 2017, Legend told the story of their meeting in an interview with The Guardian. "It was this one-on-one video of just me and a girl, and she's my love interest in the video," he told the publication. "We spent the whole day dancing together, grinding together. And, uh, we made a music video."
Teigen might have connected with Legend on the set of the music video, but he wasn't going to just break up with her on the set of another. The couple has been together for more than 10 years and got married in 2013. They have two children together — Luna, who is 2 years old, and a son named Miles, who was born in June.
It's this kind of Twitter anecdote that makes fans love Teigen so much. She's never afraid to share a funny story, even if it is a bit embarrassing, and that's what makes her so relatable. She isn't afraid to poke fun at herself, and it's these Twitter moments that prove it.