Hundreds Of Christian Leaders Wrote A Pro-LGBTQ Manifesto Condemning The "Nashville Statement"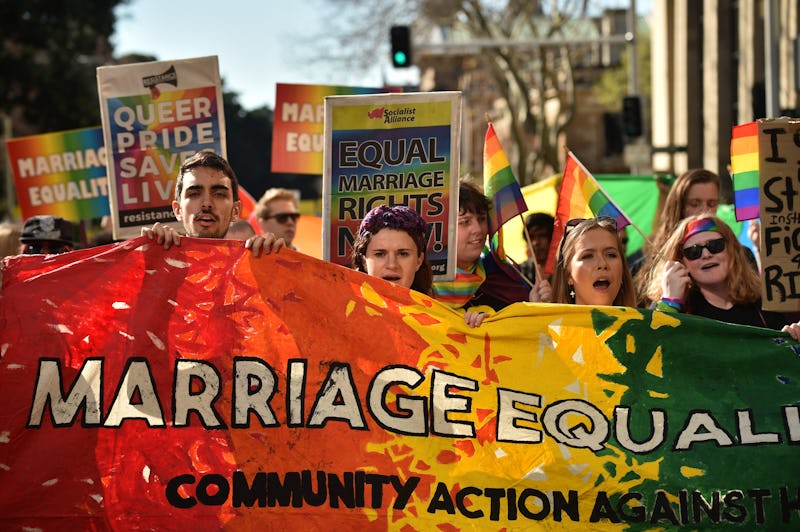 PETER PARKS/AFP/Getty Images
On Tuesday, a coalition of 150 evangelical leaders released the so-called "Nashville Statement," a manifesto of 14 beliefs that condemned homosexuality and applied strictly binary definitions of sex and gender. The manifesto was met with swift backlash, and just one day later, an even larger group of Christian leaders responded to the Nashville Statement with an inclusive, welcoming one of their own.
More than 300 religious leaders from several different Christian denominations — as well as educators and activists — signed a statement titled "Christians United," in which they celebrated diversity while actively denouncing those who are not inclusive:
Whilst some within the traditional Christian establishment have sought to minimize the growing wave of prominent Christian voices that have reformed their perspectives on LGBT+ inclusion, the undeniable truth remains that the so-called "traditional" Christian teaching on sexuality and gender identity is being abandoned for a more faithful, Christ-centered, and, we believe, more biblical understanding of sexuality and gender identity that magnifies the creativity of God and celebrates the wide diversity in God's creation of humanity.
"Christians United" also contained 10 articles, affirming the lived experiences of all LGBT+ people and denying that Christianity permits bigotry of any kind. In a significant move, the statement denied that "teachings on the Biblical interpretation of sexuality and gender identity constitute a matter of orthodoxy," arguing that these teachings should therefore not "be a cause for division among Christians."
The Liturgists, a faith-based artists' collective, also released a powerful statement condemning the Nashville Statement. Simply titled "God is love," this statement asserted that the Nashville Statement was yet another example of people in positions of power using "the platform of the Church to demean the basic dignity of gay, bisexual, lesbian, trans, intersex, and queer people."
This is not a new phenomenon, the statement argued: "'Biblical' morality has been used to justify slavery, resistance to interracial marriage, genocide, and war." Consequently, the Liturgists urged their fellow Christians to challenge the oppression of marginalized people by the Christian Church. They also made it clear that they stood in solidarity with the LGBTQ community, and concluded by providing a short list of LGBTQ Christian organizations to which people could donate.
Christian leaders are not the only ones denouncing the Nashville Statement, which was issued by the Council on Biblical Manhood and Womanhood to guide churches on matters of gender and sexuality. The Nashville Statement insisted that marriage was only valid between a man and a woman, and it condemned "homosexual immorality or transgenderism." The group's views on the subject date back to its founding in 1987, and are therefore not new, but social media users were still quick to condemn it.
Even Nashville's mayor, Megan Barry, said the statement "is poorly named and does not represent the inclusive values of the city [and] people of Nashville." The Council replied saying that they had merely named the statement after the city where it had been endorsed, so some Nashville residents decided to pen "The Accurate Nashville Statement," in which they affirmed that "everyone is loved, known and valued regardless of their gender or sexual orientation."