Christian Siriano Showed What Runway Inclusion Can Look Like At New York Fashion Week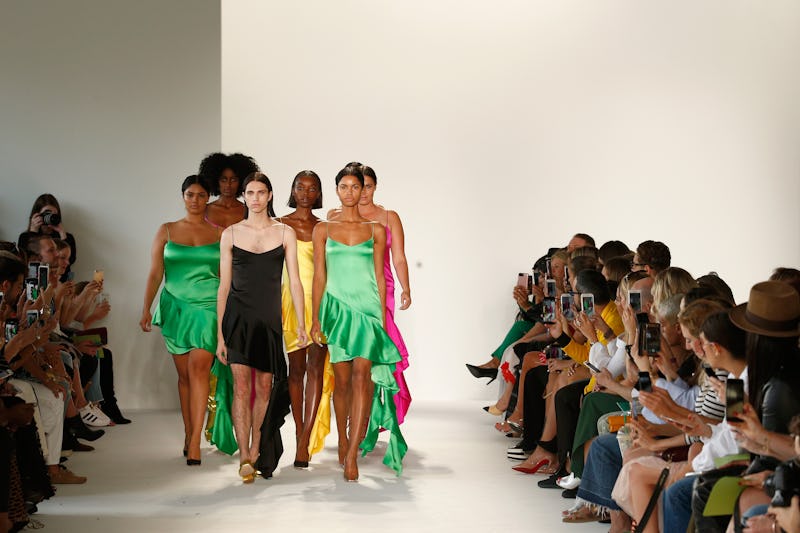 Brian Ach/Getty Images Entertainment/Getty Images
When you think of New York Fashion Week, the word "inclusive" probably doesn't come to mind. The event is typically known for its mix of exclusive invite-only shows, high fashion models, and outrageously expensive clothing. But one well-known designer switched things up this year, and will make you say, "Now this is what inclusivity can look like." Christian Siriano's New York Fashion Week Show featured a diverse selection of models and affordable items on the runway, breaking the NYFW mold.
The designer's show even had Leslie Jones screaming, "Yassss."
Siriano had been teasing his Spring 2018 Collection on his social media pages for some time now. But when the designer finally showed his collection at NYFW, it was anything but expected. The show featured male and female models, plus-size women, and even iconic models of all races and skin tones strutting down the runway with confidence. The fashion moment showed just how gorgeous diversity can be.
Models included well-known plus-size models Candice Huffine, Precious Lee, and Emma Sanders. Icon Coco Rocha opened and closed the show, and had Leslie Jones literally screaming for more. Male model Austin Kairis, who has shown up in the pages of Italian Vogue, was also featured in the show, sporting gender ambiguous clothing with style.
According to Siriano's Instagram page, the message was that "we all grow in the same garden." And it's a beautiful garden indeed.
"Walking in Christian's show was an important and fulfilling moment during my time as a model. I didn't know I'd be one of two boys in the show - I thought there would be many of us. I have to admit, it did make me feel special. Especially being a shorter male model, I am not often given an opportunity to do runway - nevertheless follow Coco Rocha opening the show," Kairis tells Bustle. "I'm incredibly grateful and hope other designers feel compelled to embrace difference forms of beauty in future castings."
This isn't the first time that Siriano has spoken out in the name of diversity and acceptance. But this does mark the first time that inclusion has taken this much of a front-seat at one of his shows.
Although many publications are championing Siriano's show for its inclusivity, no one was a bigger cheerleader than Leslie Jones. The actress sat front row at the event, and made her contagious excitement known.
But Jones' support for Siriano comes as no surprise. Back in 2016, before Jones' film Ghost Busters came out, the actress tweeted that she was having a hard time finding designers who wanted to dress her for the premiere. Jones contributed the snubs to her status as a new actress and her age, race, and size.
But Siriano came to the rescue, tweeting back that he would be her designer for the big night. The dress he designed was gorgeous, and the pair have been supporting each other every since.
Coco Rocha posted to Instagram saying how she loved having Jones as a hype-woman. In the video, Jones can be seen almost interacting with the models as they came down the runway. She definitely broke the usual mold NYFW decorum in the best way possible.
On top of all of that, Siriano opted for a few affordable shoe options during his display, too. Two of the shoes that the models wore were made exclusively for Payless and were available right after the show.
The first pair is a metallic flat loafer that's perfect for fall. The other is a denim pump that reads "It Girl" on the back. Both are available on the Payless website right now for $35 to $40 while supplies last.
The designer does an incredible job of taking everything that people know and love about fashion and combining them into one incredible show.
Everything about Siriano's show broke the typical New York Fashion Week mold — from Payless shoes to Leslie Jones' hype-woman vibe to Siriano's model casting. Ever so slowly, designers like Siriano are changing the face of fashion, making the runway a home to all people, prices, and perspectives.
If this is where the future of fashion is heading, you can count me in.