Christopher Nolan Cast Harry Styles Based On His Acting Talent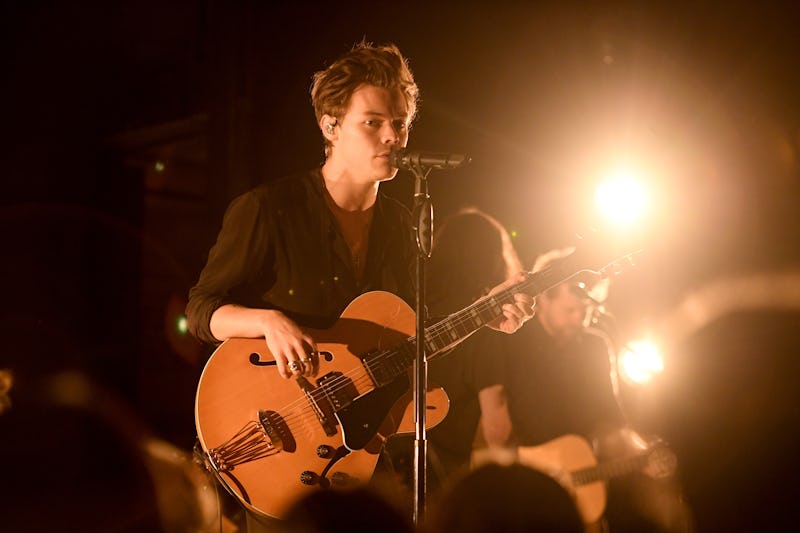 Dimitrios Kambouris/Getty Images Entertainment/Getty Images
Harry Styles' fans are an enthusiastic bunch. The former One Direction star has a devout and vocal following, and these people show up to support his every career move. This is a well known fact, but apparently not for award-winning director Christopher Nolan. According to The Hollywood Reporter, Nolan revealed that he didn't know how famous Styles was before casting him in Dunkirk, his most recent film. Nolan said that Styles was a fit for the movie and earned his role based on talent alone.
"I don't think I was that aware really of how famous Harry was," Nolan said Friday, according to The Hollywood Reporter. "I mean, my daughter had talked about him. My kids talked about him, but I wasn't really that aware of it. So the truth is, I cast Harry because he fit the part wonderfully and truly earned a seat at the table." Dunkirk is a historical suspense-thriller based on the Battle of Dunkirk, where Germany advanced into France during World War II. The Allied forces were trapped on the beaches of Dunkirk, and forced to evacuate using civilian ships and spare naval vessels. The process was slow and resulted in great loss, but hundreds of thousands of Allied soldiers were brought to safety. In the film, Styles will star as a British soldier named Alex. It's the singer's first major film role, and fans have been itching for more details.
Nolan wasn't the only person on set unaware of Styles star power. Co-star Mark Rylance also heard of the singer's fame from his family, saying that his 11-year-old niece was star struck. "She was just more excited than anything I've ever done because I was going to be acting with Harry Styles," Rylance said, according to THR. "I went up in her estimation. I won the Harry!"
While fellow stars and crew members might be surprised by the overwhelming response to Style's role, his transition into acting isn't a shock for fans. When the singer appeared on SNL in April, he did an uncanny (and hilarious) impression of Mick Jagger. It makes sense that the star would be able to embody a musician who influenced his own work and performance style, but it also showed some serious acting potential.
While Styles' earned his spot in Dunkirk, he was reportedly still feeling intimidated during his first days on set. It's one thing to join a film cast, it's quite another to be a part of a major blockbuster. "I'd say realizing the scale of the production was very overwhelming," Styles said, according to THR. "I think whatever you imagine kind of a giant film set to be like, this was very ambitious even by those standards. You know the boats and the planes and the volume of bodies, it was pretty amazing."
In order to recreate the World War II setting, the film needed to have a large set and an enormous cast. According to the film's teaser trailer, 400,000 people were trapped on the beach of Dunkirk, and to even cast the illusion of this many soldiers onscreen is, as Styles notes, ambitious. It shouldn't just be the film's massive scale that awed Styles, as the core cast is features some of Hollywood's strongest actors. Tom Hardy, Cillian Murphy, Kenneth Branagh, and an already buzzed about newcomer, Fionn Whitehead, will also star.
The movie will hit theaters on July 21st, and Styles' is going to be extremely busy after its release. The singer just added dozens of dates to his solo world tour, and isn't likely to put aside his music career to pursue acting. If he does, however, he has the support of his One Direction bandmates. He told THR that they reacted positively to his shift toward acting, and as fans of Nolan, are likely to see the film. Maybe someday Styles own name will carry as much recognition as an actor as it already does in music.