Trump's FBI Director Pick Christopher Wray Is Worth Millions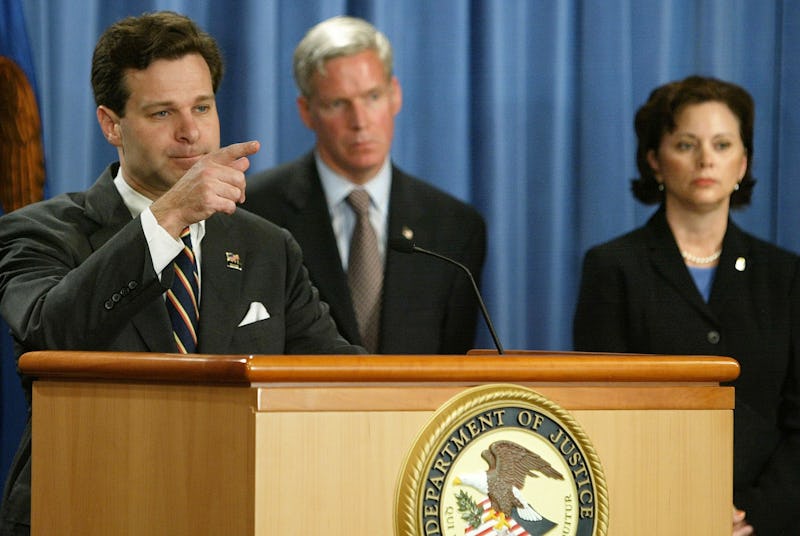 Mark Wilson/Getty Images News/Getty Images
Prior to his confirmation hearing, scheduled for Wednesday, more details about President Donald Trump's FBI director pick Christopher Wray's background have emerged as the necessary ethics paperwork becomes available to the public. According to recent government ethics forms disclosed on Monday, Wray is worth millions, with money coming from corporations that include large banks, energy companies, and a few controversial clients.
The form, an Office of Government Ethics 278e form, was signed by ethics officials to affirm that Wray is "in compliance with applicable laws and regulations." According to the disclosed information, Wray received more than $9.2 million in partnership share from his law firm King & Spalding between 2005 and the present, as well as dozens of investments in American companies in both the current and previous calendar years. The form also notes Wray's mortgage on his personal residence of about $1 to $5 million.
His background suggests without question that he's had a lucrative career. After previously serving as an assistant attorney general in former President George W. Bush's administration (working with his predecessor, then-deputy attorney general James Comey), Wray went on to become a litigation partner at King & Spalding, where he's worked for the last 12 years. King & Spalding operates in Washington D.C. and Atlanta, dealing mostly in corporate investigations that include white collar crime and regulatory enforcement.
CNN also reported that Wray had disclosed in a previous questionnaire that he would be receiving a partnership distribution of $880,000 on July 17, adding that he would "immediately withdraw from the firm" upon confirmation.
Some of Wray's high-profile clients (detailed in the section for sources of compensation exceeding $5,000 a year) include Wells Fargo, Johnson & Johnson, online sports betting companies FanDuel and Draft Kings, and New Jersey Gov. Chris Christie (who he defended in the now infamous "Bridgegate" trial). The form also notes three other "confidential clients" whose names were not disclosed because "they are subject to non-public investigations."
Trump announced that Wray would be his pick on June 7 — just days before former FBI Director James Comey was set to testify before the Senate Intelligence Committee — tweeting that he was "a man of impeccable credentials." The New York Times reported at the time that his nomination would be considered mostly a positive move for those at the Bureau who might've been concerned that the president "would try to weaken or politicize the FBI" with his pick.
The Senate Judiciary Committee announced Wray's hearing, scheduled for this Wednesday, July 12, last week alongside the confirmation timelines for the most recent FBI directors.