Cicely Tyson Got An Honorary Oscar After 70 Years Of Iconic Work & It's About Time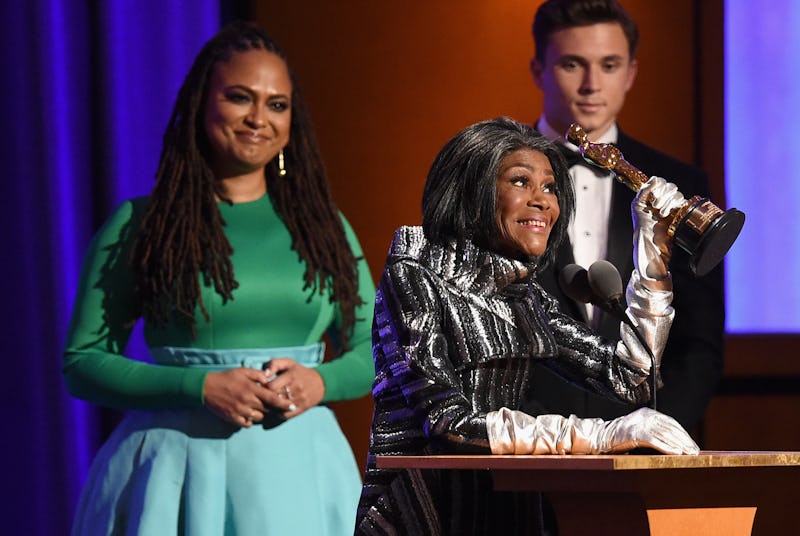 Kevin Winter/Getty Images Entertainment/Getty Images
After a storied career in the industry that spans nearly seven decades, Cicely Tyson was awarded an honorary Oscar. And if you think you're emotionally ready for the tributes that came her way at the ceremony, you have another thing coming. At the Sunday, Nov. 18 Governors Awards, the iconic performer became the first black woman in history to receive such an honor, a long overdue recognition of her career. The occasion was marked by speeches from Tyler Perry, Quincy Jones, Ava DuVernay, and Tyson herself. The love and the accolades were flowing, and the tears will be too once you see some of this footage, so buckle up.
A Governors Award — known as an honorary Oscar — is bestowed to honor a lifetime achievement in film. But if you've been on the planet for less time than this 94-year-old icon, you might need a refresher on the multitude of credits Tyson has to her name. Her best known projects in recent years include The Help and Diary of a Mad Black Woman, as well as arcs on How to Get Away with Murder and House of Cards. But she also turned in compelling performances in everything from 1991's Fried Green Tomatoes to 1972's Sounder, which won her an Academy Award nomination for Best Actress in a Leading Role.
In short, Tyson has had an epic career, and it hit yet another peak at Sunday's ceremony with the bestowing of her honorary Oscar. The well-deserved nature of this latest, ground-breaking achievement was a repeated theme in the tributes that came the honoree's way, with speakers acknowledging all that their idol overcame during her decades in the industry. Perry effused, "African Americans hold Cicely in such high regard; she is a queen to us," before noting with appreciation that Tyson "would only do roles that served us."
For her part, Selma director DuVernary included a moving portion in her speech where she listed off all the adjectives that a group of luminary women in the industry had provided when asked for one word to describe Tyson.
"Lupita Nyong'o said she's vibrant, Taraji [P.] Henson said she's a treasure, Aunjanue Ellis: 'unparalleled'; Regina King: 'authentic'; Cynthia Erivo: 'regal'; Shonda Rimes: 'legendary'; Amandla Stenberg: 'groundbreaking'; Anika Noni Rose: 'our gift'; Gabrielle Union: 'unapologetic'; Kerry Washington: 'divine'; Viola Davis: 'our muse'; Oprah Winfrey said, without hesitation: 'noble — she's nobility personified.'"
And speaking of Oprah, she was also in attendance, and honored her friend and peer with a star-studded Instagram post and a touching caption.
"Here at the Academy Governor's Awards celebrating Royalty! Ms.Cicely Tyson's getting a long overdue Oscar!" she wrote of her longtime friend, before adding: "And yes that IS [THE] Anita Hill standing behind [the] chair!"
As you can see, the whole evening was a celebration not just of Tyson but of womanhood, strength, and talent, and the honoree couldn't have been more touched by it.
In her own speech, Tyson thanked those who had helped and supported her along the way, giving special appreciation to Whoopi Goldberg and Oprah. "I could not be here if it were not for you, if you had not stood beside me, around me, underneath me," she told those gathered, and there was hardly a dry eye in the house.
Next time let's just hope it doesn't take 70 years for work like Tyson's to be acknowledged. An honorary Oscar is wonderful, but with a career like that, it's a shame she never walked away with a golden statue on award night.