Cindy McCain Opens Up About Trump For The First Time Since John McCain's Death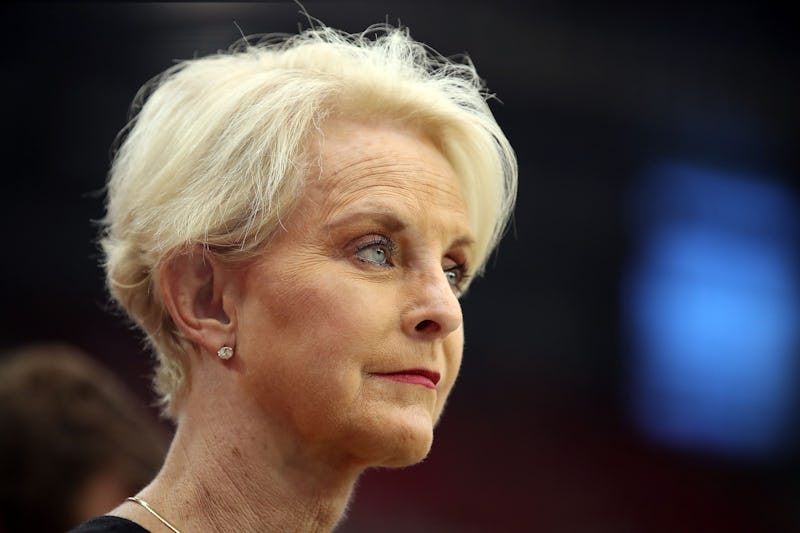 Christian Petersen/Getty Images Sport/Getty Images
The wife of late Sen. John McCain has broken her silence about President Donald Trump. In her first interview since her husband's death, Cindy McCain revealed what she thinks of Trump, a president her husband often sparred with. Speaking with CBS This Morning, McCain said the country needs "a strong leader, not a negative Nancy."
"I think he's questioning himself right now as to where he goes, what he's doing," Cindy said, implying that the midterm elections may have led Trump to question himself. "I think maybe the things that have occurred, especially with this election, maybe take him back to basics. I'm hoping it does."
"It's very humbling to lose," Cindy continued. "I hope he learns from it and realizes that our country needs a strong leader, not a negative Nancy, if I can put it in such a basic term."
McCain's widow went on say she hoped the White House was able to mend the disarray it appeared to currently be suffering. "We need our president. We need a White House that's strong, a White House that's not sparring with each other," she said. "Right now, I think things are in disarray. I would hope, through this, he does learn."
Trump and McCain were known to have had a contentious and, at times, combative relationship, fueled by the president's repeated personal insults and attacks on the late senator. While Trump often questioned if McCain, who served as a Navy aviator during the Vietnam War, was truly a "hero" since he was held as a prisoner of war, McCain often publicly condemned Trump's rhetoric and policies.
The pair's strained relationship even appeared to continue after McCain's death in August as Trump reportedly refused to release an official statement praising the late senator's achievements and service to the country.
Despite her late husband's history with the president, Cindy refrained from lashing out. "My personal feeling is that he is now the president of the United States; I respect the office, I respect what this means to the country," Cindy said. "Our families have had their differences, and I'll leave it at that."
She did, however, admit that it wasn't easy for her to hear how Trump spoke about her husband over the years. "It's been, at times, hard for me to listen to him about my husband, I'll be honest," she said.
In August, the McCain family opted not to extend an invitation for the late senator's funeral to Trump, a move many thought was meant to be McCain's final public snub of the president as former presidents Barack Obama and George W. Bush were both asked to deliver eulogies. But, according to Cindy, McCain had not sought to use his memorial service as a means of rebuking the president. "John never spoke about anything like that. That was not his intention, and anyone who says that is wrong," she said. "It had nothing to do with the president."
Cindy said neither Trump nor the first lady reached out to her or her family after her husband's passing. "But that's okay," Cindy said. "That was not what I needed at the time. I needed my family, and I had them."