Mexico City's First Elected Woman Mayor Proves It's The "Year Of The Woman" There, Too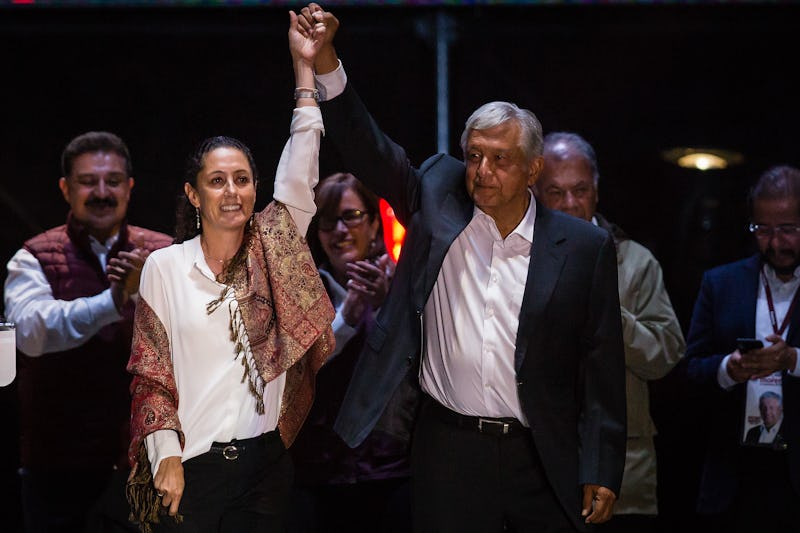 Manuel Velasquez/Getty Images News/Getty Images
Women candidates are running and winning south of the border, too. On Sunday, Mexico held elections across the country, ushering in a leftist party to the presidency and offering a strong rebuke to the country's established political parties. One more milestone took place in the country's federal district, where Mexico City elected a woman mayor for the first time.
Claudia Sheinbaum, a 56-year-old scientist, was expected to win and ran on the ticket of Morena, the progressive party that swept both houses of the country's legislature. She took home between 47.5 and 55.5 percent of the vote, according to exit polls.
Sheinbaum is not the first woman to serve as mayor, but she is the first one to be elected. In 1999, Rosario Robles served as a substitute mayor when her predecessor stepped down to run for higher office.
So many women candidates ran in Mexico this election that it was dubbed "el año de la mujer," or "the year of the woman" in Mexican media. NPR reported that some 3,000 women put their names forward for local elections, state elections, and for the country's legislature in 2018. Even among Sheinbaum's competition, four of the six candidates were women.
In addition to being lauded for being the first woman to be elected in Mexico City, she was also recognized as the first Jewish person to be elected mayor. Her grandparents moved to Mexico from Lithuania and Bulgaria and she has talked about celebrating Jewish holidays as a child.
Sheinbaum's win represents another big first. The mayor-elect of Mexico City and the country's president-elect are both from the same political party, the first time since the mayor's position was created as a directly-elected position in 1997. Andres Manuel Lopez Obrador, who just won the presidential race, created the party Morena in 2014 and Sheinbaum was one of the first people to join him.
Her experience in politics began as a student activist in the 1980s, when she helped start the PRD, the country's first left-wing opposition party. For years both she and the country's president-elect, Lopez Obrador, were active in the PRD. When he was elected president of Mexico City in 2000, she served as his environment minister. She studied physics and energy engineering.
More recently she was elected to head the Tlalpan neighborhood in southern Mexico City, one of the 16 "delegations" that make up the city. That was one of the worst areas hit by the 7.1 magnitude earthquake in September. Several buildings there, including a school, were destroyed. Some have raised questions about building standards being overlooked, but Sheinbaum denies any wrongdoing.
One of the big campaign issues was crime, and she has promised to fight it. "Just because I might look like a skinny scientist doesn't mean I'm not going to crack down on crime here. I will," she told a crowd during the election season.
On Twitter her messages were far more positive and far-reaching. "We've converted fear into hope, hate into love, despondency into willpower, frustration into trust. There's no going back, this July 1, let's make history!" she posted to her account in Spanish.
Of concern to some where her commitment to LGBTQ and abortion rights given that the Morena party coalition includes some Christian evangelical groups, particularly the ultra-right Encuentro Social Party (PES). But Sheinbaum has promised that her government will be secular.
"In Mexico City, there are rights that are irreversible. It's very clear with them what our program is and how these rights are incorporated. If someone from the PES wants to govern with me, they have accept all of this," Sheinbaum told El País in an interview.
Now that she's made history, governing the city of 9 million is next.