Cleveland's Only Abortion Clinic Won't Be Intimidated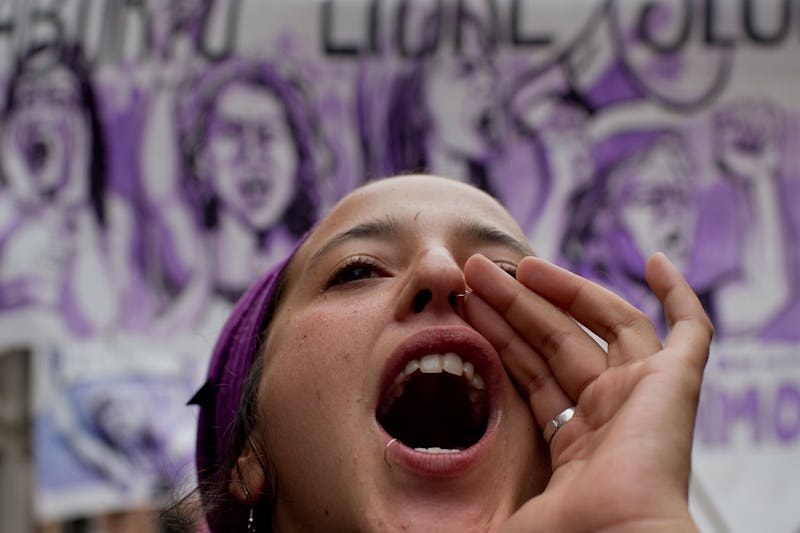 Gonzalo Arroyo Moreno/Getty Images News/Getty Images
After multiple incidents of vandalism over the past few months resulting in some major damage to its building, a Cleveland, Ohio abortion clinic is taking a stand against anti-choice harassment as it tries to raise money for repairs.
Preterm, the only abortion clinic in Cleveland, has seen multiple windows broken by what police and employees believe to be a repeat offender targeting the clinic.
Preterm's executive director Chrisse France told local news that ten windows have been broken in eight incidents over the last three months, with the latest occurring earlier this week. This most recent incident was caught on surveillance video — a shirtless man was seen throwing bricks at the building.
As France told reporters, she believes the repeated incidents are meant as an attack on abortion providers:
I believe that because of the number of windows, and the fact that it hasn't happened anywhere else in the neighborhood, that this is targeted to us, specifically as an abortion provider.
Just the same, as the clinic looks toward their repair costs, France promises that they are "not going to be intimidated." The clinic has a reputation for being unapologetic advocates for choice, known in the area for abortion-positive billboards that proudly proclaim "I'm grateful for my abortion."
That same spirit of defiance carries over to the description on its generosity.com crowd-funding page where representatives from the clinic explained their lofty $20,000 goal:
Now we know this isn't random vandalism. Someone is directly and deliberately causing damage to our building—and that can only be understood as anti-choice harassment.
The good news is that no one has been hurt. The bad news is that 10 huge windows have been broken so far. But we won't back down!
The damage to Preterm is, for many, considered a symptom of a larger cultural problem surrounding abortion in the United States. With a growing anti-abortion presence in positions of political power and reports of "increased violence and threats of violence" to abortion clinics around the country, pro-choice advocates see attacks on clinics as a dangerous progression.
Furthermore, Preterm insists that the vandalism is another act of intimidation that can't be ignored. Such violent actions work only to make the space seem less safe for patients seeking healthcare that they're legally entitled to access.
As Preterm wrote in its campaign description:
Everyone should be able to access abortion care without threat of harassment or violence. At Preterm, we work hard to ensure that our patients, visitors, and staff feel safe when they arrive at our building. Whether they are attempting to restrict access to abortion in the legislature or throwing bricks through our windows, we continue to refuse to be intimidated by the anti-choice extremists targeting our clinic.
As Cleveland Police continue searching for the person behind the brick-throwing, one thing remains certain: The advocates, employees, and volunteers at Preterm refuse to be rattled.