CNN Axes Kathy Griffin Over Beheaded Trump Photo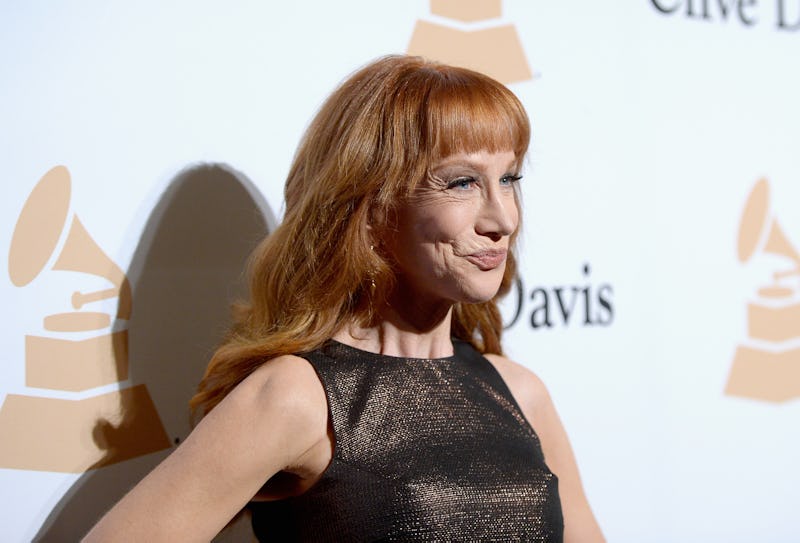 Kevork Djansezian/Getty Images Entertainment/Getty Images
After the widespread backlash to a gory photo of herself holding a facsimile of President Donald Trump's severed head, CNN has reportedly fired Kathy Griffin from its New Year's Eve programming. The decision was announced in a tweet from the network's communications Twitter account, bringing to an end Griffin's ten-year run co-hosting the festivities with CNN anchor Anderson Cooper.
Griffin issued an apology for the bloody image on Tuesday night, after its full impact had been laid bare and she found herself under withering scrutiny and criticism. In a video posted on her Twitter, Griffin acknowledged that she had gone "too far," that she was "wrong," and begged for "forgiveness." She also said she took down the photo, and asked the photographer who took it to do the same.
That apparently was not, however, enough to save her annual gig at CNN. It likely didn't help that her longtime co-host also condemned the photo as "disgusting" and "completely inappropriate" ― needless to say, a professional news anchor like Cooper was never likely to have her back over such a grotesque and inflammatory image, much less with the entire world of politics and media watching as closely as it has. Simply put, from the moment that photo hit social media, this seemed like an inevitability.
Whether coincidental or not, Griffin's firing didn't come until a full 24 hours after the photo shoot dropped, and about seven hours after Trump himself criticized her on Wednesday morning. In a tweet sent at about 7 a.m. ET, the president referenced his 11-year-old son Barron, who he said was "having a hard time" with the violent image. He also ended with a distinctly Trumpian punctuation: "Sick!"
The news also came hot on the heels of First Lady Melania Trump issuing a statement condemning Griffin, and questioning the longtime comedian's mental health.
As a mother, a wife, and a human being, that photo is very disturbing. When you consider some of the atrocities happening in the world today, a photo opportunity like this is simply wrong and makes you wonder about the mental health of the person who did it.
In other words, while there's no telling who'll be replacing her on this year's CNN New Year's Eve program, one thing is for certain: Griffin's gory photo shoot cost her the job, which means Cooper will have somebody else by his side for the big night.