You May Soon Be Able To Buy CBD Coca-Cola — Read The Company's Note Here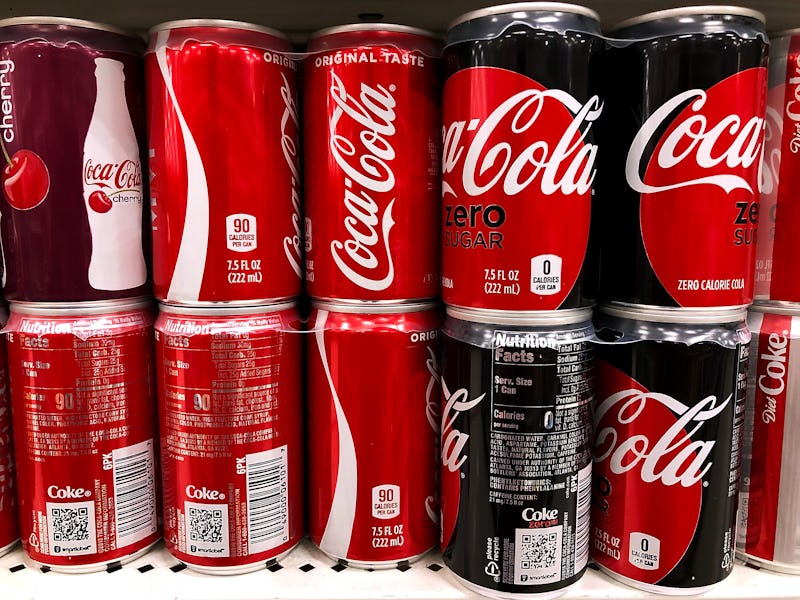 Justin Sullivan/Getty Images News/Getty Images
The CBD train is rolling and apparently it's gone all the way to the top of the beverage industry. According to a new report by BNN Bloomberg, Weed Coke could be on the way... or, more accurately, Coca-Cola is looking into CBD drinks, and it's part of a major trend.
As reported by BNN, Coca-Cola is in talks with Canadian company Aurora Cannabis Inc. when it comes to making a drink that includes CBD, the non-intoxicating component of cannabis. CBD is thought to reduce inflammation and pain, ease anxiety, and treat epilepsy; although as WebMD notes, there isn't a ton of evidence of this available, aside from the treatment of epilepsy for which the FDA recently approved a drug derived from the ingredient.
In a statement shared with BNN, Coca-Cola wouldn't comment on Aurora directly, but said, "along with many others in the beverage industry, we are closely watching the growth of non-psychoactive CBD as an ingredient in functional wellness beverages around the world. The space is evolving quickly. No decisions have been made at this time."
A spokesperson for Aurora said that the company is interested in infused beverages and added, "As a rule, we do not discuss business development initiatives until they are finalized, however we have a responsibility to our shareholders to give proper consideration to all relevant opportunities that are presented."
While it's easy to picture regular Coca-Cola just infused with CBD, that's almost certainly not what this would be. Coca-Cola owns over 500 brands, so if The Coca-Cola Company was to release a CBD product, you might not even know it unless you look closely at the label. According to BNN, a source said the drink Coca-Cola may create is "going to be more of the 'recovery drink' category."
The fact that Coca-Cola is even looking into a CBD-infused drink speaks to two trends: One, that CBD is really having a moment and everyone wants a piece of it; and two, that Coca-Cola is looking to switch things up. According to Fortune, soda sales have been declining for over a decade, and for Coca-Cola this specifically involved a big decrease Diet Coke consumption. It's no surprise then that Coca-Cola is looking into even more areas in addition to the hundreds in which its already involved. As BNN noted, Coca-Cola also recently reached a deal to buy Costa Ltd., the top coffee company in the U.K. with popularity in other countries, for $5.1 billion.
Aurora Cannabis Inc. is based in Canada, which is set to legalize marijuana nationwide on October 17. But, the legality of marijuana and of CBD is far less straightforward here, which means that even if Coca-Cola developed a CBD product, it might not be available for Americans or at least not for all Americans.
It does sound like there's a good chance something involving Coca-Cola and CBD will happen, so whether you're Canadian, a hopeful American, or someone who wants Weed Coke to be a reality, keep your eyes out.
Readers should note that the regulations and data surrounding marijuana, CBD, and other related products are still developing. As such, the information contained in this post should not be construed as medical or legal advice. Always consult with your doctor before trying any substance or supplement.