Cold Stone Creamery Cereal Just Launched & It Comes In Two Delicious Flavors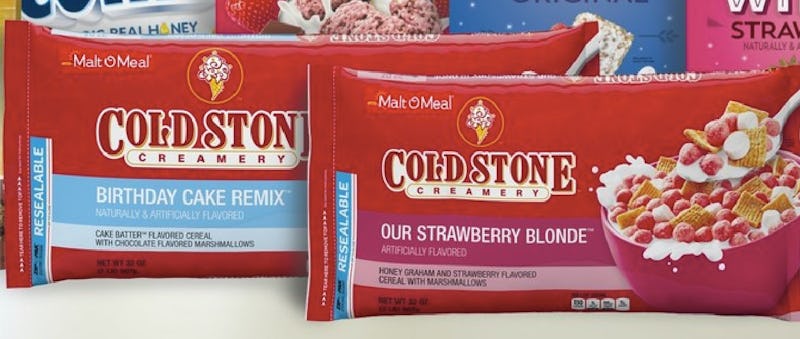 Post Brands
Sugared cereal is one of the greatest joys in life, if perhaps a less great gift to your bloodstream. All the good childhood mornings kicked off with a bowl of Lucky Charms, while the bad ones were for tasteless straw cereal like Shredded Wheat (though Shredded Wheat does taste good when you're an adult). And now, you can add a new sugary cereal to your sweet breakfast rotation — Post is debuting two Cold Stone Creamery-themed cereals, so you can (sort of) eat ice cream first thing.
According to Chew Boom, Post — makers of popular breakfast cereals like Honey Bunches of Oats, Fruity Pebbles, Waffle Crisp, Raisin Bran, and the aforementioned Shredded Wheat — has teamed up with Cold Stone Creamery to create two tasty-sounding cereals themed after the popular ice cream chain's frozen treats. The first, dubbed Our Strawberry Blonde, is a "honey graham and strawberry flavored cereal with marshmallows," per Chew Boom. The second, Birthday Cake Remix, is "birthday cake flavored cereal with chocolate flavored marshmallows." Both are under the umbrella of Post's Malt-O-Meal & Cold Stone Creamery line, which hopefully will release more ice cream/cereal mashups for us to enjoy in the future.
Cold Stone Creamery is a particularly good ice cream brand to transform into a cereal, thanks to its half soft-serve, half hard ice cream consistency. The brand was founded in 1998 by Donald and Sue Sutherland (NOT Donald Sutherland the actor, I was disappointed to learn), two aspiring ice cream store operators in Tempe, Arizona. The couple wanted to find a happy medium between soft serve, which they felt was too airy and not as flavorful, and regular hard ice cream, which is hard to scoop. So, after some experimentation, they found the right consistency: super premium ice cream, made with 12 to 14 percent butterfat, which manifests into a softer, but not super-soft creamy dessert for ice cream enthusiasts.
For folks who haven't had the opportunity to try Cold Stone, it works like this: shop employees take a big scoop of the frozen flavor of your choice, slop it down on a big granite slab, sprinkle in your preferred toppings, and mix the whole thing up on the aforementioned slab like they're kneading dough. As a result, you get a pretty good mix of ice cream and topping (Heath Bars, gummy worms, sprinkles, Butterfingers, M&Ms, Kit-Kats, fruit, etc.) in every bite, instead of finishing off all the toppings up top and getting left with melting ice cream at the bottom.
Tragically, Post's Cold Stone cereal iteration does not appear to include as many toppings as you choose, or actual ice cream. But they picked some good flavors — both Birthday Cake Remix and Our Strawberry Blonde are Cold Stone's "signature creations," i.e., flavors and topping mixings they've chosen for you, so you don't accidentally make some disgusting combo like mint ice cream with raspberries and Butterfingers (actually that sounds delicious, but also my taste buds are monsters). The Our Strawberry Blonde Ice Cream iteration is strawberry ice cream with graham cracker pie crust, strawberries, caramel and whipped topping, according to Cold Stone's website. Birthday Cake Remix, meanwhile, is a more classic sundae treat, consisting of Cold Stone's delectable Cake Batter ice cream with sprinkles, brownies, and fudge.
Of course, if Post and Cold Stone really want to make a splash, they should consider turning my favorite Signature Creation into a breakfast food. That creation, dubbed "Germanchökolätekäke" (SAY IT FIVE TIMES FAST), is chocolate ice cream with pecans, coconut, brownies, and drizzled caramel, and it is basically a monster, but a Very Good monster. It should be fed to children and childlike adults, with milk (and vitamins!) every single morning.