This Millennial Pink Loafer-Meets-Sneaker Is The Everyday Shoe You Need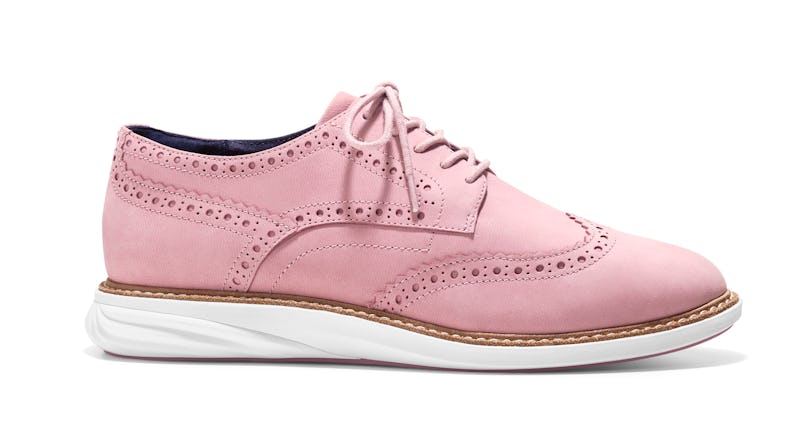 Cole Haan
If two-in-one shampoo and conditioner can exist, why can't the same concept be piggybacked to wardrobes, too? In this year dedicated to minimalism, less is always more, and thanks to Cole Haan's loafer sneaker, you can have one pair of shoes that you can wear to practically any activity, day or night.
Thanks to the rising popularity of Marie Kondo-ing, aka going through your personal items and ridding yourself of any items that no longer serve a purpose or give you joy, minimalism is at an all-time high. Especially when it comes to dressing, having a few items that serve multiple purposes just makes life easier and transitions more seamless.
Cole Haan's wingtip oxford is basically the shoe version of killing two birds with one stone (or, multiple birds, actually), since you can throw these babies on and head to pretty much any function, whether that's brunch at the newest Instagram obsession or to the board room for your next meeting.
The beauty of this shoe is that it's polished enough for more formal events, yet totally casual when paired with your favorite denim. And the best part of all — they're extremely comfortable. One of Cole Haan's main missions is to create comfortable shoes, so you know this one will keep you on your feet all day.
Women's GrandEvølution Wingtip Oxford, $200, Cole Haan
Whoever said fashion before comfort clearly needs to make an addendum in 2017, where comfort is beyond preferred — it's a necessity.
This beauty is just one of the pairs featured in Cole Haan's newest campaign. Part of the Extraordinary Comes to Life series, this campaign was made in partnership ballet icons.
Featuring the dual-gender GrandEvølution collection, men's GrandMøtion collection, and women's StudiøGrand collection, this gorgeous campaign was made with Sara Mearns, Megan Fairchild and Amar Ramsar (all Principal ballet dancers), Corps de Ballet Dancer Gretchen Smith, and, Resident Choreographer of the New York City Ballet, Justin Peck.
If you're looking for neutral colors, they've got 'em, too.
Here, you'll find a few other shoes featured in the campaign.
Women's GrandEvølution Modern Monk, $200, Cole Haan
Style and comfort, through and through.
StudiøGrand Knit Cross-Strap Sneaker, $180, Cole Haan
Tailored to people who are constantly moving, these shoes in the campaign will have you feeling like you're walking on clouds.
"These extraordinary dancers are all about grit, grace and the unity of athleticism and elegance – qualities anyone can aspire to. We built these collections with our proprietary Grand.ØS technology to move our customers throughout a packed day on their feet, in the world, and on the job," says David Maddocks, Chief Marketing Officer and General Manager of Business Development, in the press release.
Whether you're a new mom, trainer, dog walker, or just happen to love walking, the pieces from all three collections are actually going to make you enjoy being on your feet all day. This new campaign makes not sitting down actually look appealing.
And thanks to a range of styles and colors, there's something for everyone, whether you're looking for a more casual feel or something you can wear to the office.
From here on out, the saying goes as follows: comfort before fashion.