Cole Sprouse's Reaction To The 'Riverdale' Musical Episode Is SO Jughead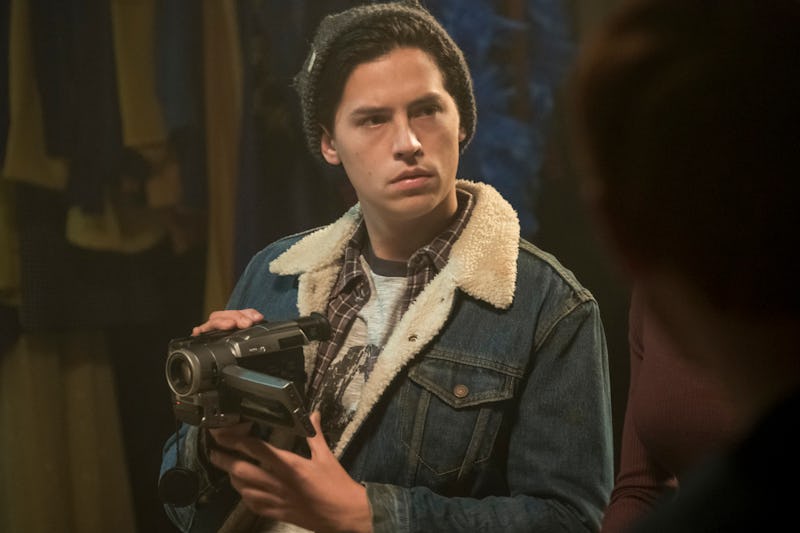 The CW
It's almost a rite of passage these days for popular television shows to take on the most challenging TV gimmick there is: the musical episode. Buffy the Vampire Slayer practically wrote the book on how to make a musical hour on an otherwise non-musical series. Grey's Anatomy still hasn't lived down its now-infamous take on a musical episode. It's Always Sunny in Philadelphia did one in the most Sunny way possible. Same with Community. Supergirl and The Flash actually teamed up for a super cute one. Even Stevens managed to get a pre-meltdown Shia LaBeouf to participate in one. But when Riverdale announced its own musical episode, a different former Disney star didn't share the enthusiasm that most fans did.
When Riverdale showrunner Roberto Aguirre-Sacasa broke the news to his stars that the April 18 episode would center on Riverdale High's production of Carrie: The Musical, one actor was decidedly less into the idea than the rest: Cole Sprouse, aka Jughead. "I had asked Cole a while ago, I was like, 'Cole, if we do a musical, would you be willing to sing?'" Aguirre-Sacasa tells me on the Vancouver set while filming the musical episode. "And he was like, 'You know man, I didn't sing for Disney when I was doing Suite Life but for you, I'll sing.'" But lucky for Sprouse, his hesitance to be fully involved in the episode's song and dance numbers was put to good use, Aguirre-Sacasa explains, as it ended up making more sense for Jughead to shoot a documentary about the making of Riverdale High's musical instead of perform in it himself.
Using Judghead's documentary about the making of the musical as the structure of the episode gave Sprouse the perfect out: he didn't have to sing or dance... or even appear on camera for a lot of the scenes. "He's behind the camera for most of it," Sprouse says of his character with a smile, sitting in a room off to the side of the auditorium in the Vancouver high school where the majority of scenes are being filmed. "And then some of the shots you'll be seeing from Jughead's POV, where you see the shaky hands, the handheld camera footage, that is what Jughead is shooting. He's more of an observer and fly on the wall for this episode, and Jughead's narration isn't in this one."
The episode, "A Night To Remember," has musical moments peppered throughout, some during the actual night of the show and others during practices and in class and at home. "It's meta, like Waiting for Guffman," Aguirre-Sacasa says. "There's a musical within the documentary that Jughead is shooting. That allowed us to move through time and jump around a little bit. We're having some fun with the form. It feels like a very different episode of Riverdale."
Despite Aguirre-Sacasa's defense of Sprouse's willingness to sing, his Riverdale costars had a much different perspective on how he felt about the musical episode. I asked each of them which cast member was the most excited and which was the least excited for the musical episode. While answers for the former varied, all the answers for the latter were exactly the same. Well, except for one from one kind-hearted, true friend.
"There is someone who was definitely the least excited but I don't want to throw him under the bus," Casey Cott, who plays Kevin, tells me with a laugh while taking a break from the big dance number being filmed later in the day. However, the rest of his cast mates didn't feel like holding back.
"The least excited about it was... Cole," KJ Apa, who plays Archie, says after breaking out in laughter. "Definitely Cole. That's probably the reason why he is not involved in the musical." Lili Reinhart, who plays Betty, is sitting in the empty auditorium while waiting for the lighting to be adjusted for her next scene. She smirks when she reveals that "Cole refuses to sing or dance."
"He immediately was horrified," she adds. "But he's not involved in the singing or dancing parts."
Camila Mendes, who plays Veronica, echoes Apa and Reinhart, and just like Apa, she can't help but laugh. "He just hates musicals," she says. "But he doesn't have to sing so it's great. That worked out for him. I really like what they did with Jughead's narrative in this, they fit him in to this very well because I don't think it would be appropriate to make Jughead sing and dance. It wouldn't be in character. He would not have done the musical."
And Madelaine Petsch, fresh off of filming her big solo number as Cheryl Blossom, who plays the titular Carrie in the musical, adds that "Cole was just happy he didn't have to dance, to be honest."
Now, I didn't narc on any of the Riverdale stars. But when I sat down with Sprouse, I had to ask for myself: Did he really hate the idea of participating in the musical episode, or was everyone just exaggerating? "I just don't think character-wise that Jughead would be the kind of kid who would be singing and dancing," Sprouse says diplomatically. "Especially when so much is going on outside. It made sense for me to not be in it. I don't think he was ever going to be involved."
When it came to the moment when he found out that Riverdale was going to do Carrie: The Musical, he admits he was "a little conflicted."
"Part of me didn't really see how it would fit in the larger scheme of Season 2," Sprouse says. "But Roberto is a master at what he does so he found a way to bring in his theatrical training and writing in a way that made it make sense within the larger season narrative."
Sitting in the back of the auditorium while the entire cast rehearses Veronica's big solo that includes a huge dance number, I see Sprouse sneak in and take a seat off-camera. He leans back, puts his feet on the back of the chair in front of him and laughs as he watches Mendes break it down with Apa and Reinhart. He's basically like Jughead in real life, hiding in the shadows instead of embracing the spotlight. But that illusion is shattered when we walk towards a quieter room off to the side of the auditorium for our interview during a break in the school day, and a swarm of actual students walks past. A group of girls swoons and yells, "Hiiii!" at him from down the hallway. He's not the weird, lovable loner outcast in real life — he's a former Disney Channel star-turned-CW heartthrob. Filming in a real high school has definitely been the hardest on him.
But the rest of the Riverdale cast was overjoyed to be able to do a fully musical episode after only occasionally flexing their musical talents over the course of two seasons. Reinhart reveals that all her fellow female cast members were excited to get into more musical theater than pop music for one episode. But what stopped her short was the idea of having to participate in intense dance numbers. "I was kind of horrified about the dancing aspects," she admits with a laugh. "I hate dancing and I'm terrible at it but it's actually been really fun."
But according to the rest of the Riverdale stars, Reinhart is just being modest. Ashleigh Murray, who plays Josie, freaks out when she remembers the first time she heard Reinhart's recordings for this episode. "Lili! Lili shocked me like nobody's business," she shouts, getting excited all over again. "I texted her cursing in all caps because, ooh, I couldn't believe she could sing like that! Oh lord. I'm really excited for the world to see that. You got a small taste of it with 'Mad World,' her Serpent dance, but good lord, she is so good."
Apa was also extremely surprised at Reinhart's singing. "When I went into the recording studio, I heard Lili's voice and I was completely blown away. It was amazing," he says. "I had no idea she could sing like that. I hope she sings more on the show. I don't think anyone knew she could sing like that."
Reinhart admits she was pleasantly surprised with herself. "I grew up doing musical theater so it's nice to be feeling this vibe again," she says. "It was great to impress myself a little bit with how much I can still belt."
The Riverdale stars were also all extremely surprised at one of their own's dancing skills. "KJ is surprisingly a wonderful dancer," Reinhart says, leaning in to whisper as if she's dropping some juicy, secret intel. "He's enjoying himself much more than he would want anyone to know. We were dancing yesterday and we were having such a blast and making fun of ourselves."
Cott adds, "Wait until you see KJ Apa dance. The kid is the most talented kid I've ever seen. He's made us laugh during this episode so hard. But he's an incredible dancer. We were at rehearsal the first day and he thought he was goofing around but he was amazing."
Mendes couldn't wait to reveal that Apa is the best dancer among the cast, even though he tries to play it cool. "He's making fun of himself when he dances and goes all out because he thinks he's being funny but he's actually really good when he does it," she says with laugh. "I'm like, 'KJ, you can actually dance! You have rhythm.' He's hitting all the beats and thinks he's bad but he's really good. He's so perfectly Archie."
But that didn't prevent him from suffering a little accident the day before when they were shooting one of the big opening dance numbers. "I'm sure they're going to use this in the bloopers, but we were doing this number with chairs and we're all dancing," Mendes says. "And KJ just does this move and he falls back and the camera was like birds eye view. We all just died, it was so funny."
To his credit, Apa isn't embarrassed at all when I mention Mendes' story to him. "Out of everything, I was most scared about the dancing. The dancing … I wouldn't consider myself a dancer," he says. "I'm having a lot of fun with the dancing now and I'm getting into it and enjoying it a lot." But don't expect to see Archie dancing more on the show just because Apa is enjoying the dance numbers. "This is just a one time thing," he adds with a laugh.
Since Sprouse didn't have to join in on the singing and dancing, he had a great time watching everyone else do it. "There is nothing like muscle-bound KJ having to do all the musical theater stuff, it's just not something I ever thought I'd see him doing," he says with a big smile. "That's been quite enjoyable."
And the biggest challenge for Sprouse in this episode? "Having to watch KJ dance," he says with a straight face before breaking out into laughter. "That's been quite the experience for me and he and I will get through it. But it's something we needed to go through and see and our friendship will only grow stronger because of it. He is a graceful guy, let's just say that."
Now that all the work has been finished and the episode is about to air, Reinhart is just excited to see the final product. "You're going to be surprised at how we actually were able to pull it off," she says. "Seeing us all dancing together is going to be a riot." Just make sure to keep watching until the very last moment, because you never can predict how a big event on Riverdale is going to end.