Cole Sprouse Just Posted A Lili Reinhart Portrait & The Photo Has 'Riverdale' Fans SWOONING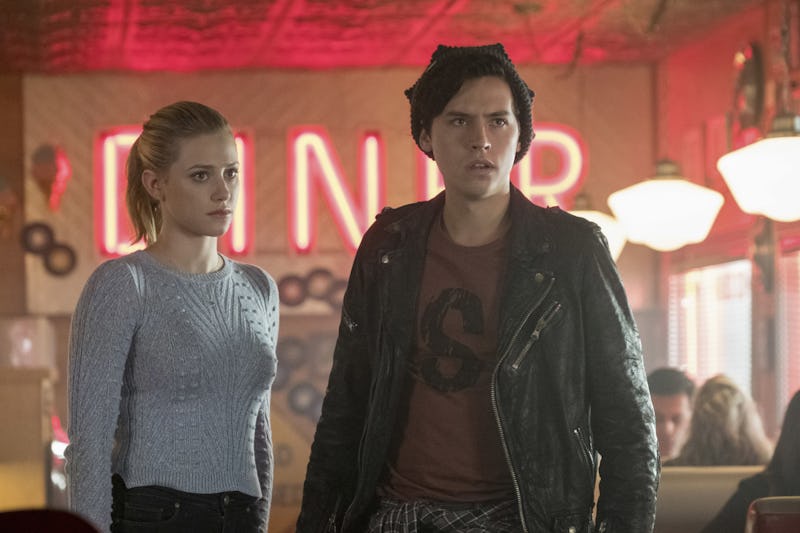 Katie Yu/The CW
When Cole Sprouse isn't acting, he uses photography is another outlet for his creativity. His Instagram often features unique pics of his co-stars and on Saturday, March 17, Sprouse shared a portrait of Lili Reinhart that has Riverdale fans swooning. The arty framed photo shows the corner of Reinhart's face, which is covered in part by red roses. There's no caption, but Reinhart is tagged.
Sprouse and Reinhart have been rumored to be dating, but neither Riverdale actor has publicly commented on those rumors or confirmed that they are dating. In the Instagram comments of Sprouse's photo, fans are already swooping in to share love for the photo and buzz about the co-stars rumored relationship status. Reinhart and Sprouse first sparked dating rumors in 2017, and have been spotted together on vacation, wearing each other's clothes, and of course, appearing on each other's social media accounts pretty often. The stars won't confirm their relationship status, but they are definitely big fans of each other online.
In the past year, Reinhart has often showed up on Sprouse's Instagram. She first appeared in a breezy photoshoot last April, where she wore a black dress and posed in a field of yellow flowers. She's since done several other photo-ops with her co-star, posing in front of corn stalks and in October 2017, he posted a pic of the star wearing a dramatic orange dress. The photo was mysteriously captioned "410." The portrait from Saturday is just the latest installment in their social media, and it shows Reinhart in the snow. The red and green of the flowers is especially dramatic against the icy background. Fans are losing it over the photo, posting comments like "Cute" and "can't cope" as well as plenty of heart and heart eyes emojis.
Fans definitely want the Riverdale stars to get together, but Reinhart and Sprouse won't confirm they're dating anytime soon. In a interview with People, Sprouse explained why privacy is so important. "Whether you dismiss those rumors or whether you encourage those rumors, it's giving people who are in my opinion are a bit entitled to your personal life more power, and you have to have spaces for reverence in the industry," he told the magazine. If fans are looking for these friends to confirm their relationship, they might be in for wait. Either way, Reinhart is supporting her friend's work, and fans are into it.
Sprouse is a talented photographer, and the hobby is important to him. In an early photo from 2016, the the actor explained how it helped him with depression. "It was depression that drove me to do it. That's the real truth. It was depression that led me to the camera. It heals you know, a hobby. There's no Band-Aid like a hobby," Sprouse wrote on Instagram. "I've been destructive, I know that now. I can see that I'm in a desert, and I've been thinking about that oasis when I should've been trying to get out."
In another interview with YouTuber Duann Mackenzie, he addressed how the hobby helped him cope during a dark time. "I was sad and in a dark place, and I turned to a hobby to sort of take me out of that," he said. "I found photography, I've been doing photography for a while but I really used it as an outlet to create and feel better, and it took off."
It's true that since the star began posting his work online, the hobby has blossomed into a successful side-career. He's photographed Kendall Jenner for the Sunday Times, Sophie Turner for W Magazine, and Sam Smith for L'Uomo Vogue (Italian Vogue). His photos have a distinct, earthy feel to them, and it's no wonder many of his Riverdale co-stars have embraced modeling for him.
Fans may never find out what Sprouse and Reinhart's relationship status is, and that makes sense. The one part of his life Sprouse is willing to share, however, is his creative photography. In an interview with Teen Vogue, he explained how photos let him share on his own terms. "If I wasn't acting I'd be doing that full-time," he told the publication. "I think with the way that we digest information nowadays, photography has become a perfect avenue to give the audience an understanding of yourself that goes a little deeper than a 10-minute interview about a show you're doing or something of the sort. It just made sense to me."
The star star will continue to pursue the hobby, and it wouldn't be surprising if he devoted even more time to photography in the future. If fans keep an eye on Sprouse's Instagram, there might just be more Reinhart appearances as well. The world may never know what's going on between the co-stars IRL, but for now, everyone is swooning over their creative collaboration.