Emmy Co-Host Colin Jost Said He Doesn't Like Award Shows & Twitter Reacted Accordingly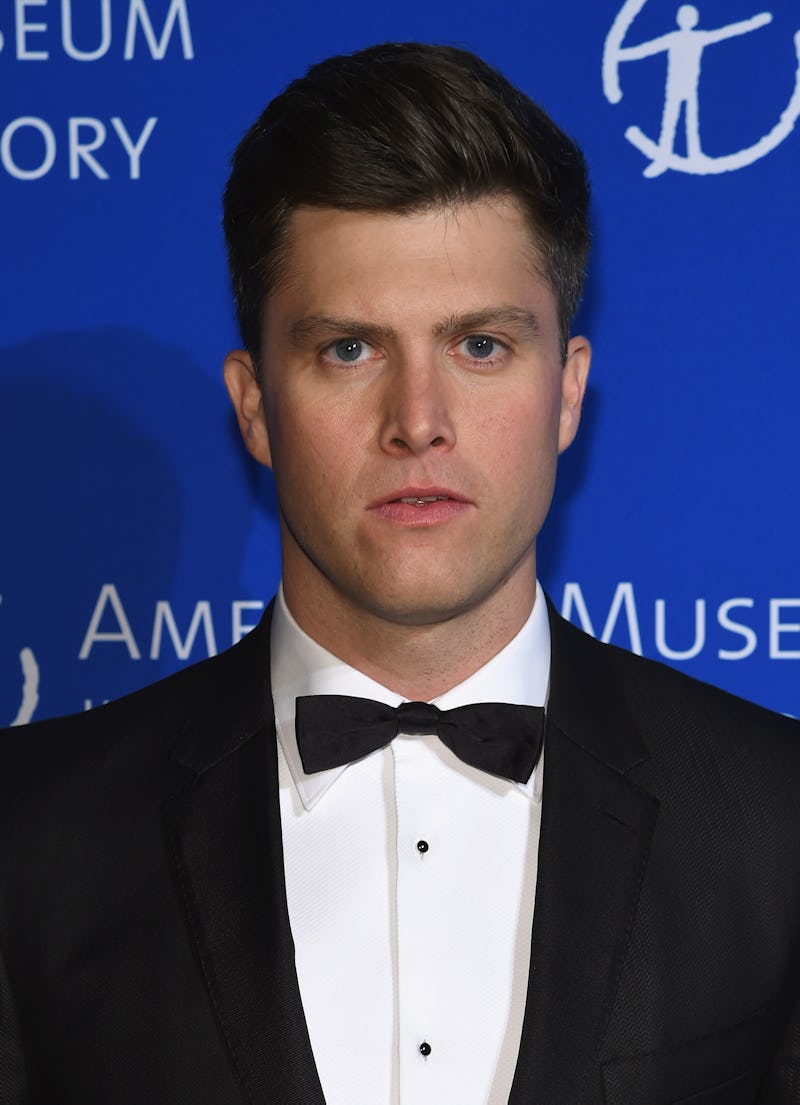 Jamie McCarthy/Getty Images Entertainment/Getty Images
Many fans were excited by the news that this Saturday Night Live cast member would be co-hosting the upcoming Emmys. But after Colin Jost slamed award shows this week, it left some wondering whether the comedian was even looking forward to the event. In an Aug. 14 interview with the Los Angeles Times alongside his co-host Michael Che, Jost casually dismissed award shows as "adults getting trophies," and couldn't muster much more than slight ambivalence when asked if he even liked them. "Are you fond of awards shows generally?" the interviewer asked, to which Jost responded — "eh." He continued:
"I think most of the time they're way too self-serious and focused on things that 99% of the country doesn't care about. At the end of the day, it's adults getting trophies. Why should that be taken seriously?"
It's a question that could very well foster a compelling dialogue about what audiences are drawn to these days versus what gets rewarded with nominations, and what that says about our culture. But in the mouth of someone who's about to host one of the country's most high-profile award shows in just over a month, it raised some eyebrows. Jost continued:
"And remember when movies like Gladiator won Best Picture? Why can't good, fun things win and not just good artsy things? They're both good and the fun ones are sometimes a lot harder to make."
It's a bizarre commentary from someone who's not only hosting the Emmys, but is also nominated for a few. (Saturday Night Live received an impressive 11 nominations, with nods in acting, writing, and overall categories.) Of all people, one might expect Jost to understand the value and the draw of the Emmys. It may not be universal, but if you're going to comment on the fact that the Emmys are targeted at just one percent of the population, you might not want to alienate those folks who were already on your side.
And alienate them, he has. The 36-year-old quickly became a trending topic on Twitter in light of his comments, taking heat as much for his opinions as for the way he expressed them. One Twitter user, @themerriest, pointed out the hypocrisy inherent in criticizing award shows as a sports fan by screenshotting a tweet Jost had posted about the Super Bowl.
You know — sports — an industry in which adults literally compete for trophies, while strangers watch. Still others were disappointed in Jost's comments because they seemed tone deaf, elitist, basic, or simply un-funny, like when he told Indie Wire that he was excited for a less political Emmys in 2018:
"The exciting part is to do things about television and that particular awards ceremony and make it, in general, less political than normal. There's a lot to celebrate in television right now. It's a very strong time. I think that by [the Emmys], people are going to be desperate to give men a chance, finally. It'll probably be #HeToo by then."
If that last comment just made your eyes roll out of your head, then you're not alone. Fans were not psyched about Jost's comments, and they weren't afraid to say so on social media.
Ultimately, it just comes down to preference: if you like award shows, you should watch them, and if you don't like them, you shouldn't. Whether you should host them without a vested interest is a question for another day, but since Jost is helming the Emmys and not the Super Bowl, he should probably try to summon some enthusiasm for the latter before the Sep. 17 ceremony.