Colleen & Misty Will Team Up In 'The Defenders'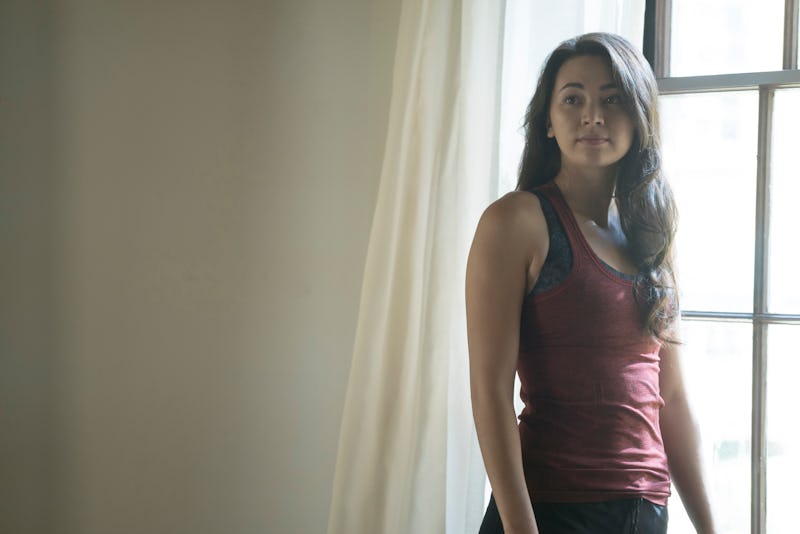 Ali Goldstein/Netflix
Iron Fist is the last piece of the Marvel puzzle The Defenders drops on Netflix. Personally, I've been anticipating this team-up and what's going to happen when all of these street-level heroes finally meet — even if all they do is get brunch together — for years. There are so many interesting dynamics between these characters, both from their respective series and from Marvel comics. In an interview with Bustle, actor Jessica Henwick confirmed that Luke Cage's Misty Knight and Colleen Wing work together in The Defenders, which should definitely excite Marvel fans everywhere. In the comics, the two are BFF and form a detective agency called Knightwing Restorations.
In Iron Fist, fans get one heck of a strong female friendship between Colleen and Claire Temple. Henwick found their relationship on Iron Fist to be natural and lovely, and I think fans will too. "Honestly, that was one of my favorite parts of the show," she says. "Colleen and Claire have this wonderful dynamic where I'm her teacher, but she's older than me, but we're also like sisters. So we feel comfortable arguing with each other but we're also friends with each other and we have each other's back — it's really refreshing."
That said, don't worry. There's plenty of friendship and teamwork to go around on The Defenders, and Claire isn't replacing Misty with regards to Colleen. "Obviously now I'm on Defenders and I'm with Misty. I was wondering how [producers will] make that different from my relationship with Claire and they have. They're such different characters."
Rosario Dawson, who plays Claire, is the connecting link between all of the heroes at this point, having also appeared on Daredevil, Luke Cage, and briefly in Jessica Jones. "She's one of my favorite actresses I've ever worked with," says Henwick. "She has this incredible ability to make any line sound grounded and real and brings that to every show that she works on. We got on like a house on fire."
Since Claire and Misty became friends on Luke Cage, this should be fun for everyone! Well, everyone except the decidedly anti-social Jessica Jones, perhaps.
"Defenders picks up pretty soon after Iron Fist," says Henwick. "I think only a couple months have passed. We find Colleen in a really strong place. She and Danny now have been spending a lot of time with each other and have such an easy back and forth. She knows him so well. If anything's wrong, she knows something is up and similarly if she's holding anything back, he can immediately sense it. That was nice to play."
Colleen is not pushed aside from any of the action, either. "She's in the thick of it," Henwick says. "I think fans are gonna loooooove Defenders."