College Republicans Are Inviting White Nationalists To Give Speeches On Their Campus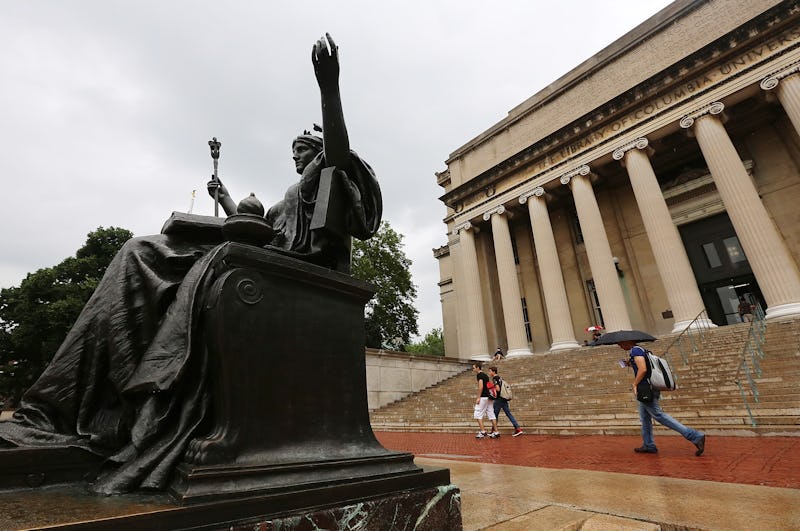 Mario Tama/Getty Images News/Getty Images
A Republican student group has invited two white nationalists to speak at Columbia University later this year, sparking tension and controversy within the college's community. Columbia University College Republicans are expected to host Mike Cernovich, a well-known alt-right conspiracy theorist, and Tommy Robinson, the co-founder of the far-right English Defense League, as part of their Fall 2017 Speaker Series, the Columbia Spectator was the first to report. .
In a statement to the student newspaper, the Columbia University College Republicans said the club had elected to invite speakers who they felt represent all aspects of the Republican Party.
"Our club hosts speakers that [are] on the wide range of the conservative [or] Republican party," CUCR President Ari Boosalis said. "Our job is to bring speakers that challenge this community and really give us a sense of what those ideologies actually [are], and we want our members to decide and figure out if they're a conservative or Republican or whatever."
Boosalis said he'd hoped the forums hosted by CUCR would be opportunities for students to challenge both themselves and the speakers while beginning a dialogue. "We don't really like safe spaces on the basis that we don't think people are able to change themselves," Boosalis told the Columbia Spectator. "If you're just listening to the same side, you're not gonna learn anything about the other side. You're stunting your personal growth."
Across the aisle, however, the university's Democrat student group seemed to be struggling with how to respond to CUCR's controversial choice of speakers.
"As a group we do not want to normalize their speaker choices by ignoring the events, but we also do not want to give CUCR attention for bringing provocateurs to campus," Columbia University College Democrats Media Director Kris Ahn said, according to the Columbia Spectator. "While we are interested in engaging in productive conversations and discourse, at this point CUCR's choices in speakers do not seem to be seeking to facilitate that."
Others appeared far less tolerant of CUCR's choice of speakers. The Anarchist Black, Brown, Indigenous Assembly (ABBIA), a New York City-based group that describes itself as a community of anarchist black, brown, and indigenous people fighting for black, brown, indigenous, queer, and trans liberation, has said it will not tolerate CUCR's move to host what the activist group called, "a white supremacist panel."
"We do not tolerate fascist platforms in our communities," ABBIA said in a statement released via Facebook regarding the controversial invitations. "The Columbia University College Republicans' decision to host a white supremacist panel this coming fall semester will not be tolerated. ... We demand Columbia University cancel the Nazi discussion and regain their dignity by not utilizing free speech rhetoric as an excuse for the promotion of hate, bigotry, and violence."
ABBIA argued that allowing people like Cernovich and Robinson a platform to speak "not only undermines the security of the student body but also re-creates a social trauma for the [neighborhing] community of Harlem."
Aside from reportedly being the man Donald Trump Jr. wants to see win the Pulitzer Prize for journalism, Cernovich is well known for promoting Pizzagate conspiracy theories. (If you missed that moment in the 2016 election, Pizzagate refers to a debunked conspiracy theory that tried to connect Hillary Clinton and other Democrats to a pedophile sex ring allegedly run out of the basement of a pizzeria.) Unsurprisingly, many of Cernovich's ideas have proved controversial. Cernovich, who regularly appears on Alex Jones' Info Wars, has previously claimed there's no such thing as date rape and that "diversity is code for white genocide."
British-born Robinson, whose real name is Stephen Christopher Yaxley-Lennon, is the former leader of a far-right British street protest movement known as the English Defence League, which was widely viewed to be Islamophobic. According to the Telegraph, Robinson had previously characterized Islam as a "disease" and a "threat to [the Englishmen's] way of life." However, Robinson left the group in 2013, citing a desire to tackle both Islamic extremism and neo-Nazi extremism and the "dangers of far-right extremism" that had taken over the EDL.
Other speakers invited by CUCR to speak at Columbia University this fall include "pharma-bro" Martin Shkreli. It's unclear if Shkreli's recent legal battles and forthcoming prison sentence will enable him to speak.