Colorists Are The Unsung Heroes Of Comics, And It's Time To Pay Attention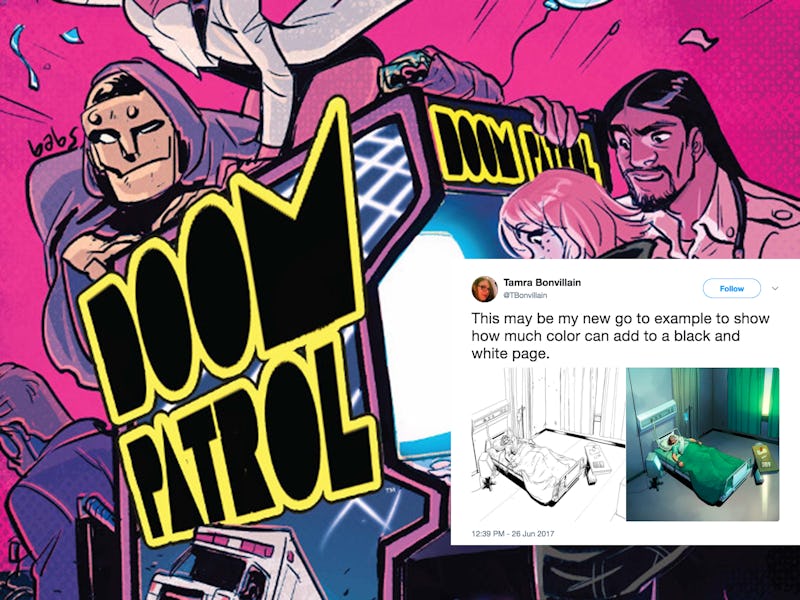 Tamra Bonvillain/Twitter
It's no secret that there are serious problems in the comic book industry, but some are more apparent than others. A comic colorist's job is absolutely crucial to the tone of a book — their work can make or break the reading experience. But colorists are dealt a pretty difficult hand by their peers.
They're often brought on to a project the very end of development, sometimes leaving them with little to no say in creative direction. They're at the end of the production timeline, which burdens them with rigid deadlines even when writers and fellow artists deliver their parts late.
And until recently, they've been virtually ignored. Thankfully, though, that's changing.
So what do colorists do? A colorists' job is to add color and life to the work of the penciler — the person who draws the book— and the inker — the person who gives the pencils depth and definition. Literally anything you see on a comic page that isn't black and white is because of the colorist. They set the mood of a comic and their contributions often add to the iconic looks of characters, settings, and comic series in general. Some are traditional painters and some color electronically, but they all bring something vital to the stories they tell.
These days, colorists are almost always credited on the cover of a book they've collaborated on, and many creators regularly praise the colorists they work with. My Chemical Romance frontman and comic book writer Gerard Way, for example, makes it a point to include colorists on convention panels for his imprint, DC's Young Animal. When asked about colorists working in the industry, he specifically calls out Tamra Bonvillain, who colors Way's book Doom Patrol, and Kelly Fitzpatrick, whose work on Shade the Changing Girl — a book published by Way's imprint — transforms the book into a psychedelic adventure.
"Treatment in the industry has gotten better," Fitzpatrick tells Bustle. "Companies are starting to notice that colorists are artists. I'm notoriously loud-mouthed about colorist credit and representation."
Shade The Changing Girl, Vol. 1, $11.55, Amazon
Fitzpatrick says she would love to see more colorists on panels at conventions and acknowledged in reviews, PR announcements, and best-of lists. She even designed an enamel pin in support of colorists and donates part of its proceeds go to the Alliance of Hope.
"Companies are starting to notice that colorists are artists.
One of the many factors keeping colorists in the margins, she says, is the poor printing quality of the past, which didn't showcase colors properly. Photoshop — a tool that is essential in the work of a colorist — fixed that problem, but the stigma stuck.
Photoshop is also the reason for colorist June Chung's signature dark, moody style. She says that when she was first learning how to use the tool, everything came out a little darker than she wanted. This made her work perfect for projects like Wolverine and the current run of Batman.
Chung agrees with Fitzpatrick that there's a problem with treatment in the medium. "I think colorists in general, male and female, all find their work under-appreciated." she tells Bustle. "Colorists now have such strong and contrasting styles, that they play a key role in the art team."
More and more people are realizing this, though, and colorists are showing off their signature styles.
"Colorists now have such strong and contrasting styles, that they play a key role in the art team."
"It's really a newer side of the industry in terms of being an individualistic artist's game," Fitzpatrick says. "I feel like we are the tastemakers in the industry."
Fitzpatrick got her start working as a flatter for renowned colorist Jordie Bellaire. Flatters are artists that assist colorists by putting art into pre-established palettes, setting up files, and more. They're necessary to the process, but have to be paid for out of the colorist's pocket — yet another challenge to being a colorist.
Bellaire's impressive resume includes Eisner awards and nominations, and her work ranges Pretty Deadly, to Batman, to Redlands — a witchy, feminist book that she both co-writes and colors in a warm, lush palette inspired by her experience living in Florida. Even with all of her success, she experiences her fellow colorists' woes, as well. "The work of a colorist can feel pretty niche and sometimes thankless," Bellaire tells Bustle.
Redlands Vol. 1, $9.99, Amazon
She brings up the same point as Fitzpatrick — that colorists are often ignored in PR releases and announcements, making them almost invisible to some — and adds that colorists (along with inkers, designers, and the like) are also left out of the "credit and royalty pie."
"The work of a colorist can feel pretty niche and sometimes thankless."
Tamra Bonvillain has also chimed in on this topic many a time. "I think that adding color changes so much about a drawing that many people don't often consider," she tells Bustle. "Even if they know that fact, they don't really get to what extent. It's why I have tried to start sharing before and after images more to make that distinction more clear to people."
She explains that color can layer, change, or enhance the mood of a piece, and it can even tell a reader where to focus their eye. "All colored lineart, for good or bad, alters the piece, and those contributions should be recognized," she says.
Even though Eisner-winning colorist Laura Allred, Allred's work can be seen in Bug! The Adventures of Forager and iZombie, hasn't personally experienced many of these issues, she still acknowledges them. She says that she is, "very happy to live in a time where many wrongs are being righted and fair treatment is more common than not."
It appear as though the majority of colorists are women, however, no studies have been done on the subject.
Fitzpatrick believes that about 12-18% of colorists at major comic companies are women. The indie publishers, she says, appear to be doing better.
"There are so many talented women and gender-queer folks working in the indie scene, though, that gives me hope that the culture is changing," she says.
Many of the artists interviewed for this story point out that these issues — not receiving proper credit or royalty compensation — are not unique to their field. The creators listed below the writer and "primary" artist are often overlooked. Women who are writers and pencilers face their own set of challenges and hurdles, as do people in the LGBTQI+ and POC communities. (Bonvillain says her identity as a trans woman hasn't affected her career, but that's possibly because colorists' lives aren't as public and scrutinized as the lives of other creators.)
The problems with the industry aren't always obvious and they can't be fixed overnight, but one thing rung true with every one of these artists — fans acknowledging and supporting their work makes a world of difference to them.