Activists Are Using #ColumbusDay On Twitter To Battle It Out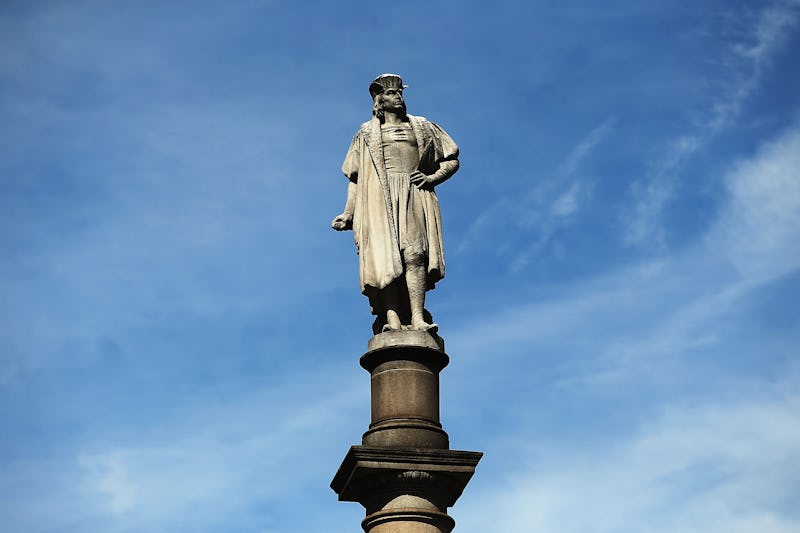 Spencer Platt/Getty Images News/Getty Images
The fight over Columbus Day has taken over to Twitter. On Monday, much of the United States celebrates a holiday in honor of the principal European given credit for discovering the Americas — despite the fact that millions of people already lived in the Western Hemisphere. That frustrates many activists who see Christopher Columbus as a stand-in for every atrocity committed under the conquest of the Americas and colonialism. Others want to maintain the status quo. Now many of those arguments are playing out on Twitter as #ColumbusDay trends on both sides.
In recent years, there have been moves to replace the holiday with Indigenous Peoples' Day, and in a big win this year Los Angeles adopted the holiday. But nationally, the day hasn't gone anywhere. Trump's proclamation reads as if he's oblivious to the suffering of native peoples. He writes:
The permanent arrival of Europeans to the Americas was a transformative event that undeniably and fundamentally changed the course of human history and set the stage for the development of our great Nation.
The only hardships mentioned are Columbus's: "extreme doubt and tremendous adversity." Perhaps that shouldn't be a surprise coming from the Trump Administration, but given the large number of Americans who are taking the issue to the Internet for a continued debate, and it's not all going in a progressive anti-colonial direction. Feel free to take a moment to post your own thoughts on #ColumbusDay on Twitter, because you might be surprised by what you find.