This Comedian Says He Prank Called The White House — And Actually Got Through To Trump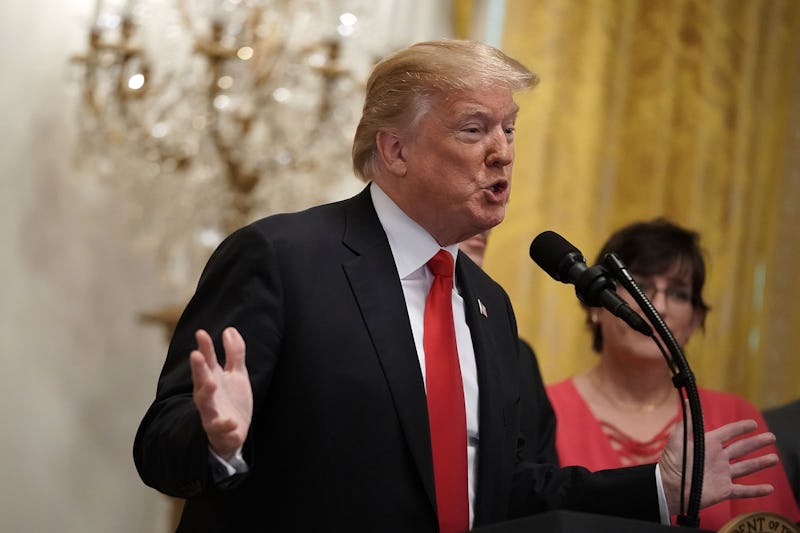 Alex Wong/Getty Images News/Getty Images
In an incident that reportedly has the White House rattled, podcast host John Melendez prank called President Trump and was allowed to speak with president on Air Force One directly for several minutes, Axios reports. Melendez, also known for his sting on the Howard Stern Show, described on the June 28th episode of his "Stuttering John" podcast how easy it was to get through the White House's screening process and get on the phone with the president as he was flying back from a campaign rally.
Bustle has reached out to the White House for comment on the incident.
As he recounts on his show, Melendez began by calling the White House switchboard, affecting an accent and falsely identifying himself as an assistant to New Jersey Sen. Bob Menendez. The switchboard operator transferred Melendez to a subordinate, who in turn said that Trump couldn't speak at the moment because he was in the middle of a speech.
That subordinate asked Melendez for his phone number and said the president would call him back, he claims. Melendez gave his number, which has a California area code, prompting the subordinate to ask why the number didn't match the White House's existing contact information for Sen. Menendez. Melendez answered that he was on vacation.
According to Melendez, he was then contacted by several other Trump subordinates — including his son-in-low and top adviser Jared Kushner — before being patched through to the president himself. You can hear Melendez's conversation with Trump here at the 1:10:20 mark.
Melendez and Trump discussed several topics during their call, including the (real) Menendez's indictment in 2015, immigration policy and the upcoming Supreme Court vacancy.
"You went through a tough, tough situation — and I don't think a very fair situation — but congratulations," Trump said. Menendez, a Democrat, was put on trial for corruption charges in 2015, but it ended in a mistrial in 2017 when the jury deadlocked.
Melendez then brought up immigration reform, and asked what he should tell his constituents on the topic.
"So Bob, let me just tell you: I want to be able to take care of the situation every bit as much as anyone else, at the top level," Trump said. "I'd like to do the larger solution rather than the smaller solution; they're doing them step by step. I think we can do the whole thing."
Trump continued, saying that he's "tired of the problem" and suggesting that Democrats and Republicans could come together to pass a bipartisan immigration bill.
"I have a good relationship with the party, you have a good relationship with the party, and I think we could do a real immigration bill," Trump said on the call. "We have to have security at the border, we have to have it. I mean, look, you've got 60 percent of the country, they've got to have security at the border. And that's a good excuse for the Democrats too, Bob. It's not like, it's good for you or good for me. It's good for both of us."
The two also talked about the Supreme Court vacancy that will be created when Justice Anthony Kennedy retires later in the month. Trump told Melendez that he'll be making a decision on an appointment in the next 12-14 days; if true, this is a genuine scoop, as the president hadn't previously announced a timeline for this decision.
"Well, we will talk to you about it," Trump told Melendez. "We're probably going to make a decision Bob, over the next two weeks, I think we're gonna have a really good...we have some great choices. [It'll] be done over the next 12-14 days."
Melendez told Trump not to pick a judge who was too conservative, to which the president replied, "yeah."
According to Politico, the White House is "scrambling" to figure out how exactly Melendez was able to get through to the president, and that the office of legislative affairs got wind of the phone call as it was underway but was somehow unable to kill it.
In a statement to Bustle, Menendez said that he would welcome the chance to have a "real conversation with the president" about immigration reform, but accused the administration of sabotaging past efforts to strike a bipartisan agreement on the subject.
"As someone who has spent my entire career trying to convince Republicans to join me in reforming our nation's broken immigration system, I welcome any opportunity to have a real conversation with the president on how to uphold the American values that have guided our family-based immigration policy for the past century," Menendez tells Bustle. "Tearing children apart from their mothers is not part of our proud history. Thus far, this White House has only sabotaged every good-faith effort to find bipartisan common ground on immigration."