These Myths About Eclipses Will Prepare You For The Upcoming Astrological Events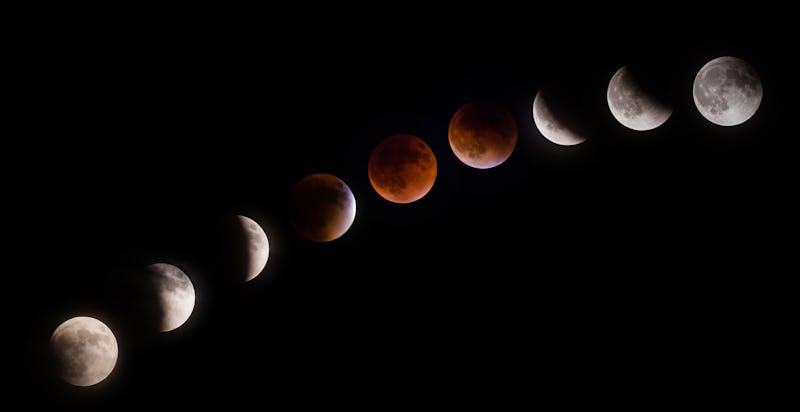 fotolia
Believe it or not, in ancient times, people believed solar eclipses were demons swallowing the sun and that lunar eclipses were dangerous for their king. Today (thankfully), we know that eclipses are just the sun, moon, and Earth falling into line and casting a shadow on each other. But, there are still a lot of astrological myths out there about eclipses. So, since the next eclipse will happen on Aug. 7 (it's a partial lunar eclipse, which isn't super rare, but still — cool!), Bustle sought out expert astrologers to make sure you know what to expect.
Notable astrologer Chani Nicholas, who teaches classes about astrology, explains that eclipses are times of uncertainty mainly because of the darkness they cause. "The nature of an eclipse is that it's a time when either the light of the sun or the light of the moon is obscured," Nicholas says. "When the light goes out or when it's obscured by something, it's thought of as a precarious moment."
It's more of an anything-can-happen-moment, astrologer Annabel Gat, who has an astrology column for Broadly, tells Bustle. "It's hard to predict what will happen during an eclipse because an eclipse's purpose is to shake everything up," Gat says.
Both Gat and Nicholas agree that most people approach eclipses too generally. They are not all good nor all bad, according to Nicholas. "I think the myths are around eclipses being one thing," Nicholas says. "There's no nuance in that. Each eclipse is very distinct and very specific in its nature."
To address some of the more general notions about eclipses, I had Gat and Nicholas join me Mythbusters-style to go through some common myths about them.