What Migrant Caravan Asylum Seekers Could Face If They're Turned Away Is Terrible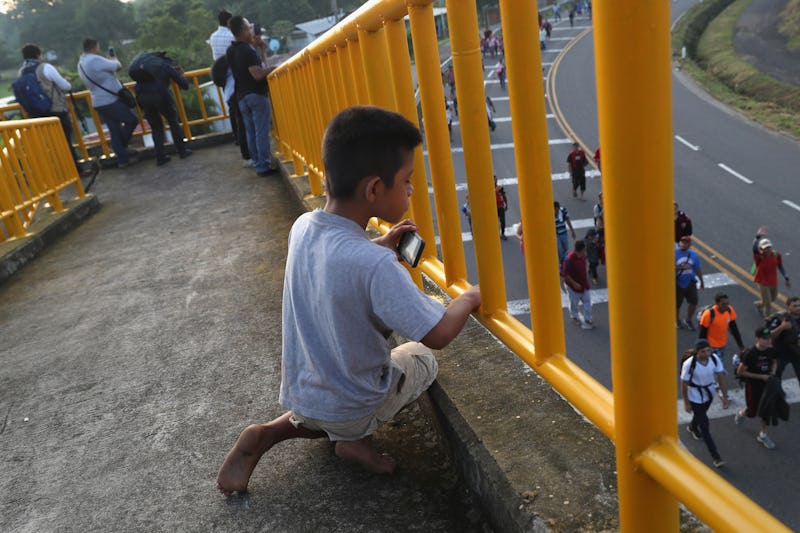 John Moore/Getty Images News/Getty Images
Reports of a caravan of over 4,000 Central Americans headed towards the U.S.-Mexico border have provoked the ire of Donald Trump for the last week. The president has repeatedly tweeted out warnings toward the countries supposedly "responsible" for the caravan, even threatening to cut off foreign aid. The chances of the migrants gaining entry to the United States don't look good — and the conditions that the caravan asylum seekers could face if they're turned away are heart-wrenching.
According to The New York Times, the caravan began as a small group of people in San Pedro Sula, a town in Honduras known for extreme violence. As the caravan traveled north toward Mexico, it slowly grew with people traveling by foot and by vehicle.
Now, the caravan is largely waiting on the Guatemala-Mexico border for the entire group of migrants to arrive, before trying to forge ahead towards the U.S.-Mexico border. But the potential outcomes for these people, who are largely seeking to escape the violence and chaos of their countries to create a better life in the United States, are all pretty scary.
First, migrants could choose to apply for asylum in Mexico, rather than the United States. This would lead to at least 45 days in a detention center, according to The New York Times, and would only be possible for those with the proper documents and visas.
Migrants who manage to make it to the U.S.-Mexico border could face a similar fate, or be told to simply turn around. If migrants aren't provided asylum, then they will be forced to return to their home countries.
Publicly, the governments of Honduras and El Salvador have confirmed that they will allow the safe return of any migrants who decide to return home. But Bartolo Fuentes, a former Honduran legislator who now lives in Mexico and helped to organize the migrant caravan, alleged to The Daily Beast that these statements by the Honduran government are a farce.
He claimed, "In Honduras, the government wants to minimize why people are leaving — they know they are going to leave and they want to say they are doing so because of lies and the opposition, not the conditions that they created."
Fuentes' wife, Dunia Montoya, who is a journalist herself, added to The Daily Beast, "We are in the middle of a crisis ... In Honduras 300 people leave daily."
The Daily Beast also notes that as controversial as this migrant caravan has been, it has done nothing to deter Central Americans looking to create a better life in the United States: another group of roughly 1,000 migrants crossed over the Guatemala border on Sunday.
As for the migrants themselves, their stories are heartbreaking. One man said to the Associated Press, "I want to get to the States to contribute to that country to do any kind of work, picking up garbage."
Another man spoke of the gang who demanded he pay them $200 in rent each month. Given that most Hondurans live off of less than two dollars a day, according to The World Bank, he couldn't do that. He said to USA Today, "They gave me a piece of paper saying that if I didn't pay them they were going to kill me. They gave a week or they were going to burn down the house."
One man, Juan Carlos Flores, seemed to sum up the situation. To Guatevision via USA Today, he said, "We know very well that this country (Mexico) did not welcome us the way we had hoped and we know that we can return to Honduras and we also know that there are narcotraffickers who kidnap and kill migrants."
He added, "But we live in greater fear in our country, as so we continue forward."