Congress Passes A Government Funding Bill, Avoiding A Shutdown — For Now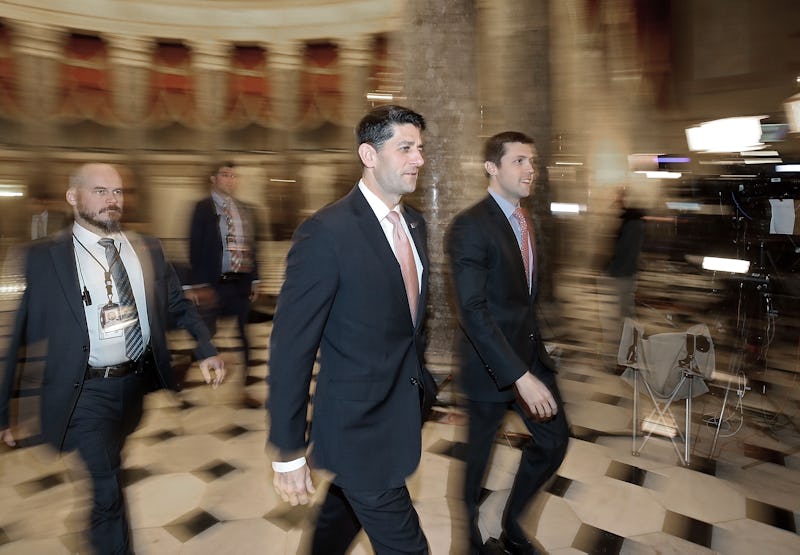 Mark Wilson/Getty Images News/Getty Images
America narrowly averted a government shutdown on Thursday evening after Congress passed a short-term government funding bill, which now heads to President Trump's desk. The last round of funding was set to expire on Friday, but once Trump signs stopgap legislation, the federal government will have enough money to keep itself running through January 19th, 2018 — at which point Congress will have to pass another funding bill in order to stave off a shutdown.
"It never seems to get any easier, right?" Rep. Mario Diaz-Balart told the New York Times. "January is going to be a bear."
The bill Congress passed Thursday also contains a short -term reauthorization of CHIP, a popular federal program that provides health care to roughly 9 million low-income children, as well as a three-week extension of Section 702 of the FISA Amendments act, the statute that provides the legal authority for the government's domestic surveillance program.
The bill does not, however, include any provisions related to Obamacare's exchanges or immigration policy, two high-priority issues for Democrats. In part for this reason, House Democrats refused en masse to vote for the bill, as they demanded that any legislation to fund the government also contain provisions to stabilize the Obamacare markets and provide legal protections for undocumented immigrants who were brought into the country as children.
"This last-minute stopgap funding measure forced through by Republican leadership fails to address the urgent situation facing thousands of DREAMers in Nevada," Rep. Jacky Rosen said in a statement after the bill passed. "It's the end of the year, and there is no valid reason to further prolong this uncertainty."
In the Senate, by contrast, a handful of Democrats joined with their Republican colleagues to pass the funding bill. Democratic Sens. Tim Kaine, Tom Carper, Maggie Hassan, Jeanne Shaheen, Chris Coons, Joe Manchin, Bill Nelson, Debbie Stabenow, Gary Peters and Claire McCaskill all voted for the stopgap legislation. Likewise, two Republican senators — Rand Paul and Mike Lee — voted with the majority of Democrats against the legislation.
Passage of the bill had been threatened earlier in the week due to Republican infighting, as a contingent of GOP lawmakers demanded that it contain additional longterm funding for the military. House leadership ultimately determined that this would make it dead on arrival in the Senate, however, and dropped it from the final legislation.
The upshot of Thursday's spending bill is that Congress has effectively punted on several contentious and high-profile issues that many of its members want addressed. As a result, any fixes to Obamacare, protections for immigrants and increases in military spending will have to wait until next year — as will disaster relief.
Although the bill didn't include any funding to provide relief for the recent wave of hurricanes and wildfires, the House passed separate legislation on Thursday that would do exactly that. However, Senate Majority Leader Mitch McConnell refused to bring the disaster relief bill up for a vote in the Senate.
After the bill was passed, Democrats criticized Republicans for failing to pass a more longterm spending bill, arguing that it's evidence of the GOP's legislatively incompetence.
"We shouldn't be funding the government week to week, month to month, but yet my Republican friends have ended up doing just that," Rep. Jim McGovern of Massachusetts said, according to the New York Times. "[Republicans] can't seem to get their act together."
Shortly before the vote, President Trump tweeted that Democrats wanted "a SHUTDOWN for the holidays in order to distract from the very popular, just passed, Tax Cuts." This was a reference to the tax reform package the GOP passed earlier in the week, which is in fact disliked by the majority of Americans.