This Video Of Georgia Cops Making A 13-Year-Old Sit In A Freezing Car Is So Disturbing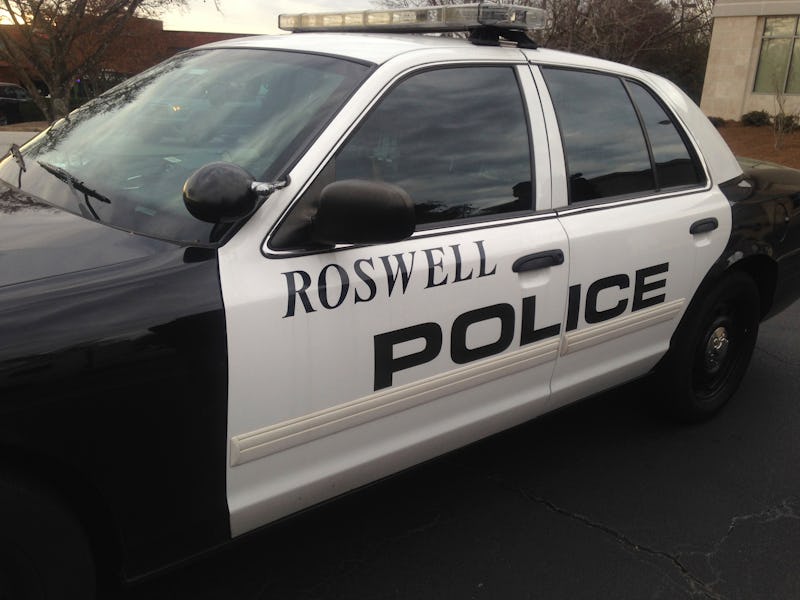 John E. Davidson/Getty Images Entertainment/Getty Images
Body camera footage released on Tuesday shows that in January, police in Roswell, Georgia left a 13-year-old in a freezing car with the windows rolled down because they suspected he was lying to them. In the video, Sgt. Daniel Elzey of the Roswell Police Department can be heard telling a colleague to "let him get a little chilly" after handcuffing the boy and putting him in a squad car. The child was reportedly soaking wet at the time, and at one point tells the officer, "I can't feel my wrists."
According to a police report obtained by the Atlanta Journal-Constitution, Roswell police stopped the child shortly after midnight on January 2nd when they spotted him driving in a golf cart on Alpharetta Highway. After he gave conflicting accounts as to where he obtained the cart, officers handcuffed him and put him in a squad car with open windows; according to the Atlanta Journal-Constitution, temperatures were in the 30s that night.
Elzey, who was once named the police department's "Supervisor of the Year," has been placed on administrative leave while an investigation into he incident is carried out. WXIA, which first broke the story, notes that Elzey was only placed on leave on July 19th — six months after the incident in question unfolded and three weeks after WXIA requested video of it.
"He won't say anything if he's sitting there in the back seat and it's warm," Sgt. Daniel Elzey explains to another officer, who police have identified as C. Dickerson, in the video. "So, he can sit over there and be cold."
"Well, okay," Dickerson replies.
"That's why I rolled your windows down," Elzey continues.
"Oh," Dickerson says.
"Let him get a little chilly," Elzey says. "Maybe that'll help."
Minutes later, Elzey returns to the car that the boy is in.
"Getting cold yet?" he asks the child. "You can take it? Cool. So can I, because I've got heat in this car." Later, Elzey says that if he can make contact with the boy's mother, "then we'll get some heat going."
At a different point in the video, the boy says that he "feels violated," prompting another officer to say that he doesn't care and, in fact, that the police feel "violated that you lied to us."
Gary Palmer, Roswell's city administrator, appeared to address the incident in a Facebook post. In regard to "recent reporting about the City of Roswell Police Department," Palmer wrote that "what you are seeing are symptoms of bigger issues; issues that we need to clearly identify and deliberately address as expeditiously as possible."
"I am stunned by the lack of professionalism and compassion displayed by some of our officers," Palmer wrote. "Chief Grant, the Mayor and Council and I are committed to ensuring that all of our officers understand and embody the qualities of professionalism and compassion as they perform their duties. Those who do not share these values and meet these community standards should be, and will be, removed from service."
Elzey is only the most recent Georgia police officer to face disciplinary action in recent weeks over controversial treatment of a civilian. On Thursday, two Roswell officers were fired for using a coin toss to determine whether or not to arrest a woman during a traffic stop, while an officer with the Atlanta Police Department was placed on administrative leave a day earlier after cell phone footage showed him body-slamming a nonviolent pedestrian.