Attention Cheese Pasta Experts: Corinne Olympios Is Hiring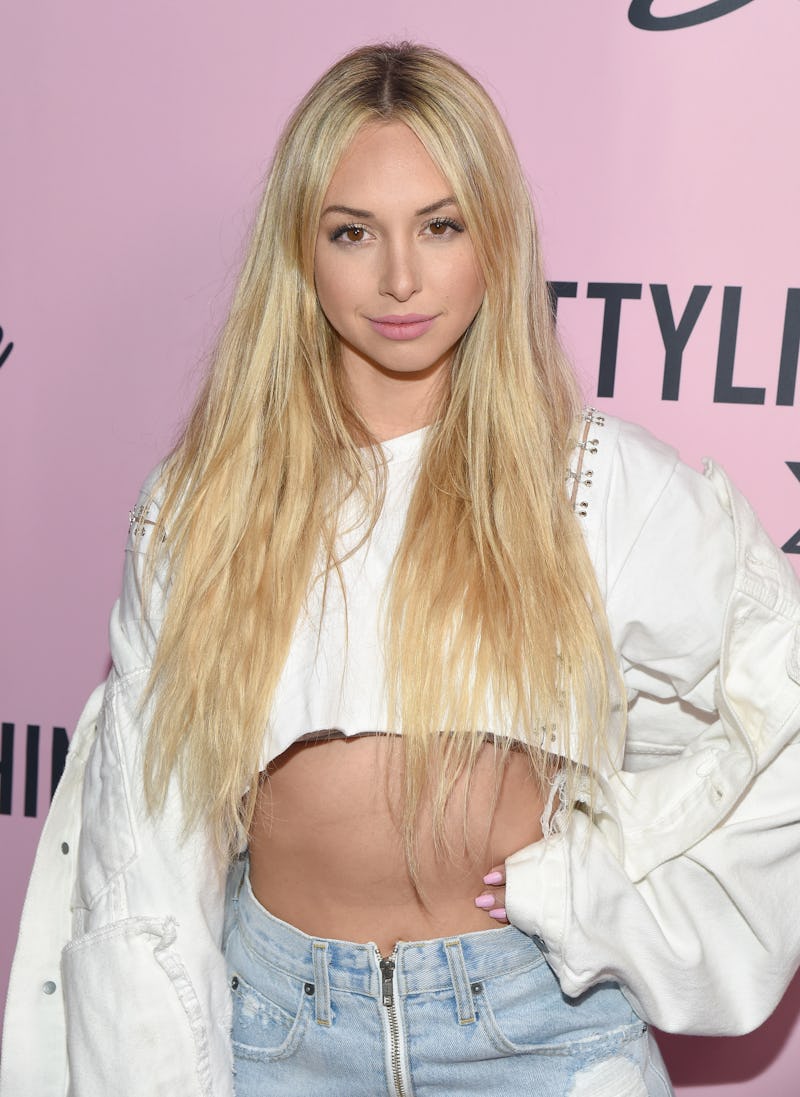 Matt Winkelmeyer/Getty Images Entertainment/Getty Images
Do you daydream about cheese pasta? Are you unapologetic about your napping habits? Then you might be the right fit for a new job opening working with a member of Bachelor Nation. Corinne Olympios is hiring an assistant and doing her part to lower the unemployment rate.
The 24-year-old reality star opted to skip posting the job on LinkedIn and instead took to her Instagram Story to share the job. Wearing the more adorable than professional dog face filter, Corinne gave her followers the details on the position:
"Hiring a full time assistant! Paid weekly. Available to me always. In LA only and MUST have professional experience with resume please! Will be going through them today!"
This position surely is not for the faint of heart. The job description that Corinne gave out was not extremely descriptive, but it is clear that she means business. She is looking for someone with "professional experience," so obviously she wants someone who's seasoned. Plus, the cryptic line, "Available to me always," hints at the demanding and all-consuming nature of the position. However, one of the benefits of working for Corinne is that she takes care of her own.
During Nick's season of The Bachelor, Corinne first introduced the world to her nanny, Raquel. Corinne took a lot of heat and faced criticism for her nanny-dependence, even a hashtag, #FreeRaquel2K17, was started. Corinne fiercely denied the rumors that Raquel was doing anything against her will or was treated poorly, and in her hot seat interview with Chris Harrison during The Women Tell All, Corinne explained just how much Raquel means to her:
"Raquel is a very, very special person because she's someone who has been there with me through the hardest times in my life, when I didn't have anybody else. My mom had ovarian cancer. I was told that she was going to pass away. I was told that my dad needed to get her funeral in order. And Raquel was there, she was my rock."
There's no word yet on whether Corinne's position is replacing Nanny Raquel or if it is simply an addition to #TeamCorn, but the need for a new assistant does raise the question of what Corinne is up to that would require a new helper.
In an interview with Elle magazine, Corinne talked about some changes in her life and what's on her plate next. She explained, "I'm relaunching my clothing line in September. My podcast [What Would Corinne Do] is also starting in September. I'm still writing my book...And hopefully just more TV stuff coming soon."
On top of her new business ventures, Corinne's social media hints at some new things to come. According to her Instagram, she has been busy jetsetting around to places like New York City, Los Angeles, Mexico, and Canada. In addition, she's following the path of many other Bachelor Nation alums and is posting sponsored content, some of her most recent partnerships include FabFitFun and The Queen Pegasus. Of course, we can't forget about Corinne helping to run her family's "multimillion dollar company" that we got to hear about during her run on The Bachelor.
The exact details of the position Corinne is hiring for are still TBD, but based on some social media cues and what we know about Corinne we can speculate about some of the assistant's duties. Someone has to take pictures of her during her travel adventures and wearing whatever product she is promoting, and her assistant could be the prime photographer. This is all strictly speculation, but one thing is for sure: Whatever Corinne's future assistant will have to do, it won't be boring.