Corinne Says It's "Likely" She'll Go On 'BiP'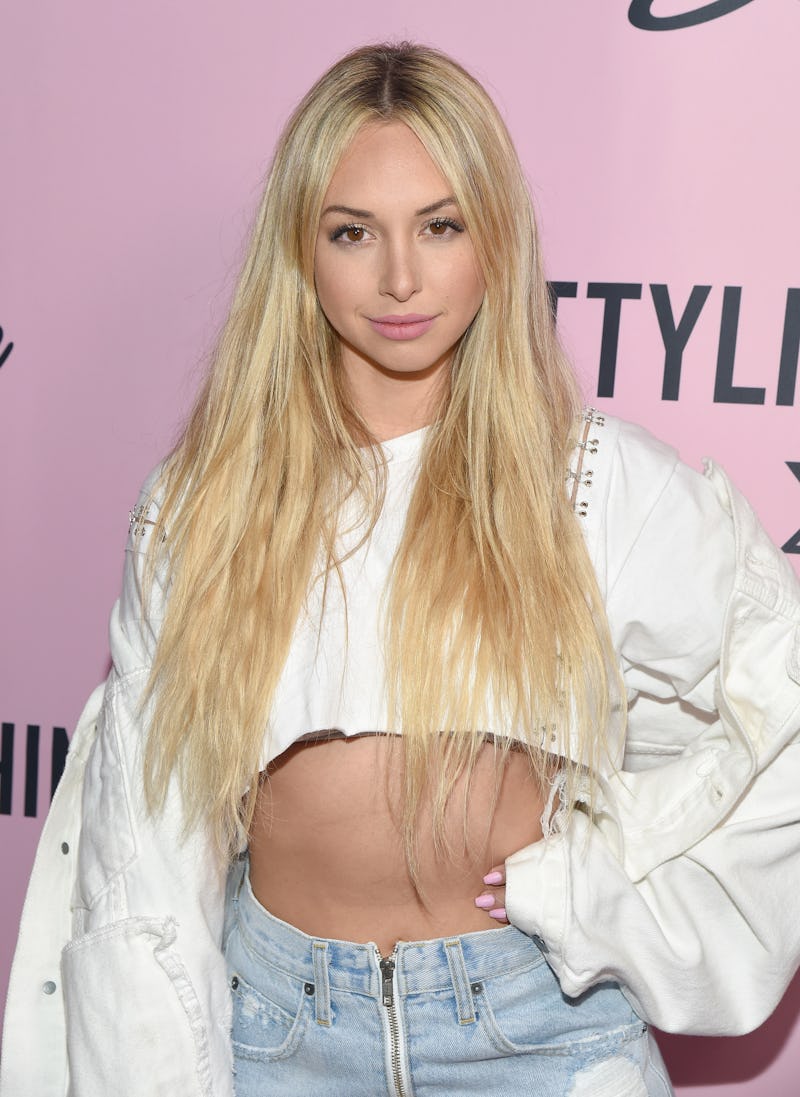 Matt Winkelmeyer/Getty Images Entertainment/Getty Images
Nearly every season of The Bachelor or The Bachelorette spawns a breakout star, and yeah, it's usually the person who causes the most drama in the house. Isn't that what we all live for? Well, during Nick Viall's season, Corinne Olympios became one of the most memorable contestants in history for her over-the-top date antics (whipped cream, anyone?), her frequent naps, and her signature catchphrases. For this reason, fans of the show were sad to see Olympios leave the house when it didn't work out with Viall, but it sounds like that might not have been the end of her "journey." Even though she might be dating someone now, Olympios thinks she will likely be on Bachelor In Paradise. The lady does what she wants.
Olympios still choosing to go on BiP when she has a potential new boyfriend is probably the most Corinne thing that could happen. BiP does need a good amount of drama and intrigue, and this situation could lead to a unique storyline.
Olympios opened up to E! News about her mystery man, and said,
"I've been seeing him for a little bit...I'm not ready to come out to the world about him yet. It's still in the early stages. I don't know what's going to happen but we're vibing really nicely and everything's going well and I just want it to stay that way."
Well, that all sounds really sweet and wonderful. Olympios remained coy about who exactly her new man is, but she told E! that he lives in L.A. and that the two of them have known each other for a long time.
Despite seeming happy in her budding relationship now, when asked about possibly being on BiP, she replied, "I mean, I'm still not sure yet. Most likely, yes. So not 100 percent locked in yet."
Bustle reached out to ABC for comment, but did not receive a response at the time of publication.
Honestly, I totally expect Olympios to be on Paradise because it seems like she is ready to take her new-found reality television fame and really run with it. She recently launched her collaboration with Riot Society, which included shirts, tank tops and long-sleeve tees with that reference of her infamous lines like, "OK, But First Cheese Pasta" and "Platinum Vagine."
Being on Paradise sounds like the perfect opportunity to really keep her brand growing. Olympios is clearly a self-assured woman who know what she wants and will go after it, no matter what. While her career is on the rise, she still had very sweet things to say about her new man:
"He has his sh*t together. He supports me in everything I do...We just get along so well. We're also like great friends. It just meshes."
She sounds very happy now, but whether or not they stay together or she goes off to Paradise alone remains to be seen. But since Olympios is open to pushing the envelope in the Bachelor world, maybe she can be all of her friends' wing woman on the show or the one with a boyfriend to stir up some trouble for everyone else? I'm sure it'll be all in good fun — I think she's got that part down.