Watch Cory Booker Deliver A Powerful Message To Christine Blasey Ford About Her Bravery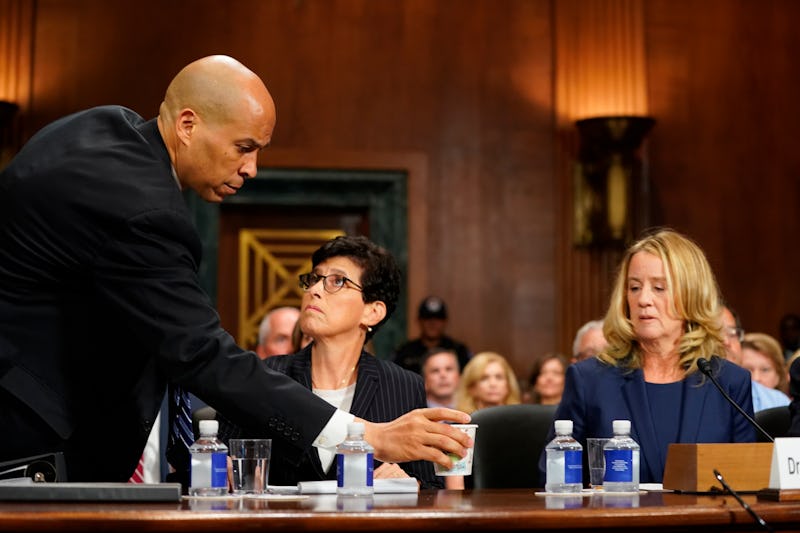 Pool/Getty Images News/Getty Images
On Thursday, Dr. Christine Blasey Ford testified in front of the Senate Judiciary Committee about Supreme Court nominee Brett Kavanaugh, who she's accused of sexually assaulting her when she was 15. There were many emotional moments throughout the hearing, but one that caught many viewers' eyes was Sen. Cory Booker's speech to Ford, in which he praised her "heroic" decision to go public with her allegation against Kavanaugh.
Before he even spoke, Booker drew attention for bringing Ford a cup of coffee after she remarked, upon finishing her opening statement, that she "anticipate[s] needing some caffeine, if that is available." The New Jersey Democrat, who sits on the committee, proceeded to hand-deliver Ford a cup of coffee.
When it was Booker's turn to speak, he addressed the harassment and death threats Ford has received since coming forward, which have resulted in her moving out of her home, and praised her for testifying despite how difficult it was for her to do so.
"There are hundreds of thousands of people around the country watching your testimony right now, and people in tears feeling pain and anguish — not just feeling your pain but feeling their own, who have not come forward," Booker said. "You are opening up to open air hurt and pain that goes on across this country. And for that, the word I would use, it's nothing short of heroic."
During her own testimony, Ford said that she "anguished daily" about whether or not to go public with her allegation against Kavanaugh. Ever since she did, many Kavanaugh supporters — including several Republican senators — have dismissed her story and, in some instances, suggested that she's lying. Booker addressed this general attitude in his speech, and criticized the manner in which America often responds to survivors of sexual assault.
"How we deal with survivors who come forward right now is unacceptable. And the way we deal with this, unfortunately, allows for the continued darkness of this culture to exist," Booker said. "What you're doing for our nation right now, besides giving testimony germane to one of the most sacred of our offices, you are speaking truth that this country needs to understand."
Many Republicans and Kavanaugh supporters, including President Trump, have questioned why Ford didn't come forward sooner with her accusation. But there are plenty of reasons why sexual assault survivors often keep their experiences private for years after the fact, and Ford talked about her own struggle to come forward during her opening statement.
"Brett's assault on me drastically altered my life," Ford said. "For a very long time, I was too afraid and ashamed to tell anyone the details. I did not want to tell my parents that I, at age 15, was in a house without any parents present, drinking beer with boys. I tried to convince myself that because Brett did not rape me, I should be able to move on and just pretend that it had never happened."
She went on to say that "talking about it caused me to relive the trauma, so I tried not to think about it or discuss it" for years thereafter. Only after she saw Kavanaugh's name in the news did she feel that she had a "civic duty to relay the information I had about Mr. Kavanaugh's conduct so that those considering his potential nomination would know about the assault."
If you or someone you know has been sexually assaulted, call the National Sexual Assault Telephone Hotline at 800-656-HOPE (4673) or visit online.rainn.org.